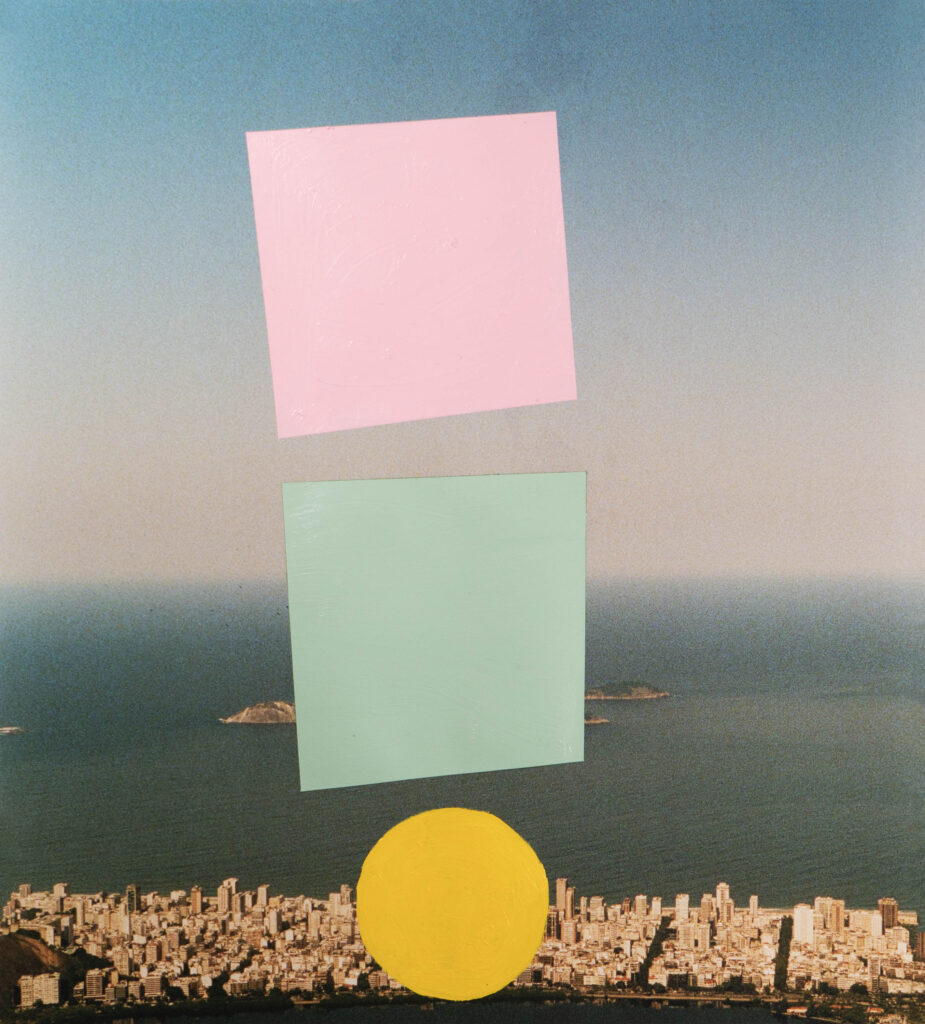 Kristen Knupp: As the week of art in Basel opens, what work will you be exhibiting with Sobering Gallery at the Volta Fair?
Alice Quaresma: The work I am showing at Volta reflects my experiences in life, and how I explore the topic of identity through images of my hometown, Rio de Janeiro, and other places I have visited. At Volta, it will reflect the moment I am in now, as I recently moved to London after living in New York for 15 years so I am exploring the feeling of displacement. I will be showing some new images that I have produced in the past month where I am overlapping the images more. This represents the transitional moment and how it changes the way I see things. I am also doing more cutouts of images so they are becoming more abstract. This plays with the sense that our memories fade away over time and become more about our imagination and how we choose to remember things, rather than being factual.
This is actually the second time my work will be presented at Volta. The first time was with Pablo's Birthday in 2019, and this time is with Sobering Gallery, which is based in Paris. I had a two-person show in Paris at the gallery at the end of 2021. We have been doing some good work together in Europe.
KK: I remember the first time I saw your work and I loved the combination of abstraction with landscape photographs. Are you continuing to paint geometric shapes on the surface of your photographs?
AQ: Yes, that aspect of my work continues. The abstract shapes are a big part of my intention of playing with the way that we connect with the image. My work also plays with breaking the limits of the image in the sense that photography is about the past, so that is why I bring in more contemporary elements. This is to try to bring the present into my work.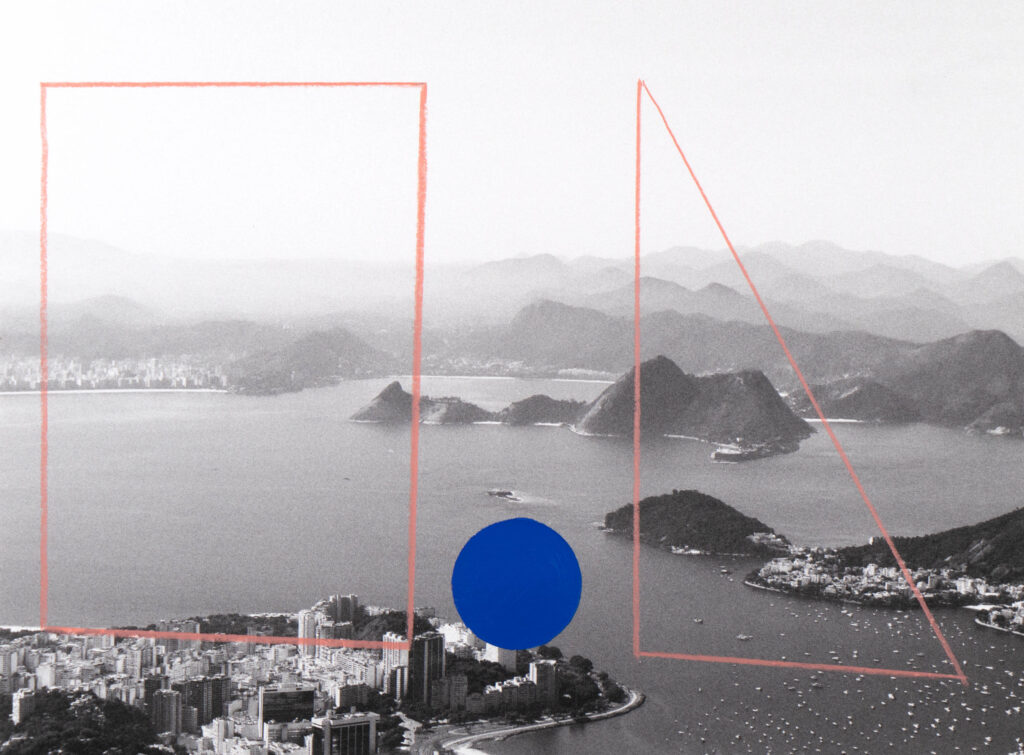 KK: What do the dots and circles in your work represent?
AQ: The dots were the starting point of the mark making. They are a physical act of pointing to where we are at a certain moment in time, as in "you are here". So they were originally dot stickers that I bought at an art supply store. I put them on the photographs to create a presence in the photo of today. Over the years this has evolved, and I have created the dots with paper cut-outs, paints, and oil pastels. The materials I choose to use change as I become interested in different aspects of the work.
KK: I have seen some work of yours that I believe were photographs of the mountains in Verbier. Do you have an ongoing connection to Switzerland?
AQ: The body of work you saw was presented at Artgenève in 2019, and was based on a residency I did in Verbier. I stayed in a hut in the middle of nowhere on the mountain in the winter time. Usually the residency takes place in the summertime, but I insisted on going in the winter. The residency sponsors did raise many potential problems about going in the winter, but I did not listen and went anyway. When I got there, I suddenly understood their concerns. The hut is three kilometres away from the nearest road. There was a huge snowstorm in November right before I arrived, so I had to walk through deep snow to get to the hut. It was very immersive, but I like that kind of thing. My work is a lot about being present and taking photographs in nature. I take a lot of walks in order to capture the images. 
Mountains have always been a big part of my work. Rio is a city in the middle of the mountains and the ocean so I have always connected with nature. I immerse myself by walking in nature. Camping is a little too much for me, but working from a hut or a boat is something I am comfortable doing. Rio has many extremes, in terms of nature and also the security situation. So this is how I find the feeling of home.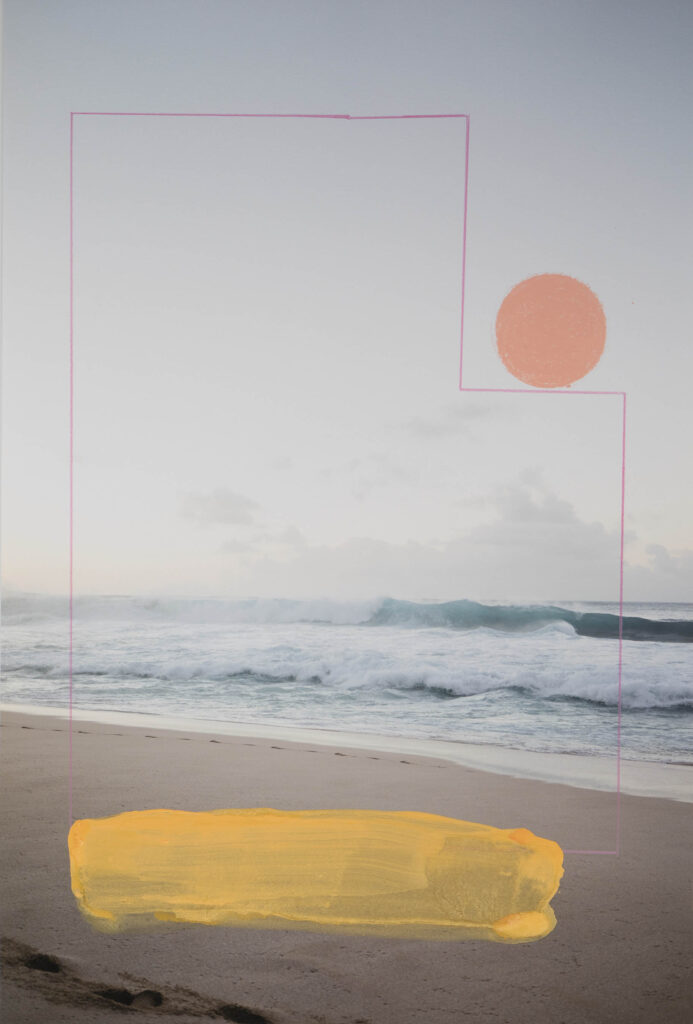 KK: Do you have any particular artistic or literary influences on your work at this moment?
AQ: Since I have lived abroad for 20 years, I wanted to take a moment to understand who I am and what I am trying to be. I read a book about space and the home called The Poetics of Space by Gaston Bachelard. He tried to explore how we feel in different seasons and says that during winter we become more nostalgic because we are more inside our homes. I did not feel at home at that point so I started to look back at my older images of Rio and that is how this part of my work started. My whole body of work is archival-based. I don't photograph for a certain project in mind, but I take many photographs and then later I decide how to use them.
KK: How old are the photographs you are working with at the moment?
AQ: I have an archive that goes back to 2000 or 2001, when I was fifteen years old. That is when I started taking pictures. As a photographer we have the habit of keeping all the images, dating them, putting them into archives, and creating folders. I started by taking analog photos since there were no digital cameras back then. My archives are a mix of negatives and digital files. They are then scanned and mostly inkjet-printed. I have been working on this body of work since 2014, and it has evolved in many directions. I am always finding something new to explore. 
KK: How do you see the role of art fairs like Volta for you as an artist?
AQ: It is actually something that I enjoy because for me, creativity is the process of thinking about the work. Then years later I go back to the images and go into an editing phase. Sometimes I don't look at an image for years and then I have a different eye when I view it. My work is about making something exist for a moment. For art fairs, I enjoy thinking about the space in the stand, and how people will interact with the space and my work. It is an opportunity to think creatively and an opportunity for people to experience my work and discover it. My work is invitational and welcoming. I want as many people as possible to experience it.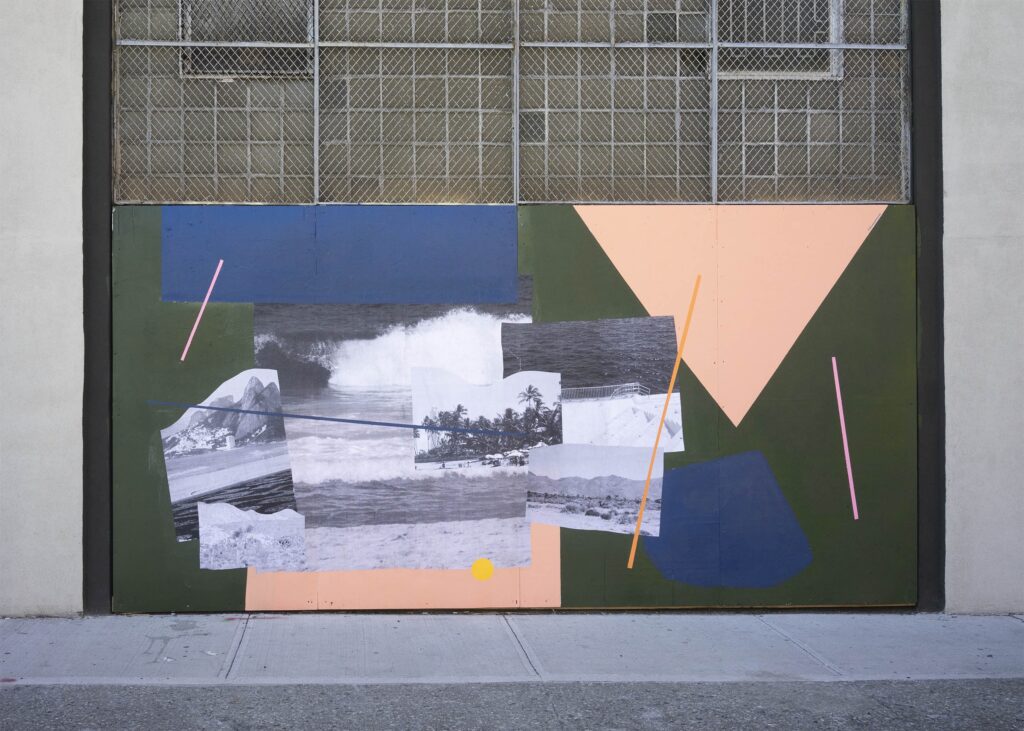 KK: What are your plans for the future?
AQ: I have a few ongoing projects. I enjoy collaborations and working with other creative fields. I have collaborated with the music and fashion industries in the past. I have also created murals. I did a few murals in Brooklyn. I made one in Bushwick with a pasted image that I painted over that was 3 x 4 meters in size.  I am currently working on a confidential project in Mexico that will come out in September, which is exciting. I am always thinking of ways to give more accessibility to my work.
Alice Quaresma's work is at Volta Art Fair, Basel, Sobering Gallery, Stand B-10 until June 18th.