Bernard Garo was born in 1964. After graduating with distinction from the Lausanne Art School (ECAL) in 1989, he has lived and worked in his studio in Nyon, between Lausanne and Geneva. His projects have also led him frequently to Paris, Barcelona, Berlin and in more recent years, China. His work pays homage to paint as a component of our earth by including in his canvasses entirely natural materials that he finds during his walks in nature. His work celebrates nature, mankind, and our vulnerability, as well as life, technology and science. More recently he has been focused on the impact of climate change on the Swiss glaciers.
Kristen Knupp: I have seen that you are focusing your work lately on the issue of climate change and in particular, the impact on the Swiss mountains. What specifically interests you about this topic?
Bernard Garo: Switzerland represents for many, an alpine paradise with a nature that still seems preserved in the heart of the Alps chain, but recently a glacier was symbolically buried. Today, Switzerland counts only 1,399 glaciers which will disappear before the end of the century if nothing is done to stop the devastating global warming over 2,500 meters altitude. The consequences are unfathomable and unpredictable. As I have always been interested in the relationship of man with his environment, today no one can ignore climate change, especially if you observe the impact of human activity on mountains and glaciers. I am convinced that for contemporary art these themes are major.
Effectively, in this context, two main art currents are emerging; the first concerns artists who reveal a "relational art" that builds forms around the social sphere, and a second with artists who want to participate in changing our society in the face of the acceleration and the increase in consequences of climate change. For my part, I participate in this second group by developing a personal palette using exclusively natural elements (pigments, rocks and bitumen) which create links with nature, the fundamental principle on which I base my artistic approach. I believe that my artistic commitment in the context of the current situation can add to a necessary evolution of our way of interacting together in harmony against this global scourge.
In my work, human existence does not appear as such, but is restored to its cosmic or geological situation represented in the general context of biomass. As I set up temporalities on a large scale, my art could belong to a so-called "neo-metaphysical" current of contemporary art which is associated with the beginning of the 21st century and which will most certainly be included in future books of art history. In fact, the primordial question dealt with by all the artists of our period is the meaning that their activities take in a world in danger.
My goal is to reveal the beauty that could disappear and the real impact of human activities on nature, in the mountains in particular (a typically Swiss preoccupation linked with my identity), in order to further raise awareness of the reality of climate change that risks having massive consequences on our planet if we do not react. At the moment it is leaving enormous scars on the ice matrix and transforming the Alpine landscape of our country.
KK: What type of work are you creating in response to this issue?
BG: I am creating trans-disciplinary work for different contexts, using large-scale canvases, painting installations mixed with photographs, woodcuts, video, and performances, to enrich the dialogue between them. In parallel, I am also working on a movie titled "Crevasse" linked to glacier retraction, in collaboration with a Swiss filmmaker that should be finished this summer.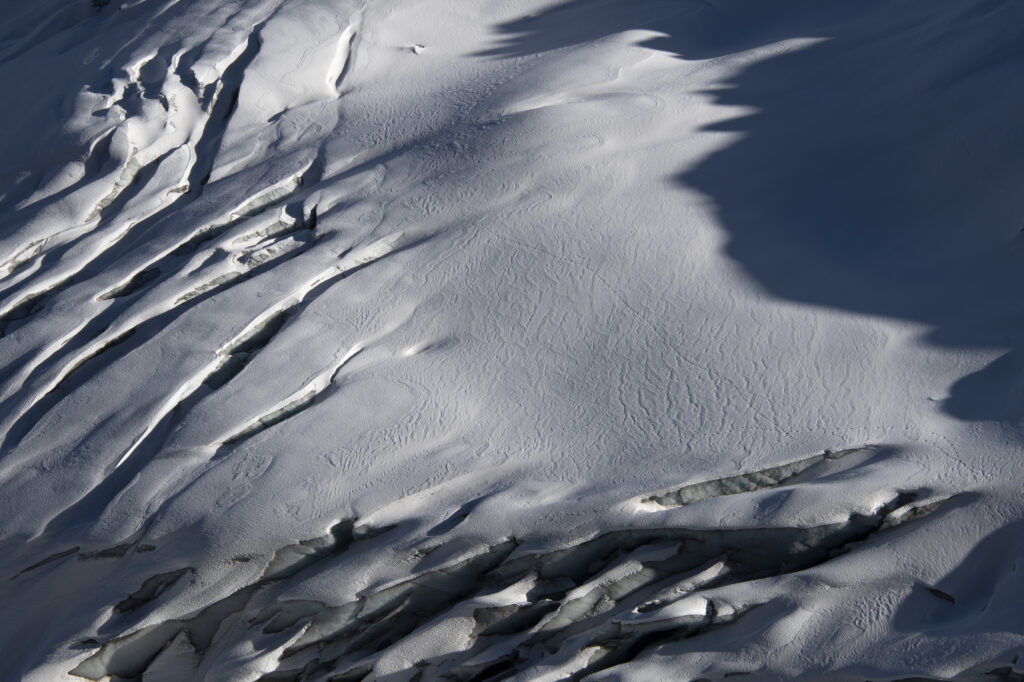 To transpose my environmental observations and experiences, I wish to create large-scale paintings and woodcuts specifically focused on the scars and open crevasses, that bring you into the unfathomable and mysterious depths of the past under the glaciers. I will also work on the fascinating power of the most emblematic and dangerous north faces of the Alps, while continuing a digital photographic series on glacier retractions. In parallel, I will continue with a beautiful series of coal silver black and white photographs, on the skin of melting glaciers (taken with a manual Hasselblad) to be put later perhaps in comparison (diptych) with close-ups of human skin.

KK: What materials do you use in your work and why?
BG: My approach tries to give meaning to all our interactions with our environment, in a world in danger. In this context, my painting draws from nature the materials to reinvent, reinterpret and transpose, while creating with it a physical presence and a deep meaning. Asphalt, natural pigments, crushed rocks, volcanic ash, and marine sediments were collected during my journeys, under glaciers, on cliffs by the sea, or in the heart of volcano craters. These are ephemeral elements that would naturally disappear under the combined effect of wind, sand and water, tides, and ice retreat and thaw. The fragments of nature transposed onto my canvases come to life by constituting an entirely natural identity, artistically reviving the awareness of the perpetual cycles of erosion and time. Bringing true nature into a painting is like creating the skin of our origin, which opens up a much wider field of perception than the Anthropocene.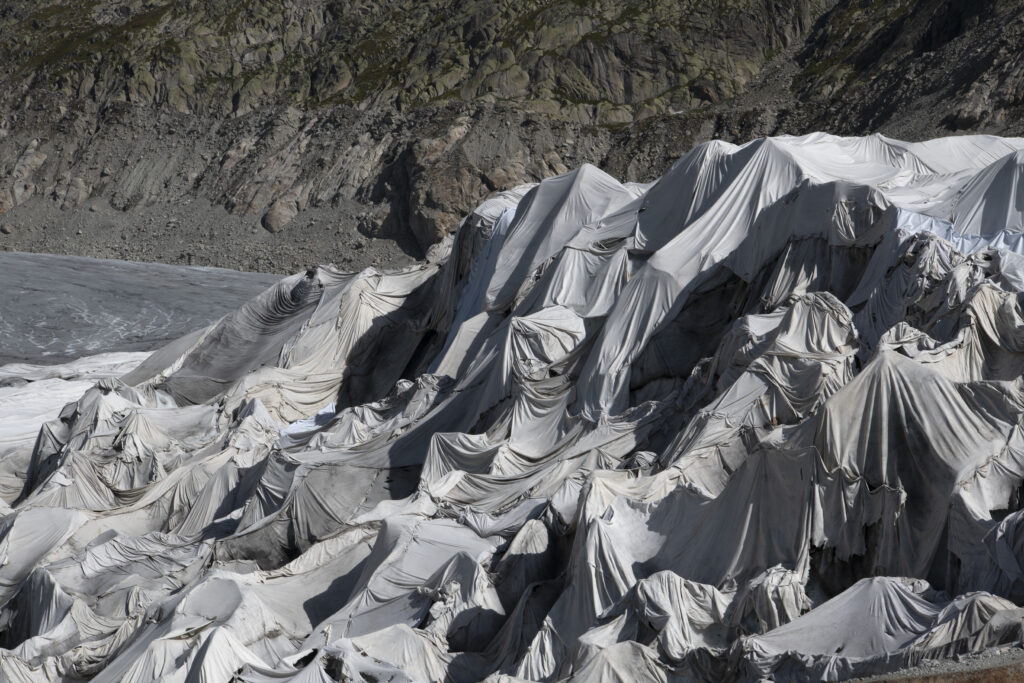 Painting has never been an image, but above all a material, a vibration, a structure with colors, and an energy that provides emotions. This is why I attach importance to the choice of natural elements that I integrate into my work to create this new pictorial skin, which carries within it the memory of our humanity, through certain old materials of millions of years. And for my silver photographs on glacier retraction due to fossil fuel pollution, I am currently developing a series with a very old and traditional process with a coal toning that gives deep blacks but is using the elements responsible for the main pollution of our earth. This approach is intended to carry a deep meaning, revealing the coal cycle as well in the process as in the image.

KK: The scale of your work is usually very large, is this a function of the subject matter, personal preference, demand from clients, or a combination of the three?
BG: Painting has always offered generous dimensions, in search of free spaces, without limits, and it is the beauty of this medium. For my part, indeed, I have formats generally considered large but which are linked to the intention that I want to give, to the subject, to my body, as well as to my workspace and the chosen technique, without forgetting that they have to be able to fit through the door of my studio and be transported by a normal truck, otherwise it is necessary to plan on several panels. But I confess that I have always appreciated painting in its magnitude and physical impact.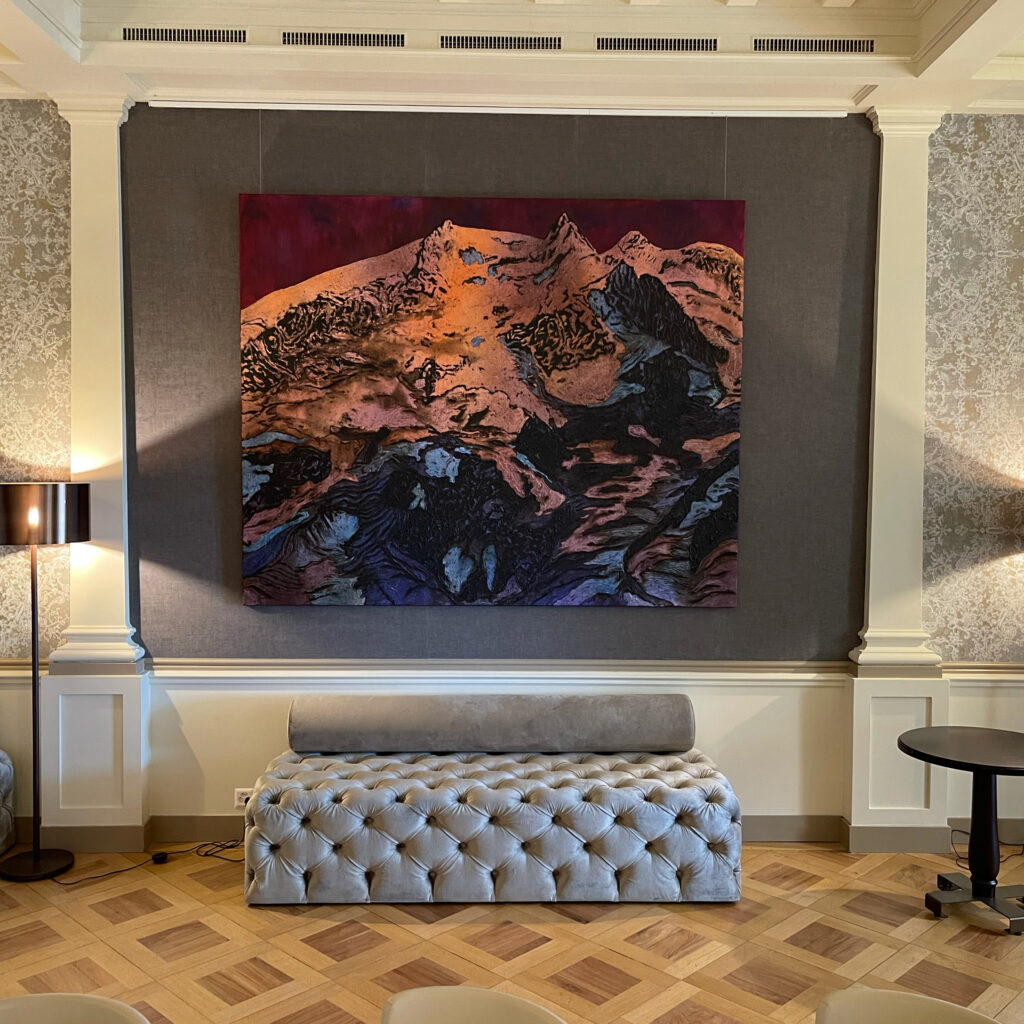 It is all a matter of context. If I compare my canvases to Kiefer's artworks my formats are ridiculously small. However, if I compare them to the canvases in big museums, I find my paintings to be average and if I look at them in relation to my fellow artists in Switzerland, they are indeed large. Could the focus on the size of my paintings be linked to the small geographical space in Switzerland which prevents us from appreciating what goes beyond the framework or the average? I am regularly told about the format here, whereas in Germany it is not a question, and in fact, I am asked often when I'm going to do even larger-scale artworks. My part of my art falls within the tradition of the history of art and masterpieces that have impressed me with their breadth since I was a child. This still guides me today towards a desire for absolute freedom of creativity.

KK: What are your plans for 2022, where will you exhibit your work?
My plans are to continue experimenting with series based on themes that concern me deeply, creating synergies with other galleries and different museums. More specifically, from July to December 2022, I am invited by the Muséum d'histoire naturelle in Geneva for a residency, to build an exhibition around a multidisciplinary interpretation of environmental themes linked with glaciers and mountains. I will experiment with some new ideas and concepts with photography and painting, exploring them more deeply and revealing the cycle of water and coal, and touching also on the question of time, following the exhibition theme "Everything against the earth".
This summer I will participate in the Saturnia film festival in Italy with my new movie in collaboration with a Swiss filmmaker. The award ceremony and presentation of all selected films is on July 28th, 2022. At the same time, I am invited to present a very large-scale glacier-melting photograph, linking with my video and in synergy with another Swiss artist, at the Saturnia film festival from July 28th until September 15th. This exhibition will also be presented in a gallery in Paris in November, 2022.
Simultaneously, I am invited to exhibit another photograph on glacier retraction in Venice during the Art Biennale this summer. This is part of a group show on ecology themes at Centro Espositivo, San Vidal from July 6th to September 10th, 2022. This exhibition will be presented in October in Berlin. In addition, I am preparing exhibitions for 2022 and 2023 with galleries in St. Moritz for Summer 2022 at Gallery 10, as well as in Interlaken at My Beauty Art Space and later on also in Zermatt, and perhaps Carouge and in the North of Germany. I am waiting to see when China opens its borders after the Corona pandemic and I am still in contact with several important museums there.
Click here to view a broadcast on RTS about Bernard Garo's art and philosophy titled "The Urgence of Beauty" diffused on March 4th, 2022.
Lead image: Bernard Garo, Under the Glacier, 2020. Digital photo, limited edition, print on baryta paper.