Kristen Knupp: You moved to London from Grenada as a teenager, and it seems that while you were there you became interested in art and becoming an artist. What events or people moved you or attracted you to art?
BGF: My first encounter and exposure to art and the practices of making art; beautiful objects with a certain aesthetic that appealed to my sensibility; started in my early teens growing-up on the island of Petite Martinique, a sister of Grenada. My father was a boatbuilder and carpenter who took great pride in his craft, designing beautiful slopes that won prizes at regattas. He was also a captain of large oil tankers and cargo ships at times. My mother was a seamstress who cut patterns out of European fashion magazines, sewing all our clothes, copying the latest fashion. She was also heavily involved in local theatre on the island, writing plays and acting.
We were a family of autodidacts; everything was done out of necessity and never under the hubris of art. I started to draw and write as a teenager before leaving to go abroad. I was very much aware of famous schools of painting, like impressionism and abstraction through books, but didn't encounter or see any real paintings until my arrival in England. Writing took up an important role in my life, because we had more access to books, and I aspired to be a writer. I was very influenced by writers like V.S. Naipaul, Édouard Glissant, Jean Rhys– all of whom maintained a self-imposed exiled relationship to the Caribbean. I read anything that was available, really. In England, I discovered artists like Derek Jarman, Isaac Julien, John Akomfrah, and Steve McQueen, all with diasporic roots, and I also discovered Robert Rauschenberg — all artists that continue to influence me.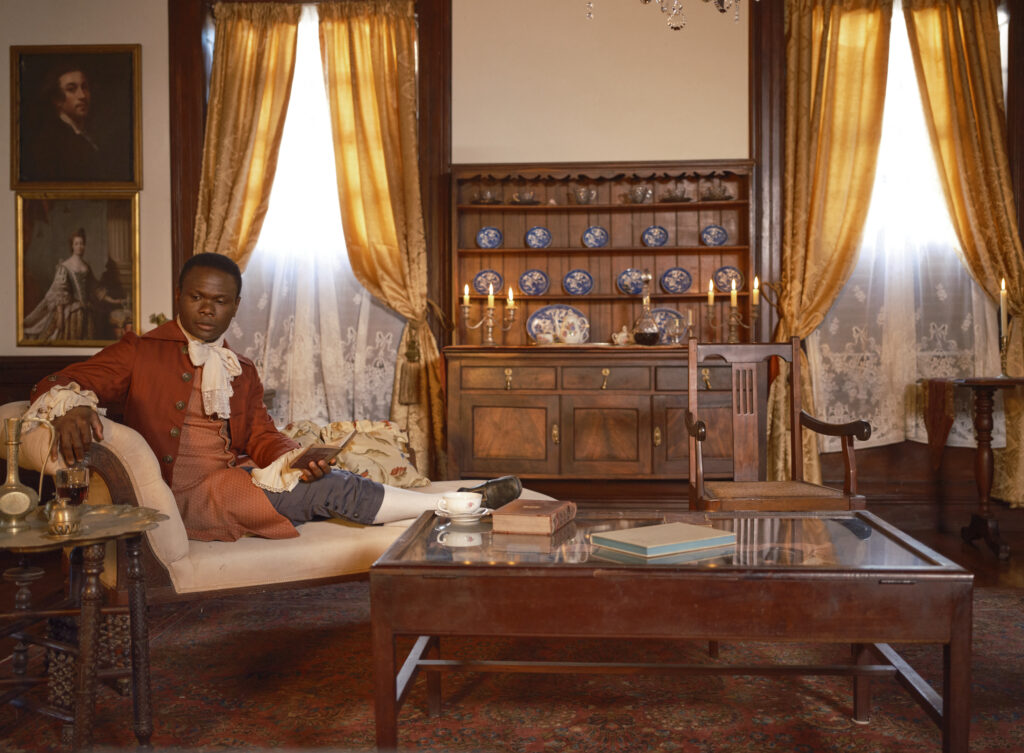 KK: You are representing Grenada, your home country, in a collective presentation at the Venice Biennale which opens this April. The theme for the Biennale is "The Milk of Dreams" while the theme for the Grenada Pavilion is: "An Unknown that Does Not Terrify". How has this theme inspired you and what work are you showing there?
BGF: The Theme of the Grenada collective came from a quote from the book by Édouard Glissant: Poetic of Relations, "We know ourselves as part and as crowd, in an unknown that does not terrify. We cry our cry of poetry. Our boats are open, and we sail them for everyone." A quote that lends well and is apropos to the times, and overall theme of the La Biennale di Venezia.
The Shakespeare Mas collective for the Pavillion represents a cultural hybrid, a synthesis of African diasporic and European influences, combining West African ceremonial costumes and rituals. It alludes to the Pierrot Grenade masquerade practiced in Grenada and Trinidad, reminiscent of the pantomime character Pierrot and Commedia dell'Arte from France, and the Mummers "Momerie" dating back to 16th Century Europe. During the Shakespeare Mas, performers challenge each other in an antagonistic verbal and physical duel to recite verses memorized from Shakespeare's Julius Caesar to determine who can flawlessly recite the most verses, in an exhibition of one's prowess. It is a discourse on paradoxes and eccentricities as well as a creolization of Shakespeare through a decolonized lens.
My new project in 2022 is called Palimpsest: Tales Spun From Sea And Memories and it includes a film installation, sculpture, and film stills. It is exploring fragments of Ottobah Cugoano's life, who was a major figure in the abolitionist movement in England towards the end of the18th century, whose life ended in obscurity. His book Thoughts And Sentiments On The Evils of Slavery played a seminal role in the abolitionist movement and he was one of the first Afro-Briton to have written a book in English. While employed as a servant for the Royalist Artist, Richard Cosway, he was introduced to all the pageantries of class, race, and power in 18th Century England. I allude to Shakespeare Mas in my film, but mainly in the context of masquerading, as in the multiple-subject positions of Cugoano's life. All my work is an attempt at contesting, deconstructing, and repositing history.
KK: I read recently a quote from Martin Herbert in ArtReview that stated: "The non-mercantile argument for big biennales is that they 'tell us where we are' in cultural terms, but they can also read as calculated syntheses of currently fashionable intellectual topics and currently fashionable/saleable artists". What is your comment on the Venice Biennale, what is the point of it at this time in the history of the world with the pandemic, the war in Ukraine, etc.?
BGF: Towards the end of 1941 during World War II, Albert Camus was living in penury and experiencing ill-health in the coastal village of Oran, Algeria. He noted in his journal that "great works of art are often made in times of great historical turmoil." He cited as examples Shakespeare and Milton, Rabelais and Montaigne. In the last year and months, reflecting on all that has transpired, I have been questioning personally, and with my students at Yale and colleagues, the role of Artists and the Arts in society at this juncture. We have been asking such questions as: "Does Art serve as a barometer for culture, and what is the role and moral imperative of the artist today?" That said, history has shown that artists have always played the role of disrupter and have been a moral guide to the times, particularly during great turmoil.
In context to the Venice Biennale, I agree with Martin Herbert's statement, but I think it is referring to the dominant art market in the West. His statement doesn't take into consideration the national pavilions and participating artists from regions of the Global South that were often denied access to the world stage of art, because of financial disadvantages, Western bias, and notions of artists and art from these regions. I think it is wonderful that artists from the Global South are finally getting the recognition due to them as serious artists and players in the art world on a global scale. This is Grenada's 5th time participating in the Venice Biennale. Global platforms and venues such as this offer artists the opportunity to contest and interrogate personal, social, and political issues inside and outside. Much work is still needed, however, to support artists from the Global South to continue to have a presence and voice at platforms like La Biennale di Venezia.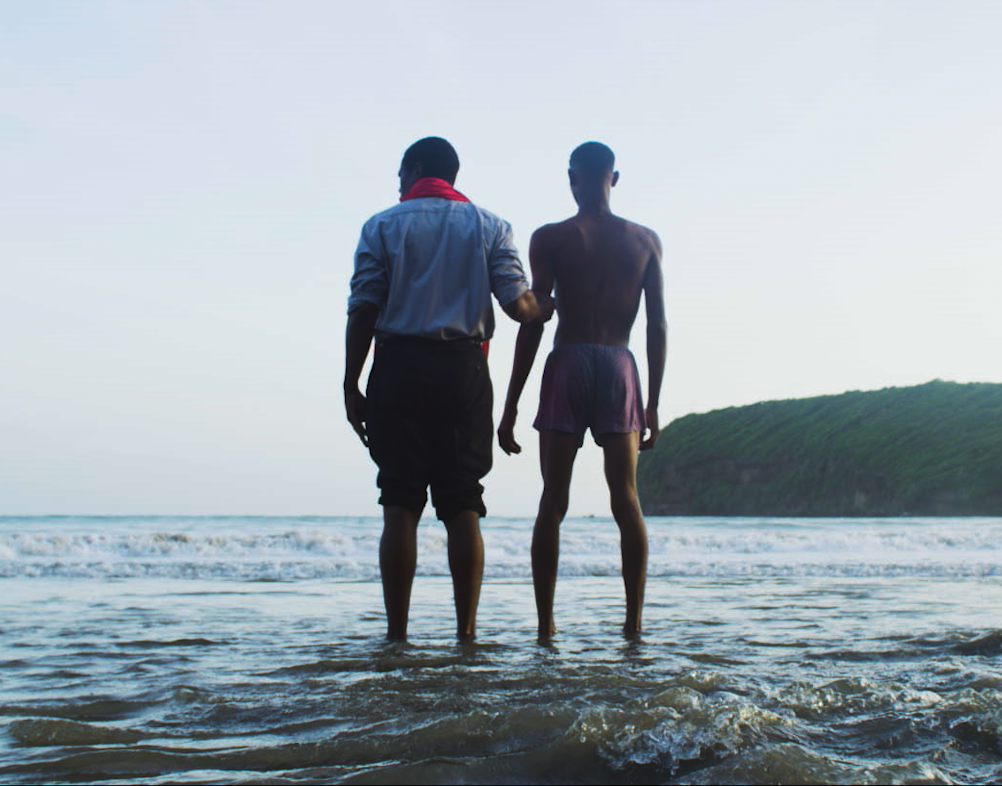 KK: Which other artists showing at the Biennale interest you, are you familiar, for example, with the work of Sonia Boyce representing Great Britain or Simone Leigh representing the United States whose work seems to resonate with yours? Which other artists inspire you in general?
BGF: I am very excited to see the works of Simone Leigh and Sonia Boyce who are both of Caribbean heritage. I am also excited to see the work of Alberta Whittle who is representing Scotland and has a similar Scottish and Caribbean roots to mine, and her work also investigates similar issues like mine relating to British and Scottish colonial entanglements and history in the Caribbean.
KK: The central themes of your work seem to focus on exploring your identity and the experiences of the African diaspora and colonialism relating to your own background. You have also done some pieces commenting on the reaction of French society to women wearing the hijab in France. Do you feel your work helps raise awareness and perhaps some resolution of the injustices in the world?
BGF: I am not interested so much in resolution, but more in bearing witness. I think the notion of resolution is a heavy burden for any artist to carry. James Baldwin once stated that "Artists are here to disturb the peace," I think what he meant by that, based on what I know of the man, is that any serious artist working today, especially someone with my background, should be engaged in some form of truth-telling and bearing witness. I try to do that in my work with the Nova Frontier Film Festival as well, which I co-founded. It is an extension of my practice and work as an educator that offers a platform for dialogue, cross- cultural fertilization, bearing witness, and truth-telling, to a public that is otherwise anesthetized to the greater plights of others. In my own work, I try to interrogate and contest personal and autobiographical memories, as well as historical and cultural archives, and narratives, creating an arena in which content and form are conflated.
This process of reworking, deconstructing, probing, layering, and intervening helps me to expand upon images and memory. In some instances, I recreate alternate narratives, and challenge assumptions around them, particularly when memory and history are absent, tampered with, or erased by imperial and colonial powers.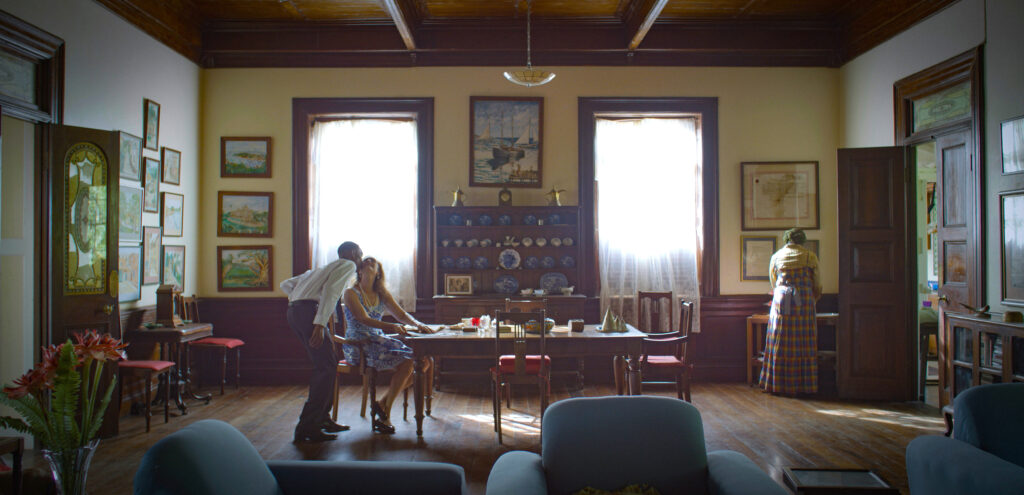 KK: Our mutual friend and gallerist, Liz Moss from Elizabeth Moss Galleries in Maine introduced us and will be exhibiting your work in Portland, Maine this summer. What is your connection to Maine and what work will you present there?
BGF: I first visited Maine while studying and working for the artist John Hultberg, who spent a great deal of time on Monhegan Island until his death. We met at the Arts Student League of NY, where I was studying studio art when I first moved to New York. I fell in love immediately with Maine and its archipelago of islands, which reminded me of my childhood growing up on a small island. I was also in a relationship with a man from Maine for eight years and visited Maine all through-out the relationship.
At Elizabeth Moss Galleries, I will be presenting my body of work: Second Eulogy: Mind The Gap which was in the Grenada National Pavilion in the 2019 edition of La Biennale di Venezia. It is an autobiographical intervention that explores my relationship with my father who was a boatbuilder and seafarer, among other things. Maine and Grenada share similar sea seafaring and maritime cultures, as well as the boatbuilding tradition and fishing trade. In addition, the two cultures share similar burdens and worries associated with the impact of climate change which also concerned my father, and these are evoked in the film that I will present.
KK: What other exhibitions or shows are you working on, what are your future plans?
BGF: I am working on multiple exhibitions, including one at the Butler Institute, managing the Nova Frontier Film Festival and Lab, and also working on a feature film set in Los Angeles in the 1970s. I hope to cast it and go into production soon.
To find out more about Billy Gerard Frank's work click here.