Sonia Jebsen: Could you explain how the concept of iazzu came to be?
Romana Kunz: We are challenging ourselves constantly to stay ahead of the curve. Be international, be social, be physical. They are all one! I grew up in a physical world, and I speak German. The next generation is growing up in a digital world, and they speak social! If you are talking to customers, people who come across the art you exhibit and sell, you have to offer them more than just the physical experience. You have to offer them a digital platform because that's the language they speak.
This is how our story came about since we wanted to simply allow people to "take home" the art we've seen in an exhibition on the smartphones they already hold in their hands. Everything must go through mobile! Like this, everyone accessing the art through the iazzu app can directly chat with the person in charge of the artwork in real-time; that's the highest in customer service. And on top of it all, they learn how their favorite artwork fits into their space without physically moving it. This challenge became an obsession, a passion, and a profession.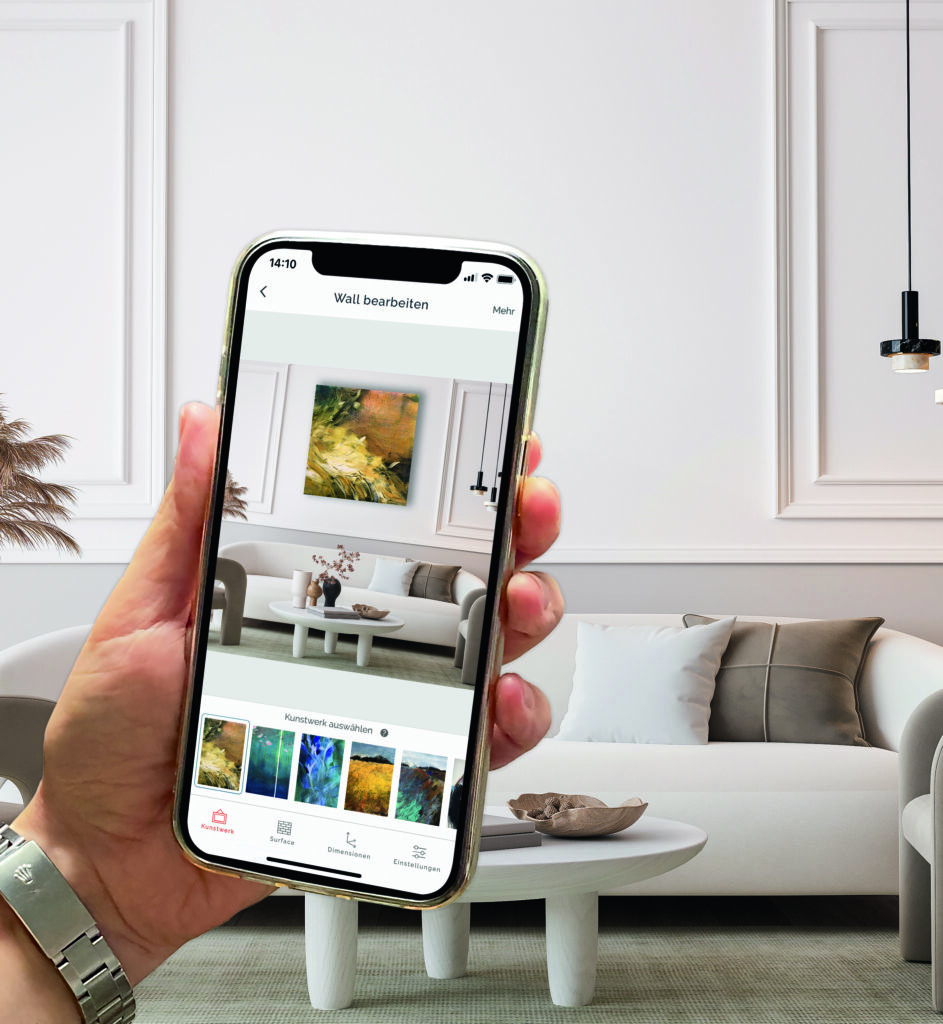 SJ: Could you tell us what this digital application offers to any art lover around the world?
RK: I run the company with Nicolas Kunz and Stephan Müller (CTO), who conceived the application technically from scratch. The vision was to become the most suitable tool and the first company to be a fully digital, end-to-end tech solution for physical exhibitors in the art world as a phygital tool. Phygital means physical plus digital. Phygital bridges the gap between the physical world and the digital.
We are working with our customers to build this vision. The experience is that an art lover would have total access to the artwork across any device, at any time, and from anywhere. And they would get precisely the same sensation of the artist's work, connecting with the content in the language they speak because a conservative single-language strategy may no longer be a valid way of doing business in our increasingly interconnected world. They are able to chat with the artist and/or exhibitor directly – regardless of how, when, and where they access the piece of art. Transparent, direct access is so important in today's society. In combination with Augmented Reality (AR) – the possibility of visualizing any artwork in any space including your own home – will give people not only easy access but also a tool, with which they can "do something". iazzu allows you to curate your own space with art. Technology makes all this possible today.
SJ: The application is free. Why, and is there any financial gain for the company?
RK: We operate as SaaS, a cloud-based software operating model that allows users to access an application and the data it contains, provided they are connected to the Internet. Our clients pay for the tailor-made, multi-language setup of their exhibitor profile on iazzu, plus a small monthly license fee for the storage of the data, maintenance, and to ensure the proper functioning of the application for iOS, Android and web, and benefit from all the new features. Compared to other companies who charge up to 50% commission on sales, with iazzu, you pay 0% commission.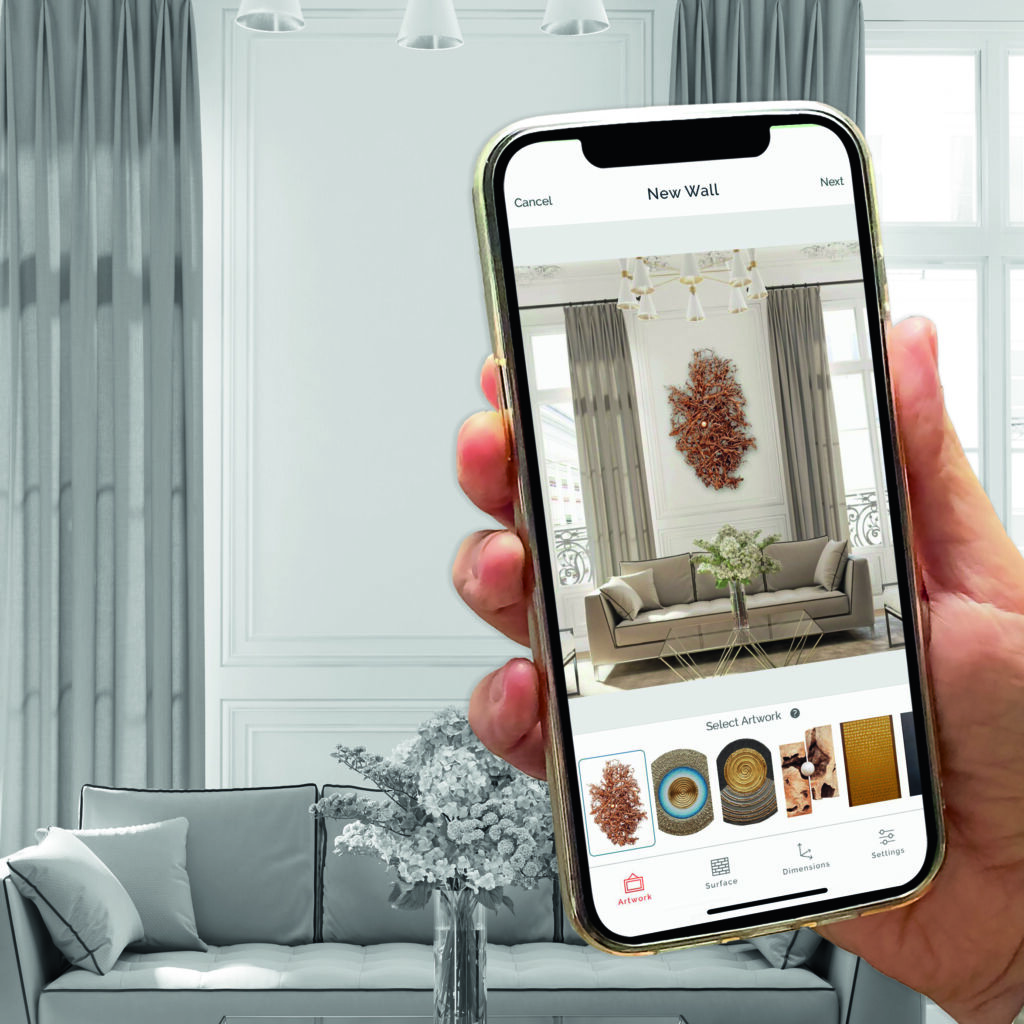 SJ: The application is extremely easy to use. Which entities are you targeting?
RK: Everyone exhibiting, creating, and even buying art can get a profile on iazzu, in order to carry and share artworks directly with their target audience. If you are in front of the computer, you can always scan the QR-Code of the exhibitor, artist, or artwork you are interested in with your smartphone and get direct access to the content on your smartphone, with which you will be able to visualize the piece in your own space.
We mainly work with galleries and individual artists. However, museums that share and sell for example editions from their shop use the iazzu app and we are proud to call them our happy clients as well.
Furthermore, even private art lovers and collectors can carry their own artworks on their private iazzu profiles with them on their smartphones, at all times. For the time being, our clients are located in Switzerland, Germany, Austria, Italy, Spain, and France. 95% of our collaborations come from client referrals. With Google, iOS, and Android, the clients can rate our services and the application. iazzu is granted 5 stars on Google and iOS ! That is the best publicity you can get. Everyone who sells or owns art is welcome to enhance their digital art experience with us. We gladly consult individually to offer the best tailor-made solution according to the client's needs, which is very important to us being an art-tech company offering a high-end service. We have a great list of clients on our website, alongside the Online Viewing Room (OVR) which shows a selection of the best iazzu profiles built. I invite you to visit some of them here: https://iazzu.com/ovr
SJ: With our mobile phones, we are all interconnected 24H/24H. Is virtuality an essential asset to the art world?
RK: I am convinced about it. Digital Consumer Behaviour shows how shopping has evolved since digital went mainstream. The average time spent on mobile apps was 4 hours and 48 minutes, up 30% from 2019, App Annie's State of Mobile report indicated. The "big screen" is slowly dying as mobile continues to break records in virtually every category – time spent, downloads, and revenue. And to everyone out there who is still skeptical, I want to urge you: You have to! You have to enhance people's art experience digitally today through mobile. You have to be connected with everyone who gets in touch with your art, physically and digitally. If you do not do that, no one knows where you will be in a few years' time.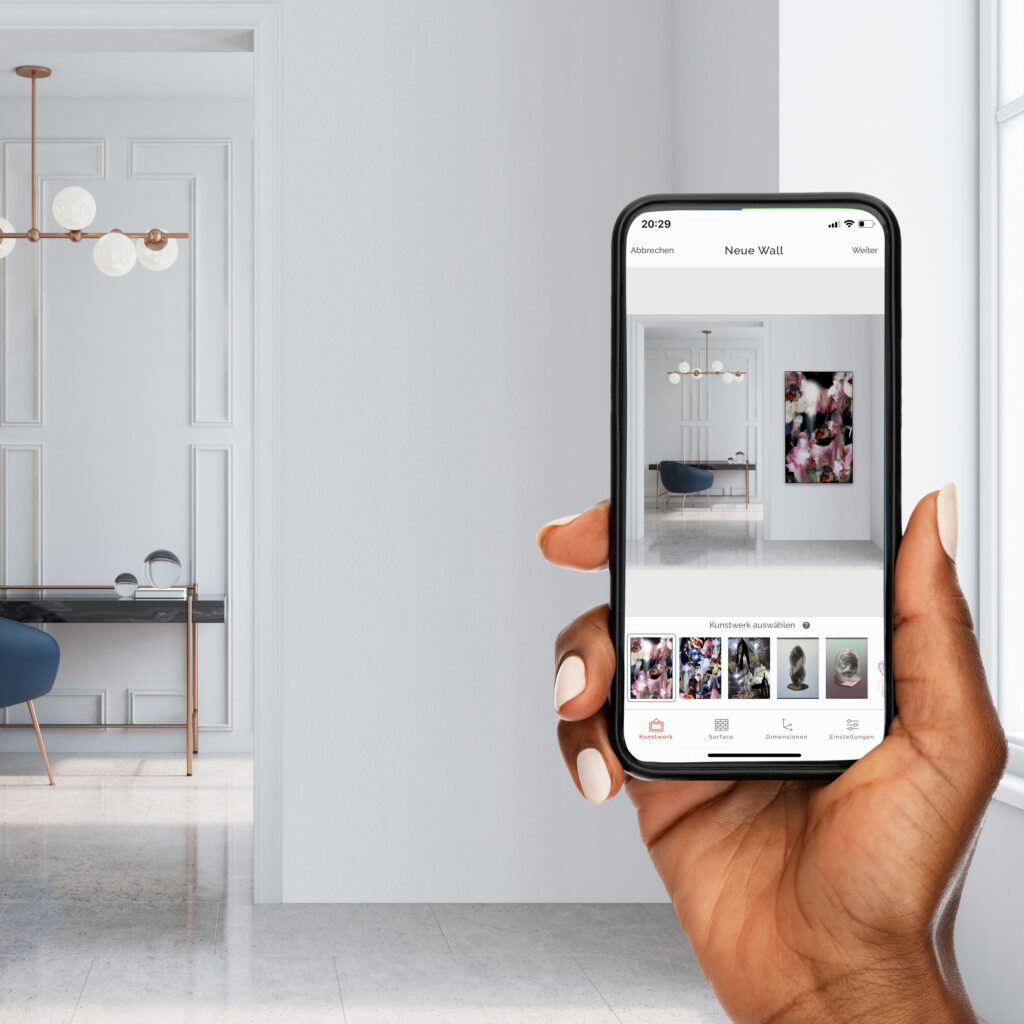 SJ: Are you and your partners art lovers and collectors?
RK: We all are art enthusiasts. We love to go to museums and exhibitions. I believe, every one of us purchased quite a few pieces of art on several occasions. I wouldn't call ourselves collectors, but we do own some works of art which fill us with joy and happiness! As a hobby, I dedicate two or three days a month, depending on my agenda, to search for interesting artists we could collaborate with. Visiting a studio is a lot of excitement and very fulfilling.
SJ: To end on a private note, do you have time to visit museums and galleries? Who are your favourite artists?
RK : A few weeks ago I visited the recently opened MOCO Museum in Barcelona with Nico and Stephan. It is a wonderful museum with a diverse and inspiring collection of unique street art pieces by Keith Haring, Jean-Michel Basquiat, Andy Warhol – all artists I personally admire, alongside works from Yayoi Kusama, KAWS, and BANKSY. I was absolutely blown away by the incredibly detailed work of Guillermo Lorca, a Chilean Artist whom I discovered through Simon de Pury – who also curated this part of the exhibition at MOCO Barcelona. Lorca combines some of his extraordinary pieces with Augmented Reality (AR), connecting the audience with his work, allowing an immersive experience during the museum visit! Other than that, I am a great admirer of Gottfried Helnwein, who for me is one of the most fascinating artists alive!