Sonia Jebsen: What paths did you take leading to your career as an artist?
Gregory Thielker: I did everything not to be one. More exactly, I did not imagine becoming an artist in our current world. Painting and drawing have been part of my life since childhood. During my studies at university, I took courses in the history of art, in particular that of the 19th century. Corot's blue skies captivated me and Rembrandt's paintings affected me deeply emotionally. Working in a museum would have given me closeness to art, but I would have been missing something essential.
During my last year of studies, I visited an exhibition by Gerhard Richter at the MoMa in New York, my first contact with contemporary art. His paintings of undeniable appeal gave me the same sensations as those experienced in front of the great masters.
Sonia Jebsen: You have lived in many countries. What do you take away from these experiences, do they have an influence on your painting?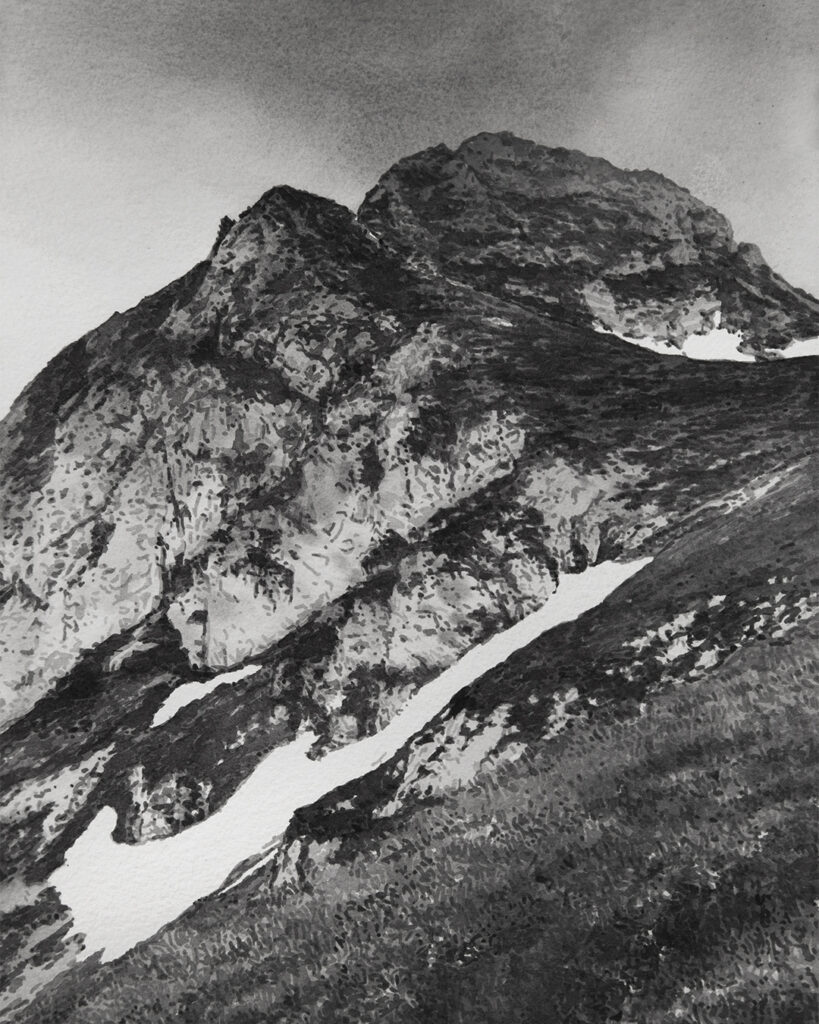 Gregory Thielker: Nature is my favorite subject, the search for sites and views is part of my creative process. But why choose one place over another? The answer is anchored beyond the visible, in the memory and the aura. This common thread led me to India, on the Grand Trunk Road, one of the oldest trade routes in Asia. I lived in Delhi for two years for the Delhi-Kolkata Road Link Project. Every day, I penciled in a roadside scene for a stretch of 76 km. This routine forced me to constantly review my approach to the subject. Along the way, the encounters allowed me to learn about history, local legends, and the impact of construction on people's lives.
One of my projects took place on the border between the United States and Mexico. During my trip, I made watercolors serving as visual documentation, imbued with my perceptions as an artist.
Sonia Jebsen: What mediums do you use?
Gregory Thielker: For me, painting and drawing reveal the hand of the artist. My day often starts with a sketch in pencil to relax me and get rid of my inhibitions. Drawing implies a positive and balanced state of mind. The same goes for painting, so I practice with several layers until I get a finished image. For me, a painted work is a mixture of marks on a surface and a believable image.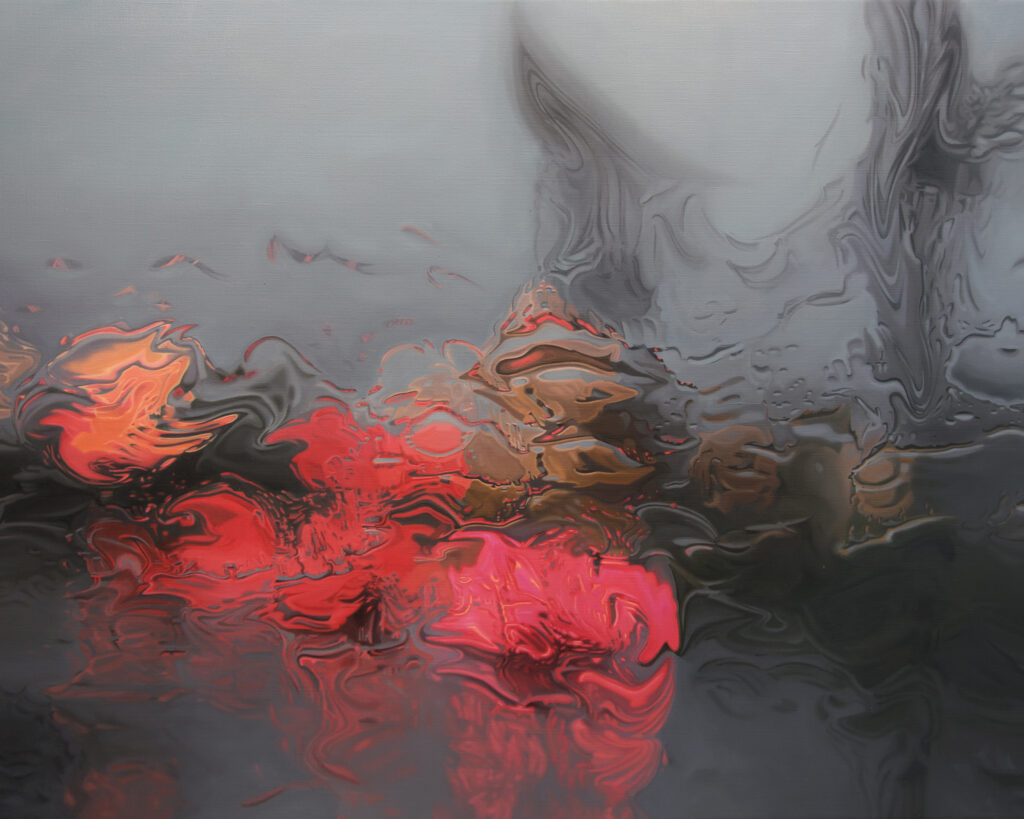 Sonia Jebsen: The "Under the Unminding Sky" series is particularly appealing. You reproduce your vision blurred by the rain during car trips. Explain this to us.
Gregory Thielker: The road describes a route during which we discover landscapes. We observe them differently depending on our position. When I paint this series, I add water to the windshield to create confusion. The perspectives escape and are reduced when the shapes and colors blend together. These works are born from lived experiences and have a close link with painting: its fluidity, its transparency, its capacity for superimposition and fusion.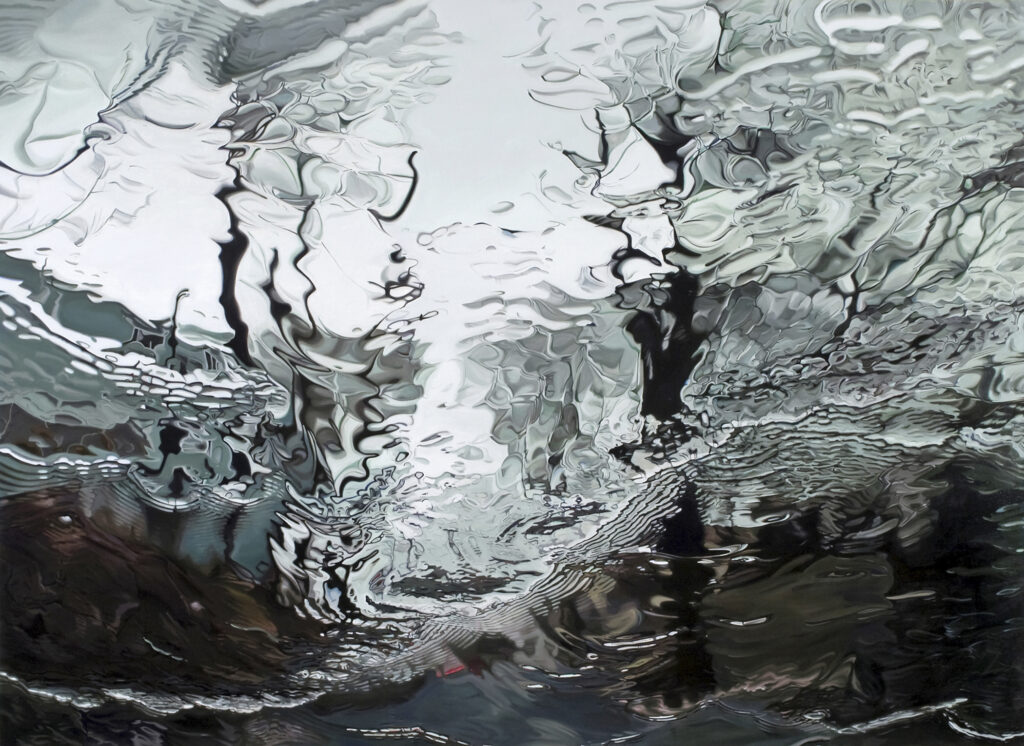 Sonia Jebsen: In the new series of black and white watercolors, you let nature play with your works. Explain this to us.
Gregory Thielker: These places represent memories of walks near my house. I practice painting outdoors, and thanks to watercolor, I transcribe this urgent need to isolate myself outdoors. The white and black allow me to purify my vision. With this medium, I dare to invert white and black to create opposing images, like negatives in photography. The rendering remains nevertheless real. Recently, I have dared to destroy some of my watercolors by forgetting them, burning them, or burying them where they inspired me. The paintings are a mirror of the inherent instability and fragility of nature.
Sonia Jebsen: You have been living near Geneva for two years. What is your view of the Swiss art scene?
Gregory Thielker: My family and I are lucky to live here in a peaceful area. As far as art is concerned, I had the pleasure of discovering many museums, such as the Fondation Beyeler, the Kunsthaus in Zürich, the Mamco, as well as the Frantz Gertsch Museum. I frequently visit galleries in Geneva with my friends. Being an artist these days is very exciting thanks to social networks, but enjoying exhibitions in person is just as essential.
Sonia Jebsen: Who are your favorite artists?
Gregory Thielker: Those who top the list are Gerhard Richter, Vija Celmins, Ana Mendieta, Zhang Huan, and Rudolf Stingel. Among the youngest I discovered on Instagram, I can mention Eliana Marinari, Juliette Sallin, Valentin Van Der Meulen, Mike Silva, Yongtak Choi and so many others…