Born in Montreuil, France, in 1987, King Houndekpinkou is a Franco-Beninese ceramicist who lives in Paris and works in France, Benin, and Japan. In 2012, his discovery of the six ancient pottery kilns of Japan encouraged him to visit Bizen, Japan, each year to acquire further knowledge and experience with local potters. There, King was seduced by their spiritual and ceremonial approach to creating ceramic works, which was reminiscent of Benin's animist cult of Voodoo. Following this experience, King developed Terres Jumelles, a program that fosters a cross-cultural dialogue between the pottery sites of Benin and Japan. Today, King has developed a practice that merges tradition, spirituality, and visceral creativity while crossing borders, whether they are cultural, geographical, generational, disciplinary, technical, or historical.
Kristen Knupp: I met you at the Taste Contemporary stand at Artgenève and I was wondering about how the fair went for you and your work, and what was your general impression of Artgenève?
King Houndekpinkou: This was the first time I have shown my work with Monique Deul at Taste Contemporary so I wanted to be there, accompany the work, connect with her, and see how the work was received in Switzerland. That all went really well. I thought that the booth was amazing and I was honored to have a special space in the middle of it. Monique had one of the best booths at the fair, in my opinion. The fair, in general, was very interesting and I thought the quality was very high. It was the 10th anniversary and I thought it was important to go and see it.
In terms of my own work, as soon as I walked into the fair, I met a collector who had bought a piece of mine in November. It was really good to meet him and connect, and he actually bought another piece. This says a lot about the connections that can be made at Artgenève between artists and collectors. To have this experience was really amazing. Art is almost an excuse to connect with other people and share our life experiences. It is why I do what I do.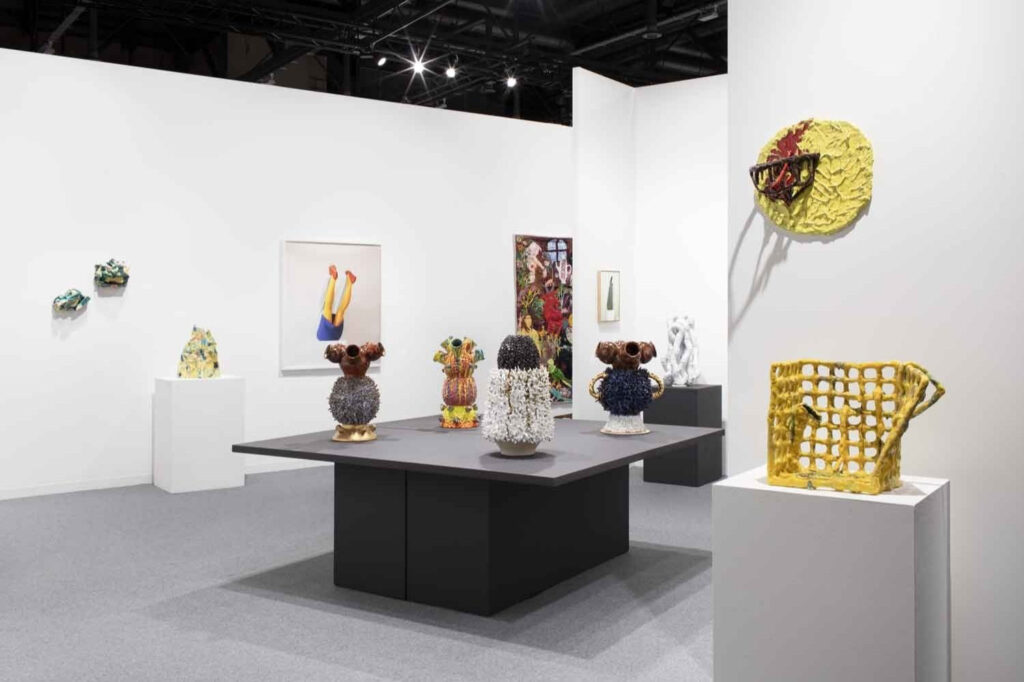 KK: I read that you have spent time in Japan, trained with ceramic masters there, and were interested in Shintoism and the way it impacts how Japanese artists create their pieces. Does this still influence you now? Are there other influences as well at this point?
KH: My encounter with Japan, and the spirituality of the country and the ceramics are what jump-started my interest in ceramics and being an artist. It is what initiated the momentum and pushed me into an artistic career. My passion for Japan started with playing video games in my childhood. Then I spent time in Japan, and the spirituality that was present in the way that my potter friends in Japan worked was very reminiscent of the culture of animism in Benin. Nature, mountains, and anything living has a soul and a life and has to be treated that way. That is the way my friends in Japan treated the materials they worked with and it really touched me. This is when I realized that ceramics were my destiny. It was what I had to do. No other material or discipline had ever made the connection between my country of adoption and my country of heritage.
These days, of course, there are other influences. Other disciplines have started to inspire me such as music. I am very interested in particular in the approach of Hip Hop artists because it is the only music genre that accepts and integrates all other music genres. It is a melting pot of sounds from aboriginal sounds to rap, and they talk in the music about different realities. I find this very inspiring. I am at a point in my career where I have developed ten to twelve different series of works. The way I see them now is that each series is like a musical note, and I want to develop each of those notes in different ways, developing different melodies. I want to delve deeper into the themes I have already created. With twelve notes you can make thousands of melodies and iterations of my work.
In terms of specific artists, I really like Tyler the Creator and how he works. In music, you usually have certain patterns in a song, like a verse, a chorus, and a bridge. With his music, he works very differently. So I see his music as a guide on how to de-program myself and rethink how I do things. In terms of other influences, I am also interested in patchwork and textiles. When you think about patchwork, a patch is about healing and putting things together. When it comes to my work, it is inspired by a patchwork of Japanese culture and Benin culture. I also put together different elements and parts in each piece. So my work is a kind of patchwork.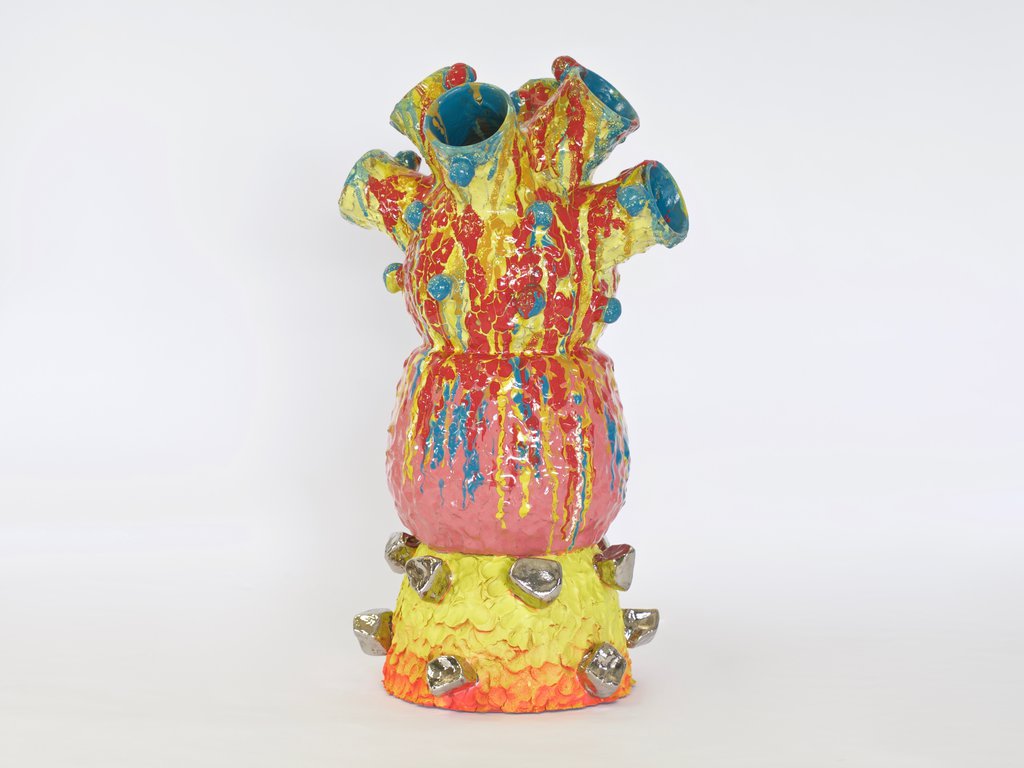 KK: Could you tell me about the organization called Terres Jumelles that you have created?
KH: This is a project with the goal to connect Japanese and Beninese potters. I travel to Japan and Benin and document the work that is created there. We make work from the same clay and exchange clay from each place. Each year, I chose a particular site to visit and to connect the two countries to make new cultural exchanges and connections. West Africa has been left out of the cultural exchanges with the East up until now and I want to change that and make stronger connections between these two regions. I want to make people realize that we are all the same. We create pottery for life, to make our lives better and easier. It is better to drink out of a cup than to try to catch the water in our hands. Artisans from all over the world understand this, and have the same motivation to create.
When I was at Artgenève, I had just come back from Benin where I met the Japanese Ambassador, and we talked about the project. We are looking for funds and support to help us to expand the project. Connecting Benin and Japan is a big challenge, but it is really interesting.
KK: Could you tell me about your creative process? I saw a photograph of your ceramics and I noticed some drawings on the wall behind the ceramic pieces. Do you make a drawing before you make a piece?
Since about 2018, I have started making drawings to help me put my thoughts on paper and have a direction for my work. I am not a figurative artist, but I am good at drawing lines, curves, and shapes that relate directly to my pottery. This is what I draw when I prepare to make a piece. Then I add watercolour to find the right combinations of colors and what feels good to me. Texture is also important, it is 80% of what makes a color for me. The tint is only 20% and the rest is texture. Texture makes the color come alive. My pieces should seem alive, and as if they are moving on the shelf.
I then create the shapes. Some of my sculptures are composed of say three cups, one vase, and one bulb, and I put them together. One could say I patch them together. And then I sculpt around it, adding the textures. Then I do the firings. It is two firings for a glazed piece and three firings for a glazed piece with gold on it. I love to have gold or a shiny texture mixed with a matte texture to add a lively feeling to the piece. In addition, Benin was a kingdom and my name is King, and these are both associated with gold. I would say that these are happy coincidences.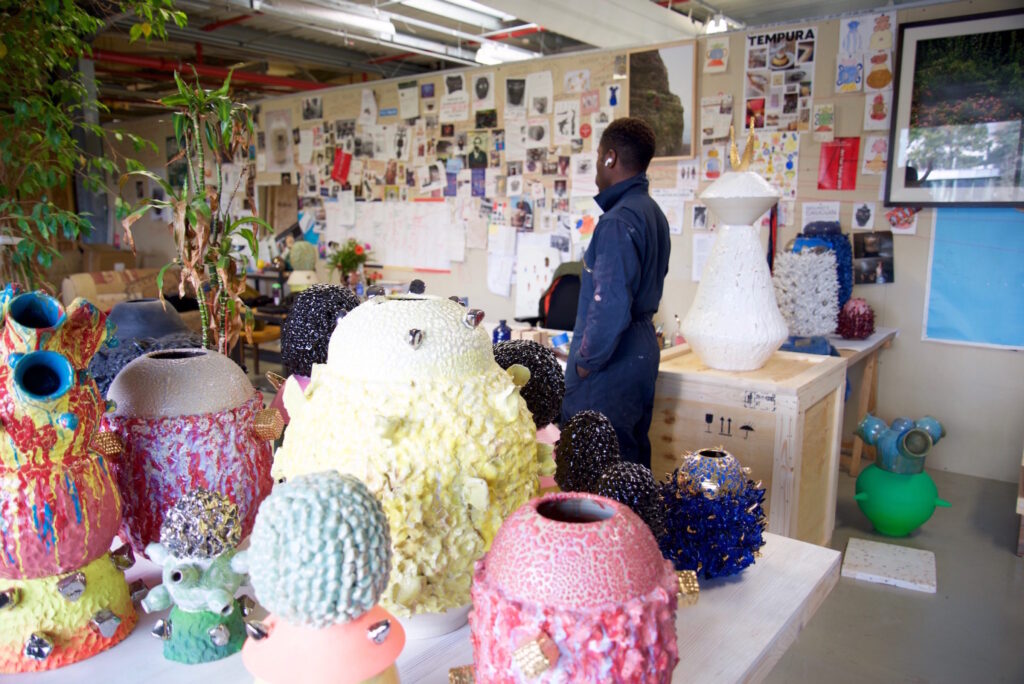 KK: What is the best thing about being an artist and a ceramicist, and what are the challenges?
KH: The best thing is freedom. Freedom about the way I use my time. I love sleeping and think sleeping well is very important. I wake up fairly late compared to someone who has a nine-to-five job, but this allows me to spend time in the studio late at night when I feel more creative. I want to make good use of my time and also have enough time to regenerate so that I can function well and be creative the next day. This is a necessity for me. I also need time to let my ideas grow and settle. I can be very outgoing, energetic, and a little erratic. I need time to let ideas settle and decide which ones I will pursue. I am a Taurus and a Taurus loves to take their time to do things. Being able to manage my time in the way that I want is a real luxury and freedom.
One of the challenges of being an artist is protecting your work and managing the business of being an artist. My life is my work. When you put your work on the market then you need to be careful of how it is being presented and represented. You need to read contracts carefully and work with galleries where your interests are aligned. This is very challenging. Managing a career is one of the most important skills and something that you don't learn in art school. In art school, you learn about art history, and which artistic path you want to pursue, but the management side is not taught. You need to learn how to sell, pay your rent, find a gallery, read a contract, and have a voice so that you are in charge of your own career. Even though you are an artist, you should still have power over your work. I see working with a gallery as a collaboration where we work together to create value together. The artwork should be at the center, rather than money, and then it is a win-win.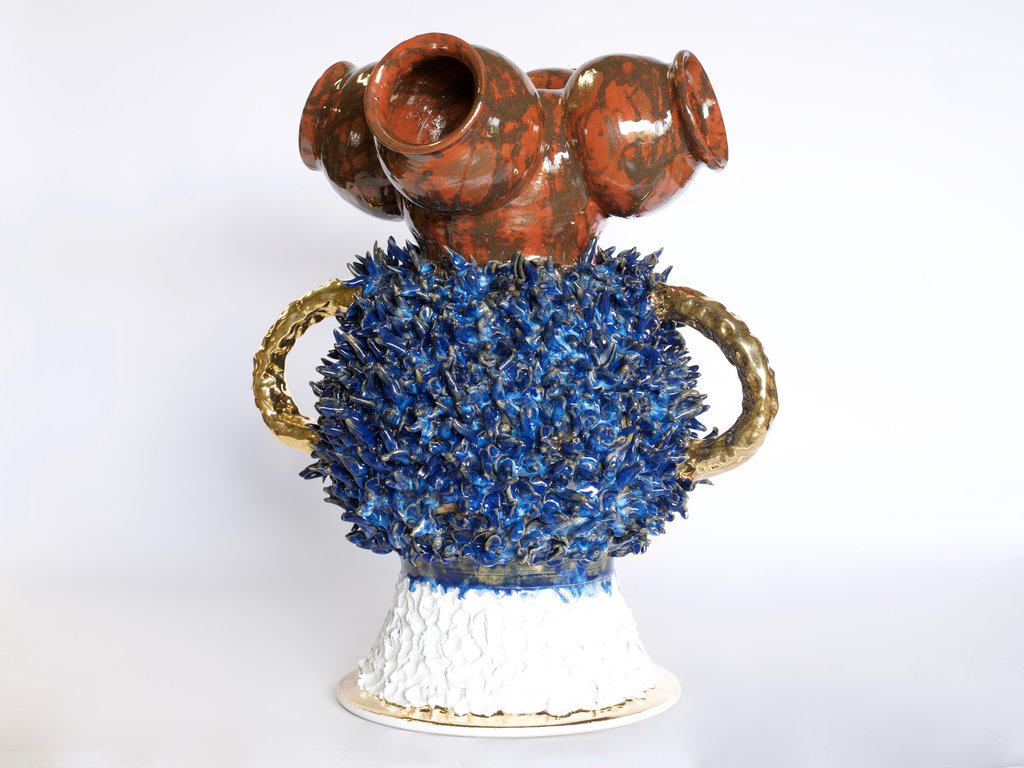 KK: Tell me about your upcoming shows, fairs and what are you most excited about in the future?
KH: Being able to keep making art is what excites me about the future. More specifically, I will be exhibiting at Homo Faber in Venice next month. I have had a piece selected for the show and I will go to the opening. Then I have a show in New York with a gallery called 50 Golbourne which is a London-based gallery. We will be showing at 1:54, the Contemporary African art fair, in mid-May. Then I have a show in Australia, then I go back to Benin for a show at the Embassy of Japan.
At the same time, I am working on the contents of my next solo show. I am starting to gather ideas and people I want to work with to make the show. Usually, my solo shows are in Paris at Gallery Vallois. This is the first gallery I started to work with. I am also open to having a solo show somewhere else as well. I am trying to plan ahead and create something I really want to show. I am tired of doing shows with pedestals…I am more interested in creating a world with many different elements and making a new environment; I want to create King's world. Patchwork is an inspiration for the solo show and Benin has a huge culture of creating art on textiles so that is something I am thinking about.
More information about King Houndekpinkou's work and upcoming shows can be found here and information about Taste Contemporary can be found here.