Laurence de Valmy's artwork invites us to reflect on the links between present and past, and the relationship between art and social media today. She explores the impact of social media on the way we learn about and appreciate artists and artworks. Inspired by her own research into the personal stories of well-known artists, she revisits art history by re-representing famous pieces through the lens of present-day aesthetics and the vehicles of Instagram and TikTok.
In her Post paintings, she combines iconic artworks re-appropriated with imagined conversations on Instagram; historically accurate yet humorous. Her TikTok Timeless videos share a moment in time in the life of an artist, paired with music selected from the relevant time period. By telling the stories behind these artworks, the artist leads us to consider them with fresh eyes, and ponder the role of social media for artists today. She also presents these artists to a new generation for whom these pieces may spark a newfound interest in the arts.
Laurence de Valmy is French-American and lives in San Diego, USA. Her work is represented by galleries based in New York, London and France. She has had exhibitions in MUCA Munich, Barnes Foundation Philadelphia, and CICA Museum in Korea and her work is in private collections. Kristen Knupp of Art Vista Magazine interviewed Laurence de Valmy in January 2022.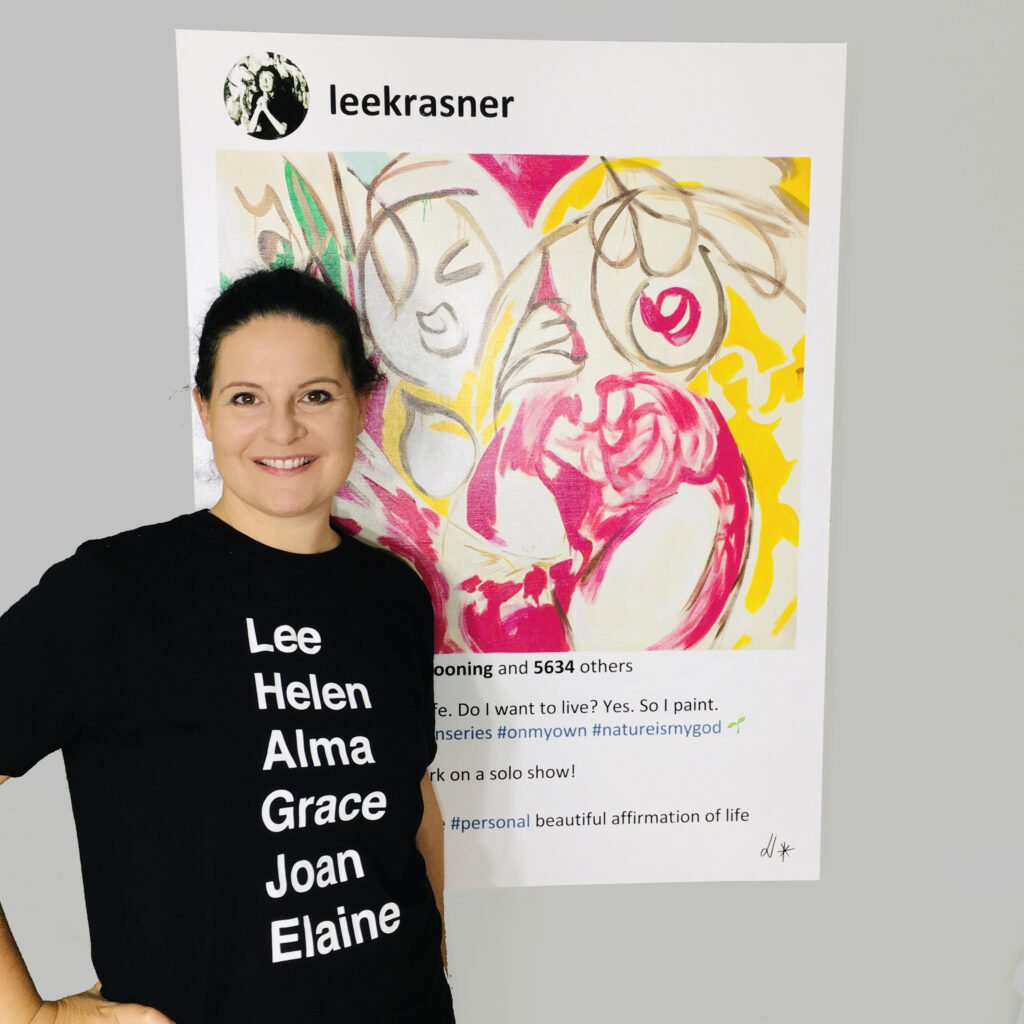 Kristen Knupp: You have an interesting background as you are in California at the moment, but your name is French, and you have exhibited in Paris, so could you tell us more about your background and how you came to be in California?
Laurence de Valmy: I am French and I moved to the US eight years ago and that is when I really started to get back to my art because I had been working as an artist for a long time but I had another career in parallel. When I moved to the USA, I decided to put more time into my art career. In 2015, I started to exhibit actively, and since 2017, I am represented by different art galleries.
Right now I am based in San Diego, California, but that is only since last summer. Before that, I was based on the East Coast in New Jersey and Pennsylvania. In addition, since last fall, I am represented in Paris by Galerie Bettina, which is based in Saint-Germain-des-Prés.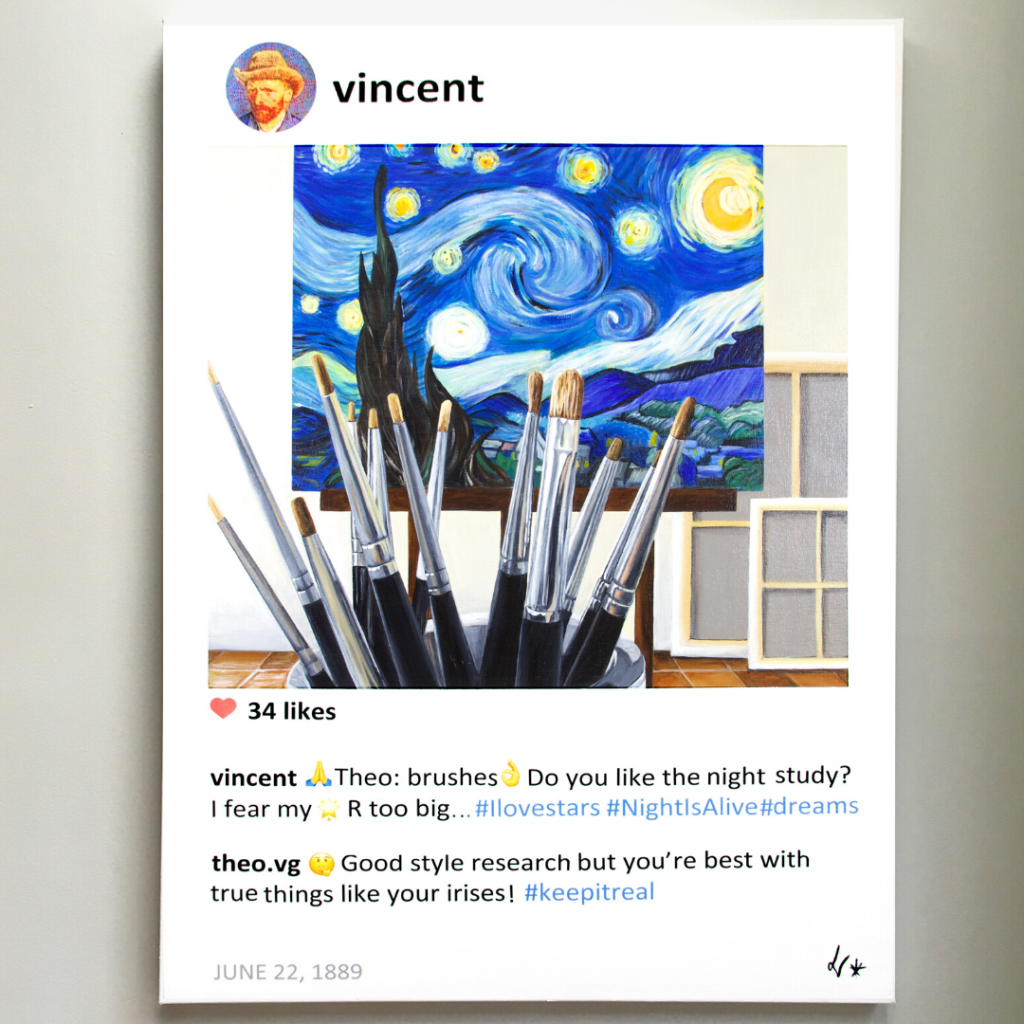 KK: I have seen your Post paintings online and I would love to hear more about them. I would like to hear about the inspiration behind them, and also find out if there is a specific period of art like impressionism that you focus on?
LdV: The idea is to share the story behind the artwork. My starting point was that before this series I was working in a photorealist style, and often people told me that my paintings looked like photos. I was also interested in how Instagram was being used by visual artists in particular. I combined this reflection about Instagram, my competencies in painting, and my interest in art history to create the Post series. I appropriate an artwork and in the dialogues below I share the stories about these paintings. The concept is: What if Instagram had always existed? What would Andy Warhol have posted? What about Claude Monet? It is an excuse to share their stories because sometimes we know the artwork but we don't necessarily know how the artist created it, why, when, etc. That is what my series is about.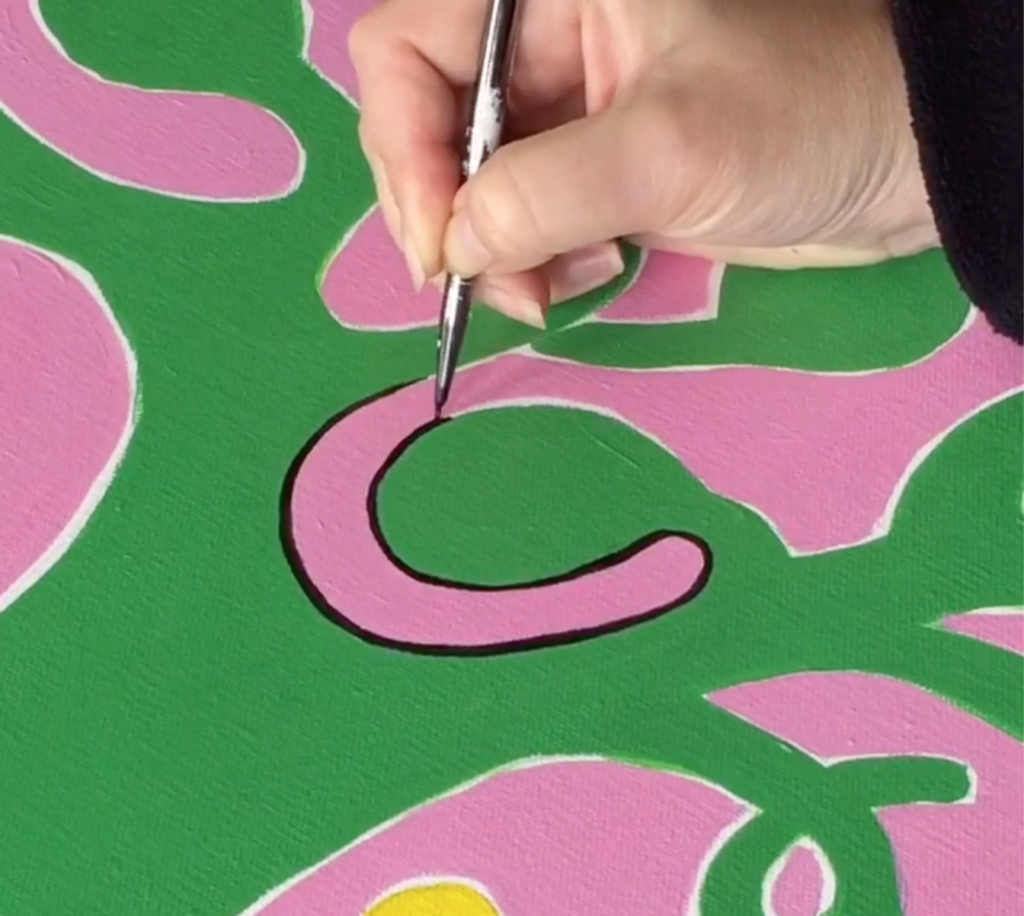 KK: So the comments are based on historical information?
LdV: Yes, all the comments are based on my research. I dig into their biographies, the art books, and also information available online, and I manage to extract some information that can be both relevant and entertaining and allows us to see the artwork with new eyes. The image is hand-painted, and I appropriate the artwork while the text is printed.
KK: Is this the type of work that you are showing mostly at the moment?
LdV: It is. I started the series in 2017 and it is thanks to that series that I got a breakthrough with my work. Following this, I managed to get gallery representation and have exhibited regularly since then. To answer your previous question, I do not focus specifically on one period in art history but I focus mostly on artists that I like, and that I know better, so it is mostly 19th and 20th-century artists.
KK: You are also selling work as NFT's. I would be interested to hear more about that since it is a rather new area in the art world, and it ranges from the Beeple artwork that sold for $69 million at a Christie's auction to works like the Bored Ape Yacht Club series which is another part of the market. Where do you see yourself fitting into the NFT market?
LdV: When the Beeple auction happened it really brought the NFT market to my attention. I started to do some research about it because it is fairly complex to understand the new technology. At the time, in March 2021, the platforms that were available to artists seemed to me fairly complex to use and expensive because you had to go into technical aspects such as creating a crypto wallet, and buying cryptocurrencies, and you had to pay a guest fee to be able to use the platform to sell your work.
At the time, I didn't have any specific artwork available that was digital and I wasn't comfortable spending hundreds of dollars to put my artwork onto a platform that I did not know enough about. So it took me some time to think about it. I also had in mind to tackle TikTok for artists but until then I wasn't sure how to use that in my work because TikTok is about videos. Since NFTs are perfect for digital artworks I decided to create some videos on TikTok that are based on the concept: What if TikTok had always existed? And I created a few videos to make as if Andy Warhol, or Basquiat or Claude Monet had used TikTok to share their work. So it is the same concept as the Post paintings but applied to TikTok.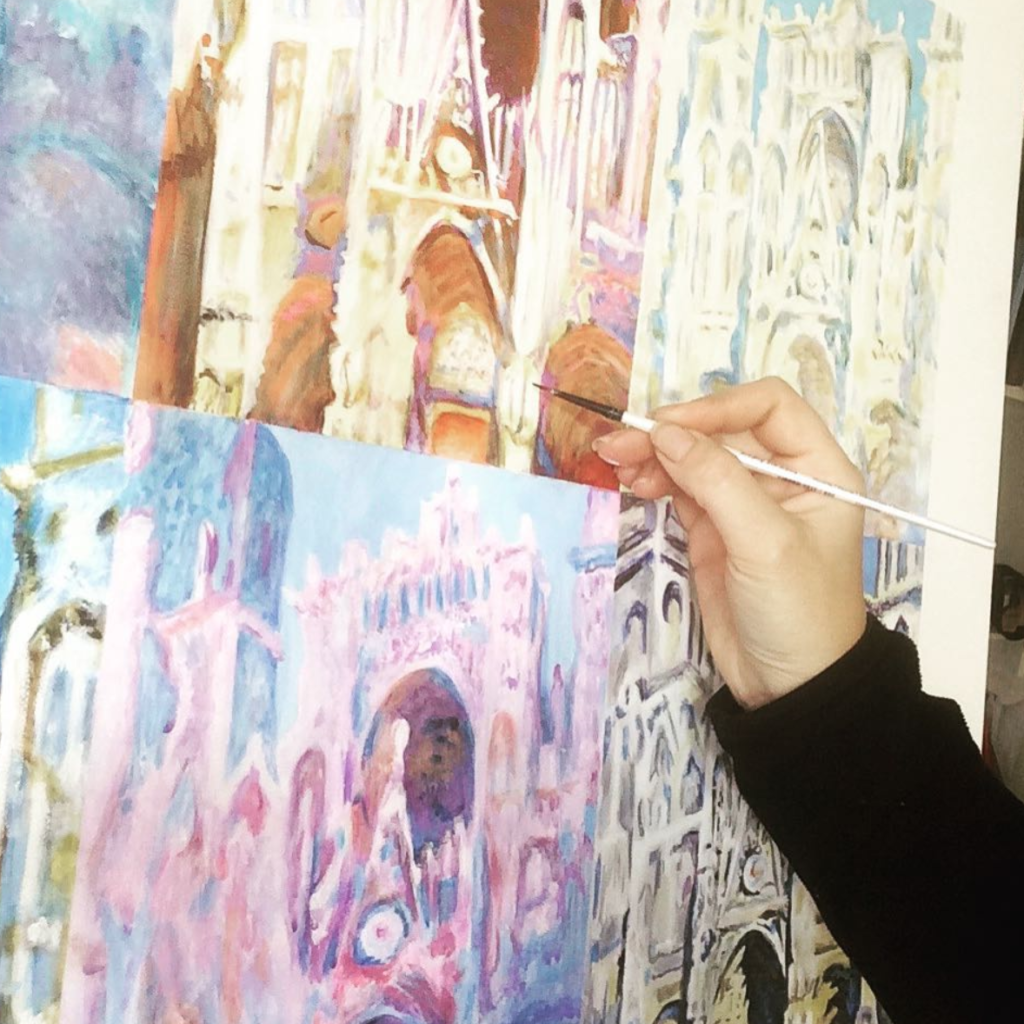 KK: Can you describe what is in the videos you have made for TikTok, and what platform you are selling them on?
LdV: For example, I made one about Claude Monet creating his Cathedral series, and I chose music by Claude Debussy, a French musician often labeled as an impressionist musician with a composition that was available in the 1890s to go with the video. For Andy Warhol, I chose him to present his famous series of Marilyn Monroe when he first showed them in New York in 1962. So I make the video as if the artist was the one creating the TikTok. I even made accounts in their names, like "Andy Warhol official" to make it more fun.
The other piece that came together is that I became aware of a platform called voice.com and they democratize NFTs both for creators and collectors. You don't have to pay any fees upfront, and they use a different blockchain that doesn't have a gas fee upfront and is environmentally friendly because it uses less energy. Collectors can pay in US Dollars so they do not have to buy cryptocurrency. This is clever because I feel the majority of NFTs are targeted towards tech people and crypto fans, but not necessarily towards traditional collectors. I believe there is a place for these collectors who are interested in buying digital artworks but might be pushed back by the complexity of buying cryptocurrencies.
KK: I have heard the same thing from a gallery that was selling NFTs at Art Basel but found that many people did not have crypto wallets. This gallery ended up taking regular currency for the artworks.
LdV: I understand that because I am not a tech person per se. I understand cryptocurrency but I am not an expert or a specialist nor a fan. What I like about NFTs is that it is a tool to market digital artworks. Up until now, the creator of digital artworks had no means of selling them in a secure way. It is an interesting tool and I am sure it is going to be around for a long time.
KK: What are your future plans? I see you are going to have a show in New York, is that going ahead?
LdV: The next show I have will be the Affordable Art Fair in New York from March 23-27. Another exhibition I have coming up is in a non-profit space in Texas in a group exhibititon titled Feminists Connect at Charles Adam Studio Project, in Lubbock, Texas from March 4-30. I was part of an online exhibition this year with the same group and the curators have now transformed it into a physical exhibition. Finally, I have work on view at a public art installation with Summit Public Art in Summit NJ for the whole year.
For more information about Laurence de Valmy and to see her NFT videos, please click here.