Limna, the world's first AI-powered art advisor, analyses millions of art world data points to provide users with price estimates about the art that inspires them. This dataset contains more than 700,000 artists, and has been tracked since 1863 across 1,000,000 exhibitions at some 45,000 institutions. Limna specialises in photography and painting, focusing particularly on the work of living artists' in order to continue to support today's visual arts community. Like its sibling brand Artfacts.net, whose focus is to help artists understand their career position, Limna is based in London and Berlin and was co-founded by Marek Claassen and Stine Albertsen. 
Kristen Knupp: Could you please describe Limna, how the idea to start it came about, and how you both, Marek and Stine, got involved in the project?
Marek Claassen:  Stine and I started collecting exhibition data more than 20 years ago, with Artfacts.net, because we had the sense that artists' exhibitions really define whether they exist. We started building up a huge exhibition archive back to the turning point of the Salon des Refusés in 1863, because we had a feeling that there are two sides to this coin. One side is the market and news about sales and auction results, but on the other side are the Art Historians and the exhibitions that they curate. So far we have collected around a million exhibitions in our database. We realised that we could organize this information according to impact rather than just alphabetically. In short, the more exhibitions an artist has had, taking into account the venue and fellow exhibitors, the more points we give them, so in this way we can quantify the artist's career stream mathematically.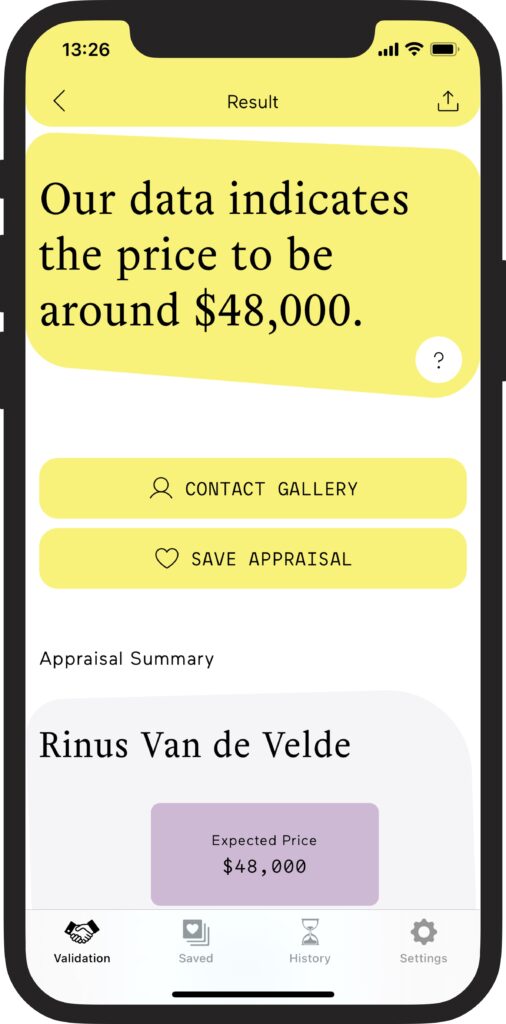 The next step was via a Silicon Valley investor who invested seed money into our project in order to show that there is a correlation between exhibition success and market success. So we came up with a structure for how we could tell people what a fair price should be for an artwork, in a more visible and accessible way. We can correlate the artist's career with the pricing and predict for any artist a price for an artwork of a certain size. This gives both the collector and the gallerist confidence in the pricing of works. This also opens up a means for discussion between the dealer and the collector about the price for the artist's work. We feel that the dealers embrace our system because it provides detailed information to potential collectors about the tangible reasons for the price.
Stine Albertsen: I think it was also demand coming from outside, when we spoke to the galleries and the artists about their difficulties pricing some works of art. It is a way to fill a gap in the market around pricing. Our main goal is to get new people into the art world as collectors. With Limna, you can easily dive into the market and have relevant information to open up the market. It is for people who want to spend money in the art world but don't know where to start.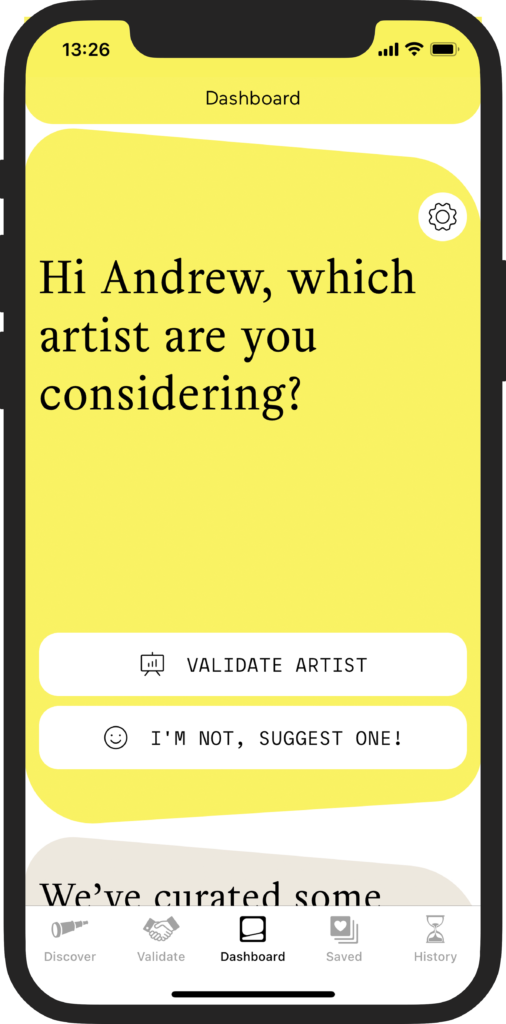 KK: It does seem to be good for new collectors. What do you think differentiates Limna from other apps?
Stine: I think what is different is that we already have the data, and we are deeply-rooted in the art world. We are not out-sourcing information, it comes directly from us. We are in close contact with our customers. When we first started, we used to check the pricing with the galleries. In some cases, we saw that artist's prices came down all the way to zero. So we checked with the galleries, and there were actually good reasons for that in most cases, so the data made sense.
KK: It seems like there is a huge amount of data behind the app. How do you keep that up to date?
Stine: Artfacts has been around since 2001, and we've received a massive amount of data sent both from artists and galleries. The ranking of artists is important to many people, so they are interested in keeping the data up to date and making sure we get the right information. It is like a third person giving a stamp of approval on their career. We also have a team checking the data, to make sure it is accurate. We have a lot of collaboration throughout the art world.
KK: Does an artist need to be represented by a gallery to be on Limna?
Stine: The artist needs to have had a show in a gallery or a museum to get into the system. They do not need to be represented at the moment, but at some point in their career they need to have been exhibited.
KK: What is the relationship between the galleries and Limna? Is there a fee paid if art sells, or do they pay to be in the system? In other words, how does Limna make money?
Marek: It is a good question. There are 20,000 galleries in Limna and 750,000 artists. You won't even find this on Artsy, for example, because there, the galleries are paying to be included, which limits the number. Since we collect exhibition data ourselves, we have to enter this data. We don't want to disrupt the traditional art market that has been around for 150 years. We don't want to kill the middleman. We know what a difficult job it is to run a gallery, and we want to support the people doing it. The total number of galleries is declining. There are 6,000 galleries going to all the art fairs, and many of the other galleries are going extinct. Our goal is to support the diversity of the system and to constantly add new creativity to it. We have strong relationships with the galleries, both large and small. Through Limna, we send the galleries leads of qualified collectors, which is the starting point of a new relationship.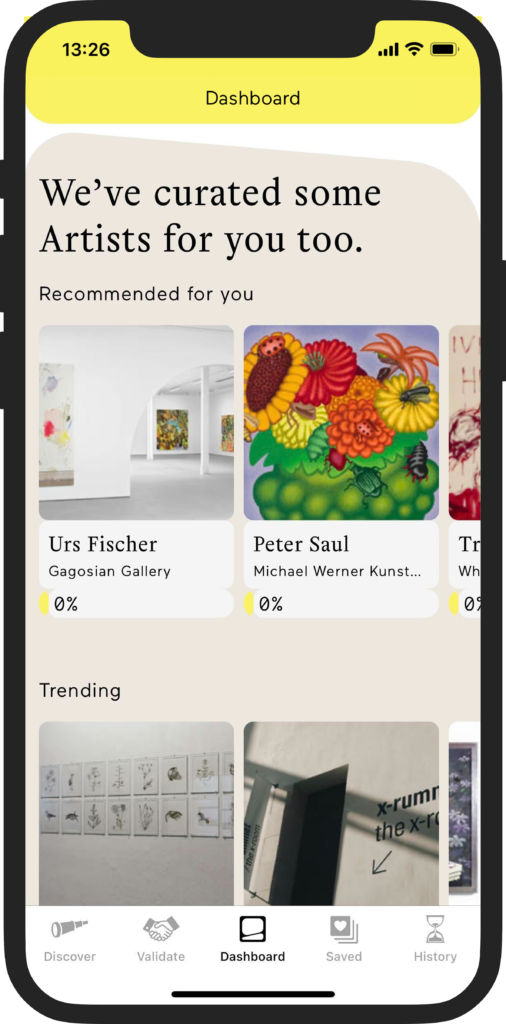 KK: I noticed that there is no link to the gallery websites in Limna, which is interesting. My first inclination is to click a link to go directly to the gallery.
Marek: This is because you already know what you want, so you go straight to the gallery! Some of the galleries would like to put their inventory on Limna. But some galleries want to know more about who is calling and what kind of budget they might have before they show them something from their inventory. Taste is something very private. Something like a relationship between a patient and a psychologist.
KK: How has the uptake been? What is the current usage of Limna?
Marek: We have strong growth. I think up to now we have had 16,000 downloads of the app, and about 40% of those are monthly active users, so around 7,000, which is tremendously good for an app. We first launched at Art Basel in September, so that is where we first started spreading the word about Limna. The first months in the App Store were secret, because we were a little bit cautious, given that we were predicting the price of hundreds of thousands of artists…but since then it has picked up very well.
There are, of course, some people who are not happy with the prices we have predicted, because they think they're outside the correct range. But this can happen for many reasons, and maybe the price the gallerist has placed on the piece is a little high. So there can be discrepancies between our estimation and the real world. Limna can be a sparring partner, and a point for discussion between the collector and the gallery. We estimate prices; we don't replicate them. We look at the whole ecosystem of the artist, and his or her place in art history, and then we create an analysis of the data. Limna takes into account the history of the artist, the curatorial success, and then carries out its analysis to estimate the price.
KK: So you are providing a counterpoint to gallery prices?
Marek: Yes and they can fit, or they can be a bit above or a bit below what the gallery is actually asking. It can be an artist with a strong cultural profile, but someone who hasn't been discovered by the market.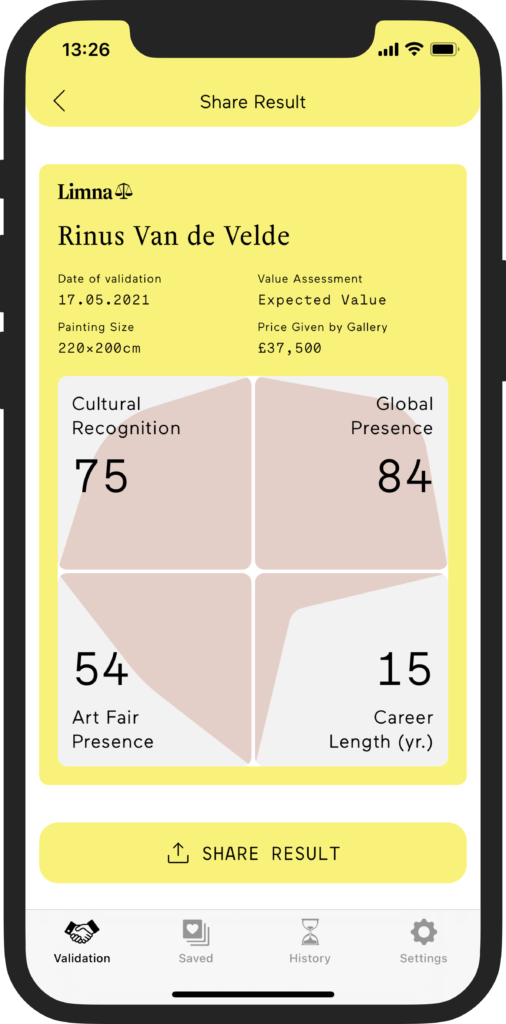 KK: Is there a geographical area that is using Limna more than other areas?
Marek: Yes most downloads are from the US. Which is astonishing since we started in Berlin and we are very embedded here in Europe.
KK: Why do you think that is?
Marek: The seed investor is American, and perhaps when we are talking about prices this is something that caters more to the American culture, because they're often held to higher consumer-rights and transparency standards than other markets. When talking about the size of a painting and the related price, this is something people can easily grasp. The cultural past is perhaps more complex and the translation of this into something more transactional is easier for many people to handle.
KK: What are your goals for Limna for the next few years?
Marek: That Limna becomes the standard, and it becomes normal to fact-check prices before you go to a gallery.
Stine: And to use Limna to discover new artists, because not everyone has an art advisor, so you can use Limna as an advisor to be better informed. It is affordable, and maybe even fun to play around with it.
Marek: We would like it to become a classic, like when you think about cars with automatic shifting, air conditioning, and so on, these are features that are now normal in all cars. So not everyone in the art world has access to an art advisor, but technology can make this kind of advice accessible to everyone.