In anticipation of Loie Hollowell's first exhibition in Switzerland at Pace Gallery, Geneva, Art Vista Magazine spoke to Hollowell about her upcoming show, as well as her expanding color palette, Transcendentalist art, kaleidoscopic experiences, the microcosm and the macrocosm. The Split Orb series is titled after the last phase of labor, and this show is the final installment in a three-part series that began in Spring, 2021. Hollowell's biomorphic abstract work explores themes of sex, pregnancy, childbirth, breastfeeding, and motherhood. Her Split Orb series bridges abstraction and self-portraiture, using innovative geometric compositions to capture the female body and its transformations during childbirth. Hollowell's velvet-textured application of paint, alternating between soft colours and hard-edged forms, creates a pulsating effect, as if the shapes on the canvas are radiating light.
Kristen Knupp, Art Vista Magazine: Could you talk about the exhibition at Pace Gallery, Geneva, titled The Third Stage which explores themes of pregnancy, the female body, and birth, and how this exhibition fits in with the Split Orb series?
Loie Hollowell: I first started making the Split Orb series after the birth of my first child in 2018. The Third Stage refers to the last stage of birth. The first stage is the preparation for labor, and the second stage is the intense part of delivery and the third stage is the pushing out of the placenta. I actually made a really small painting with the same Split Orb composition for a show at Grimm Gallery in Amsterdam. I sat on that work for a while to understand what it was doing. I realised, in the process of the second pregnancy, that it really spoke to that sensation of my brain and my belly splitting open and kind of expanding during the process of being pregnant and then specifically giving birth, so I started putting all my energy into making the Split Orb series around 2020.
They were really instrumental in processing the birthing experience of both my children who were born within a year and a half of each other. I did the first show with this series at König Galerie, and they kept evolving and morphing. The colours got more complex and representative of different experiences during the birthing process, and I couldn't let go. I made more and did a show in Palm Beach with Pace Gallery. Now that I am three years out from giving birth, I feel that I have finally been able to process and express the experience through these experiments with colours and the subtly-changing composition.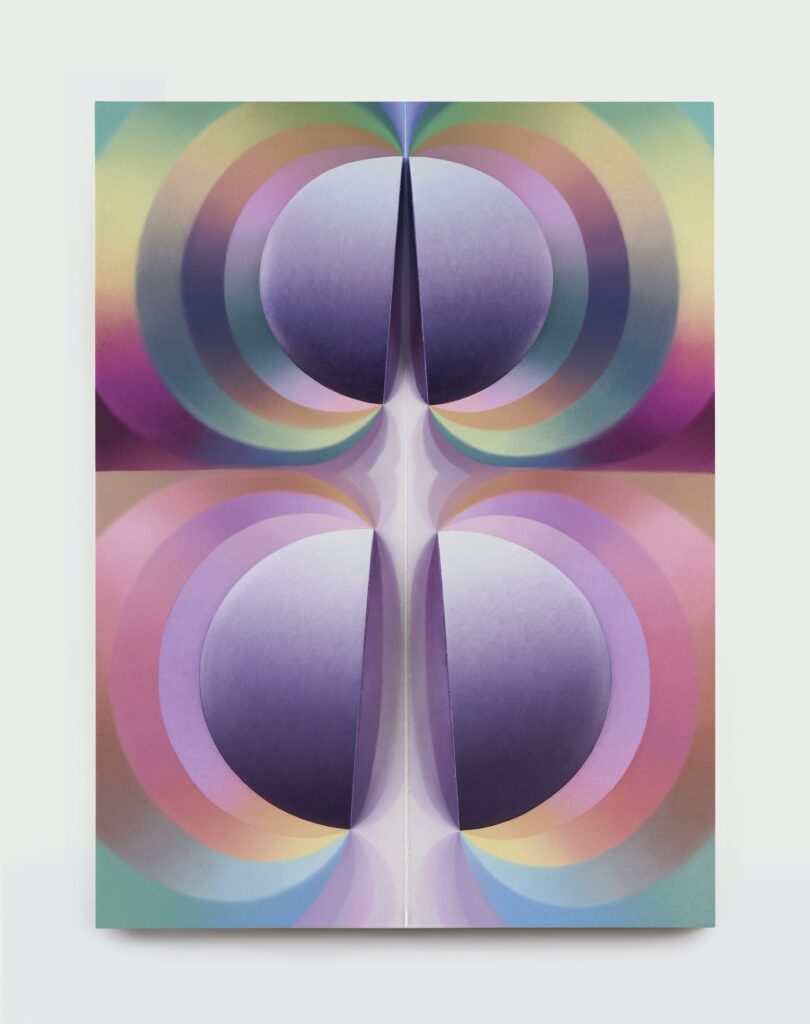 KK: The colors are so beautiful in the work at Pace Gallery, with delicious pastel shades that seem to be quite different to your usual color palette. I recently looked at your NFT series, called Contractions, and it is quite similar to The Third Stage paintings. I also read an article in which you said that creating the NFTs allowed you to explore different colors. Could you speak a little about your experience creating the NFTs and what you learned from it?
LH: I thought the Split Orb series would be an interesting composition to explore with the NFTs because we could do a generative project where each NFT had a different-sized split in the orbs as well as wildly different color compositions. Going into the project, I had thought my Split Orb paintings had a really wide color range, but when I started seeing what the computer-generative process came up with, I realized that my color palette had a very tight range. Every artist has a color palette specific to them, I just hadn't really realized how mine was so linked to my body, and how protective I was of it. It was hard to work with the NFT programmers at first because I wanted the computer colors to match my painting colors, and that is literally impossible to do as they are completely different mediums.
Eventually, I opened up to introducing colors like bright fuchsia, lime green, and teal, which very rarely find a home in my paintings. However, the more I looked at it as a collaboration with a team of digitally-minded people who are thinking about color in a different way than I am, the more comfortable I became. For me, as an oil painter, color is physical and tangible, and it is always in relationship to my skin. It gets on my skin, and sits near me in piles all day. In the digital color space, anything is possible and it is all brighter and more intense as it comes to us through the light of the screen. We see color as physical light in the digital world. Once I got my head around the differences of working with digital color versus oil color, the NFT project showed me new ways to challenge my paint palette.
Afterwards, I took some of those NFTs and tried to replicate the color into paint. All the paintings in the Geneva show were inspired by the colours in specific Contraction NFTs. Despite their inspirations, the colors in these paintings still feel very known to me, like I couldn't quite let go of oil colors' relationship to the body.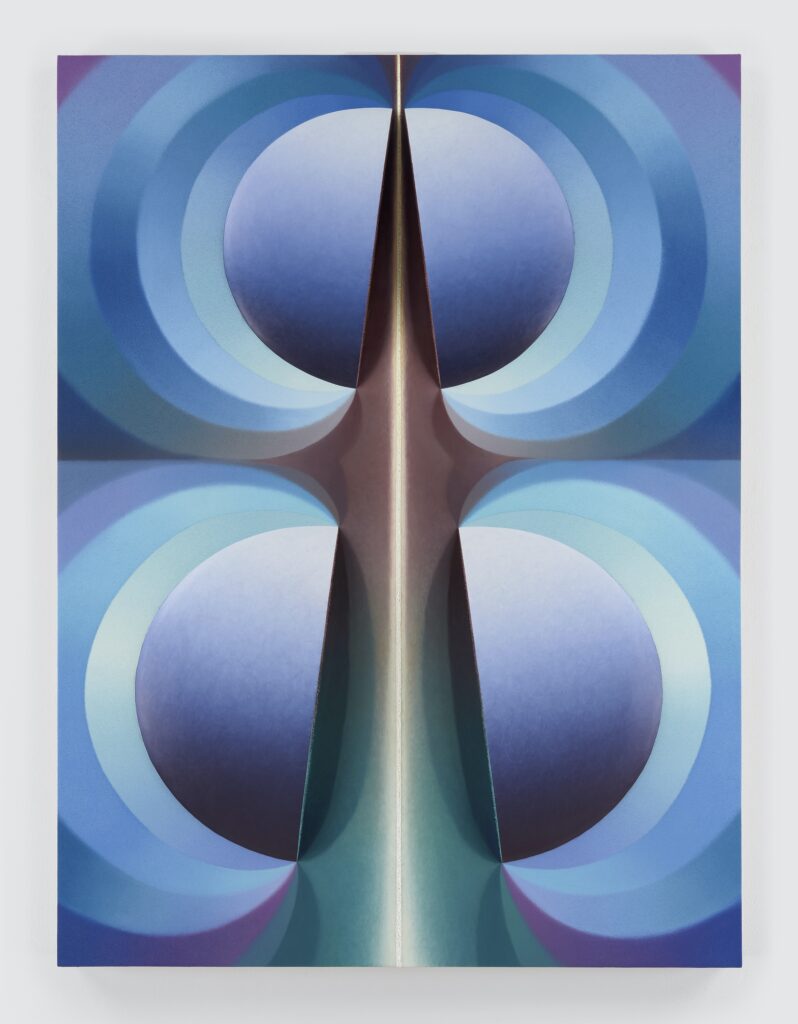 KK: I wanted to talk about G.R. Santosh whose work, alongside Agnes Pelton's, was part of an exhibition that you co-curated with Harminder Judge at Pace. It has been said that Santosh's primary concern was to "illuminate issues of unity between the macrocosm and the microcosm". Does that phrase also apply to your work, and do you consider yourself a Transcendental artist, or what label you would put on yourself?
LH: I think what is really interesting with G.R. Santosh is how he synthesised his religious and cultural understanding of the world with an influence of Western modern art. I love his use of color and his ability to deal with the macrocosm and microcosm of his experience of the world. I feel like I am trying to do that but I am coming at it from inside my body, and perhaps he was looking at the world from above and coming into it. Perhaps he started with the macro and I start with the micro, but we end up in the same place, somewhere between an overview effect and a very personal experience.
As for the second part of your question, I would love to be part of a group of artists, in the historical sense. I don't think artists can put themselves into a group, although the Transcendental Painting Group labelled themselves. If you know of a group that I can be a part of, let me know!
KK: I also read that you were part of an exhibition called "Pastel" with Nicolas Party at the FLAG Art Foundation in 2021. Nicolas Party is Swiss and works with pastels, as do you. Could you talk about how you became involved with that exhibition?
LH: Nicolas was doing the show at FLAG Art Foundation in Chelsea, and it was really interesting. He was curating historic pastel pieces, in particular, one piece he was able to get at auction done by a historic female pastel artist, along with some contemporary pastel artists like myself, and Robin F. Williams. A group of amazing pastel artists were in the show. It was really great to meet Nicolas and talk to him about the process of making pastels. He gave every artist he included a tray of pastels that he uses that are handmade in France and are beautiful, rich, super-soft pastels. There is a lot of variation in the quality of pastels, and pastel paper, so it is nice to share techniques and brands with other artists. A show of my pastel work just opened at Virginia Commonwealth University that is called "Drawing as Urtext". The VCU campus has a small gallery, The Anderson, which is staging the show.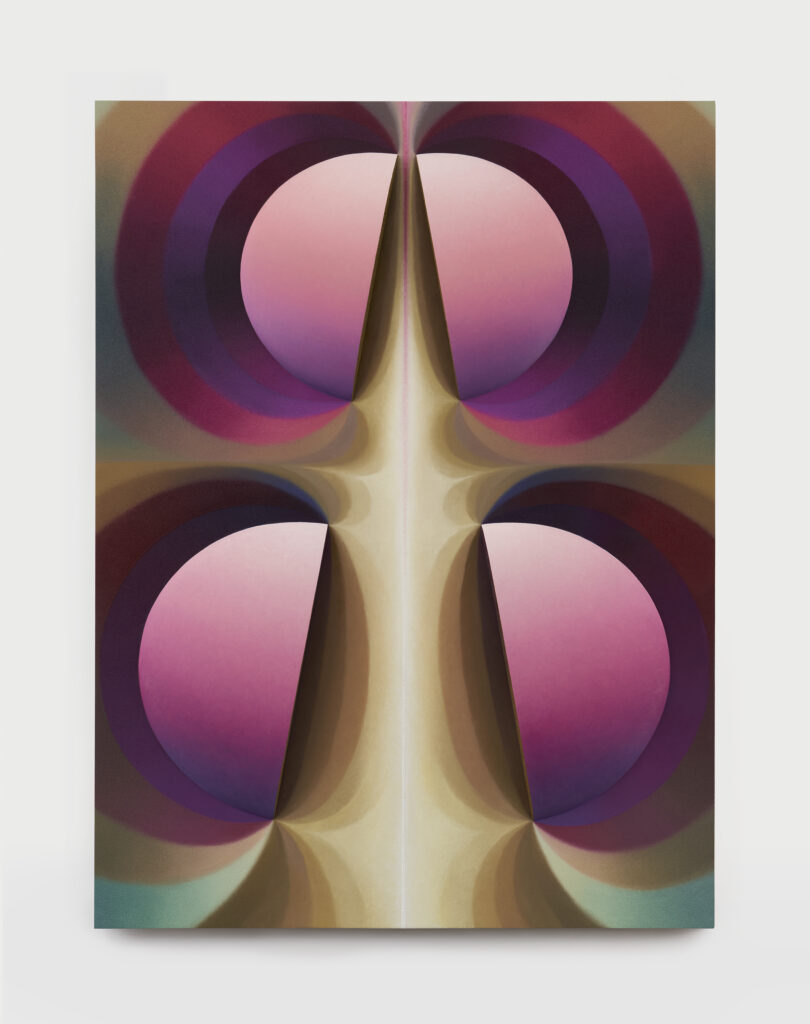 KK: I read about the artists you have said have influenced your work, including Robert Irwin, Georgia O'Keefe, and Judy Chicago. Are there any other artists that you would mention as being influences on your work or your career?
LH: Agnes Pelton, who was part of the G.R. Santosh show that I co-curated with Harminder Judge. She was part of the Transcendental Painting Group and her work is just mind-blowing, with her whimsicalness and sense of light. Conceptually, I love Louise Bourgeois, which almost goes without saying as a female artist. The way she thought about motherhood, being a daughter and a woman, and had all these issues wrapped up into her work. She continued to process these concepts and create, and create. Her paintings are beautiful, I saw them in a show at The Met in New York recently.
KK: If you could buy any work of art, of any artist, right now, who would it be?
LH: I would buy an Agnes Pelton painting. There is a painting called "The Blest" from 1941. That is the painting that I would want to own. It is all about light and energy, and it feels like a family of ghosts huddled together and seems very sweet.
KK: You've recently said that you would like to explore new paths in your work, and you began to integrate casts of your body and other people's bodies into your paintings. You also mentioned control and managing to give up a little control while making your NFTs. Is there going to be a shift in your work away from symmetry and geometry?
LH: I thought there would be a shift, but no, not really. My next show is at Jessica Silverman Gallery in San Francisco, and it is a cast of a pregnant belly that comes off the canvas about seven inches. It is a larger-than-life belly with radiating energy lines coming off it that will be explored in eight to ten different color iterations. I have tried asymmetry with various paintings over the years, but anytime I get away from symmetry it takes me away from my own body.
There is something about the process of painting on one side of the canvas, and then attempting to replicate it on the other, that feels very natural and human but also provides an outlet for my obsessive-compulsive tendencies. There is a pattern and a rhythm to it that is so instinctual. I don't know if I will be breaking away from it anytime soon. I am very interested in having the eye zoom in to a center point and then jump out again. I want that kaleidoscope effect. When we look at other humans and animals, we can take them in and understand them so quickly, in part because of our shared symmetry. I want looking at my paintings to be like looking at a human face, uninhibited, your eyes dive into the details, especially at the center, and then jump back out again. I want your eyes to see the microcosm and the macrocosm.
Loie Hollowell: The Third Stage is at Pace Gallery, Geneva from 6 September until 28 October, 2023.
Cover image: © Loie Hollowell, courtesy Pace Gallery. Photo by: Kerry Ryan McFate