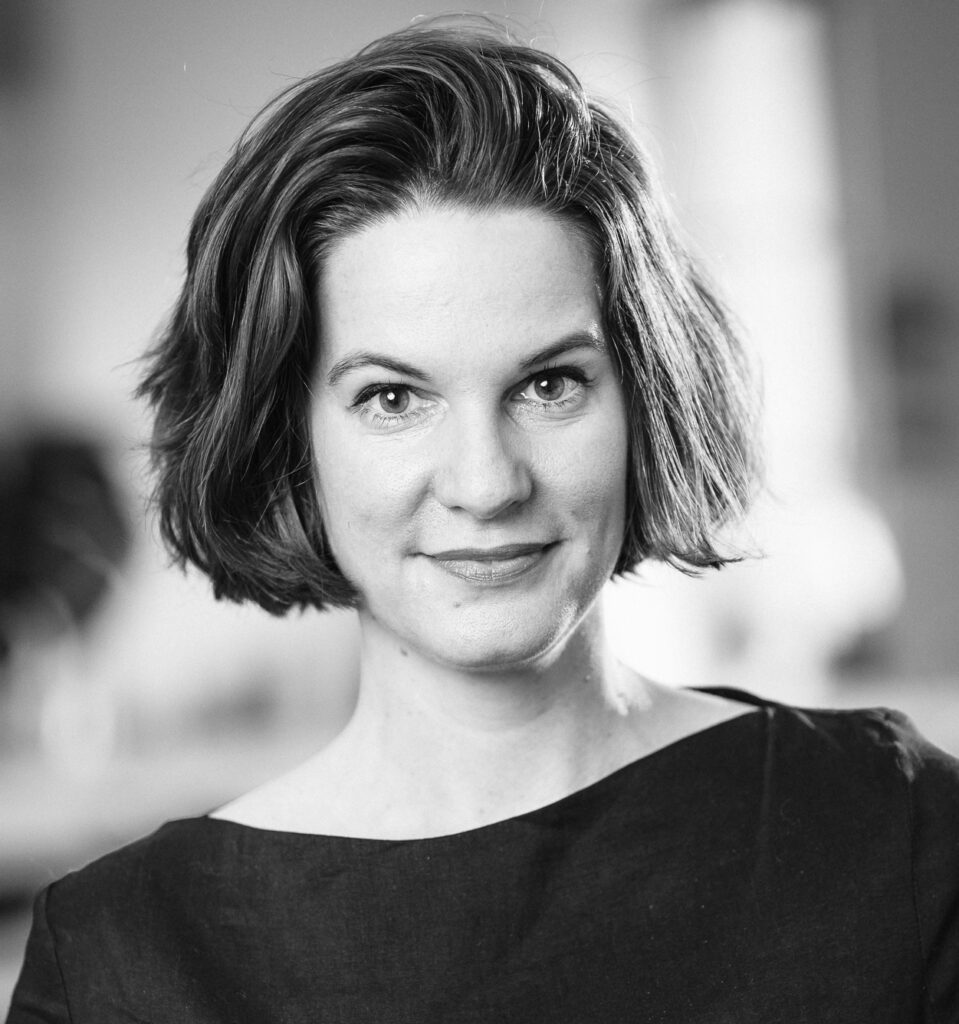 I met MeetFrida, Germany's "leading outdoor and online gallery for young contemporary art" at the Volta Fair, a satellite fair to Art Basel, where it presented pieces linked with new, innovative technology. Founded and directed by Dr. Anna Schwan in July 2020 as a response to the pandemic and the sudden, urgent need for artists to find places to exhibit, this gallery has found unique ways to reach new audiences. The gallery has embraced NFT's, QR codes linked to Augmented Reality (ARt) galleries, Art Walks using abandoned billboards, pop-ups in empty retail spaces, and other initiatives. I talked to Dr. Schwan last week to find out more about MeetFrida, whose name was inspired by the artist Frida Kahlo, another innovative and creative woman.
Kristen Knupp at Art Vista Magazine:
I met you and your colleagues at the Volta Fair and I was intrigued by the innovative ways you were presenting art and trying to reach new audiences. I was wondering if you could run through what you presented at the Volta Fair and how people reacted to it?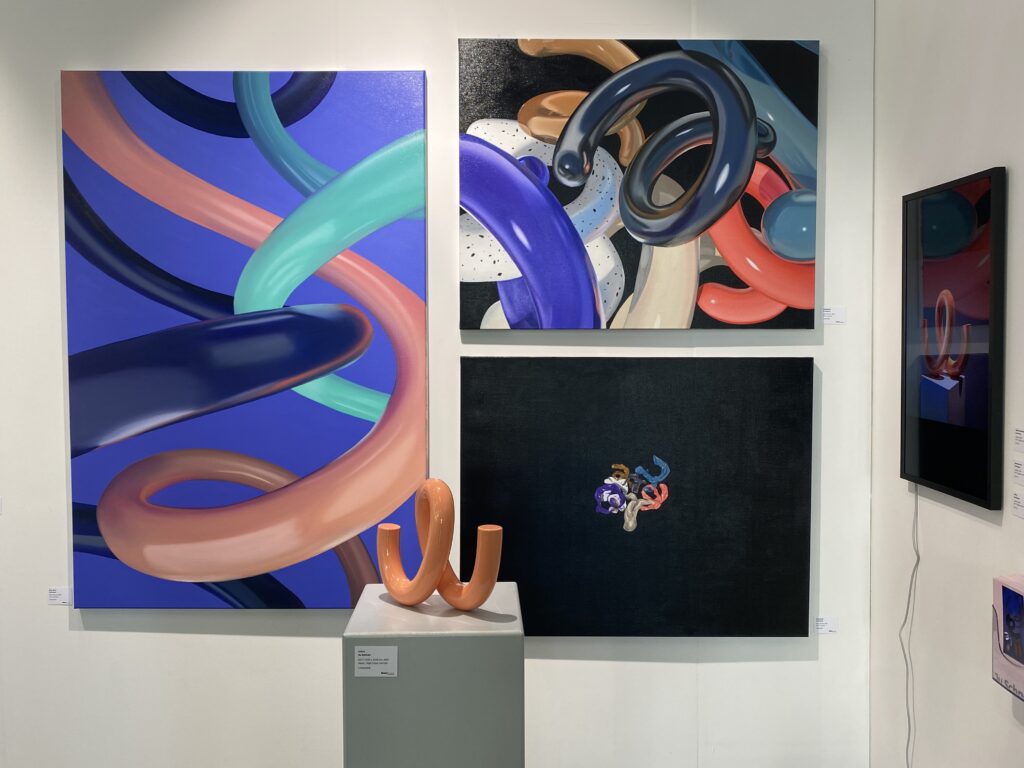 Dr. Anna Schwan at MeetFrida:
The Volta Fair was the first time that we exhibited internationally, so we wanted to make it worthwhile for everyone, and make a good first introduction of MeetFrida. We thought it would be interesting to show on the stand what art can mean today, including digital art, and that is why we chose two female artists to present: Ju Schnee, an Austrian artist living in Berlin now, Ju Schnee, and Roxanne Sauriol from Montreal, Canada.
Roxanne Sauriol is influenced by the Old Masters and conveys them to modern times. She always paints strong women, so the depiction of women in the digital world is her topic. That is why she starts out making an oil painting and then she converts it to an NFT (Non-Fungible Token).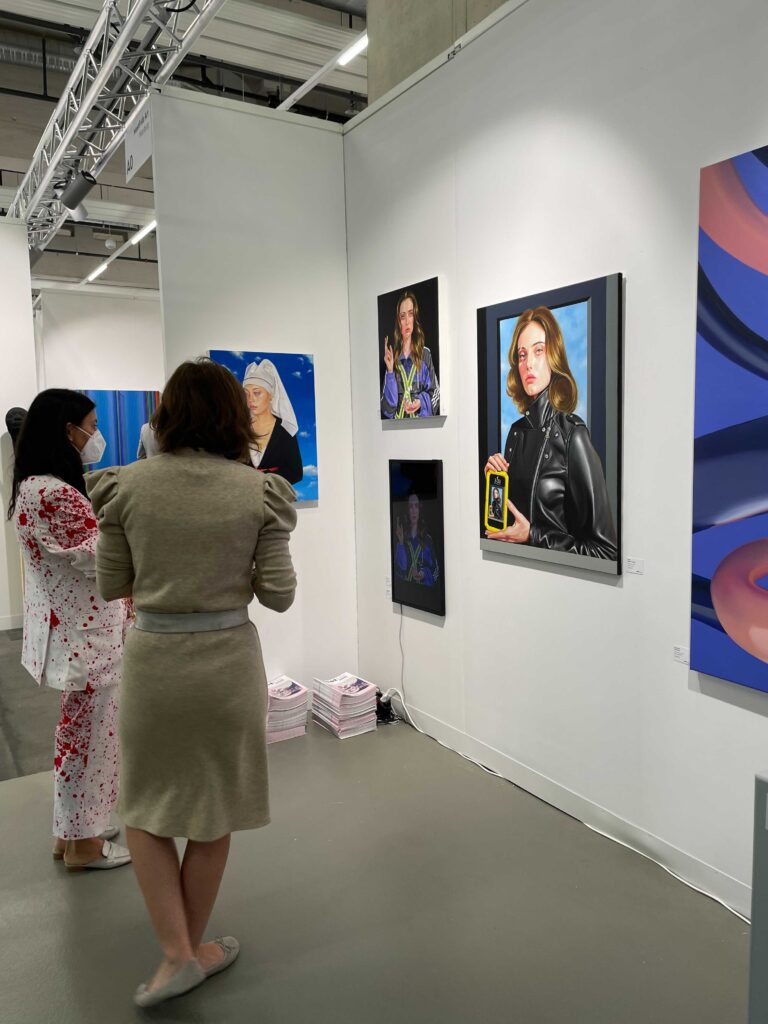 Ju Schnee started out by drawing doodles all the time and then thought maybe the doodles would be worth blowing up and made the center piece of her work. They represent the little things in live that are sometimes overlooked, but are still beautiful in their own right. Ju develops and animates the doodles on the computer with augmented reality and creates NFTs of them, and then paints them in oil. She also creates sculptures of the pieces.
I find it interesting that both these artists work in oil, one of the oldest materials in the art world. So on our stand at Volta we wanted to show these two young female artists because they have very different approaches, but they also use everything they can to make their art accessible and relatable.
Art Vista:
How did it go with the NFTs? Were you able to sell them at the Volta Fair?
MeetFrida:
Volta was a great place for us to show our NFT art for the first time and simultaneously start selling them through our website www.meetfrida.art. We were one of very few galleries in Basel that showed NFTs and that gave us uniqueness and a lot of attention at the fair. As we are still a young gallery, this is very important for us. Thus, Volta was a great stepping stone for us on our endeavour into the NFT-artworld. And It was a wonderful fair to exhibit. We received so much wonderful support from Kamiar, the fair director, and his team and are very grateful for this.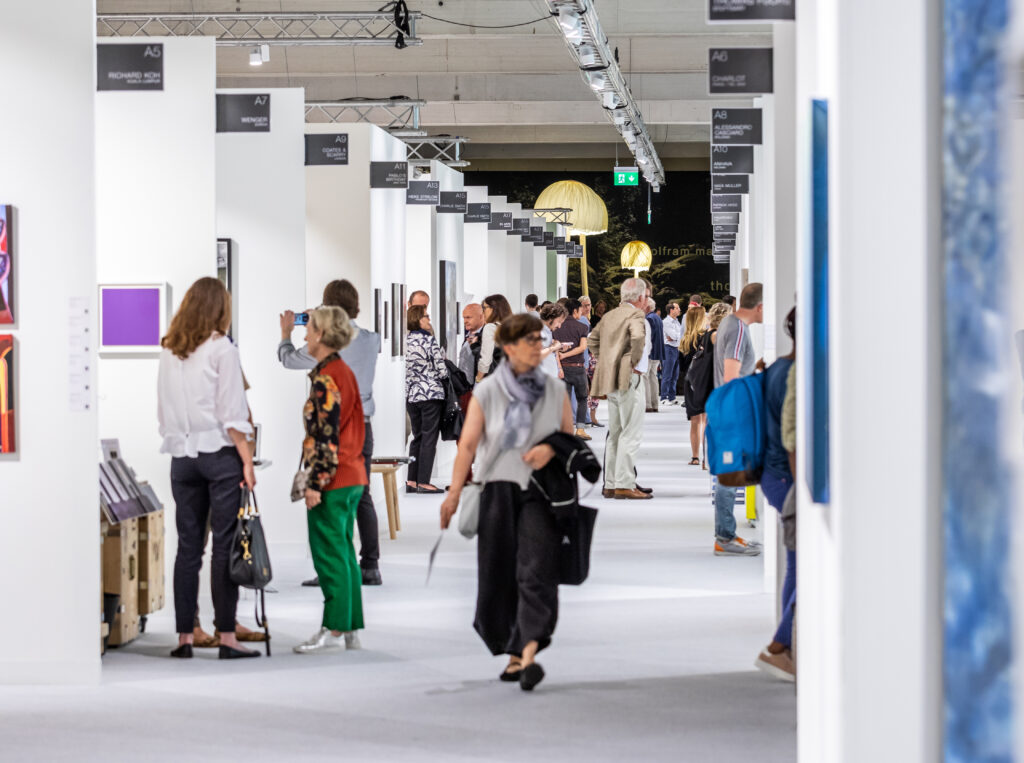 Art Vista:
Do you see NFTs evolving over time and becoming more important in the art world?
MeetFrida:
Yes, I think so because I think NFTs are a way to reach a very new target group of people, like Millennials and Generation Z, who have been into digital things all of their lives. They also see blockchain and everything crypto-related as something completely normal. I think to most of the people involved in crypto right now, the digital world is the central part of their lives. It is so natural, and their real lives are revolving around it. Quite the opposite of what we were used to. And with this generation, you only reach them through the digital angle. So I think it is super interesting.
I recently saw a comment by the art dealer and critic Kenny Schachter and he said "In a few years time, all the galleries will have NFTs of all the art they sell." I think it is absolutely true because that is the means of testifying that the art is digitally exclusive and is the one original piece. But I think that NFTs have to be more than just an add-on. They can give art a new turn, and a new spin, and that is what I find interesting about them. They should be a piece of art in their own right.
Art Vista:
Which platform do you use for the NFT transactions?
MeetFrida:
We are using OpenSea and embed the NFTs on our MeetFrida.art website, so we sell NFTs through our website. We are also talking to a couple of galleries such as Johann König of König Galerie, who is establishing his own NFT platform where you can actually pay with a credit card because a cryptocurrency wallet is a big thing that many people don't have.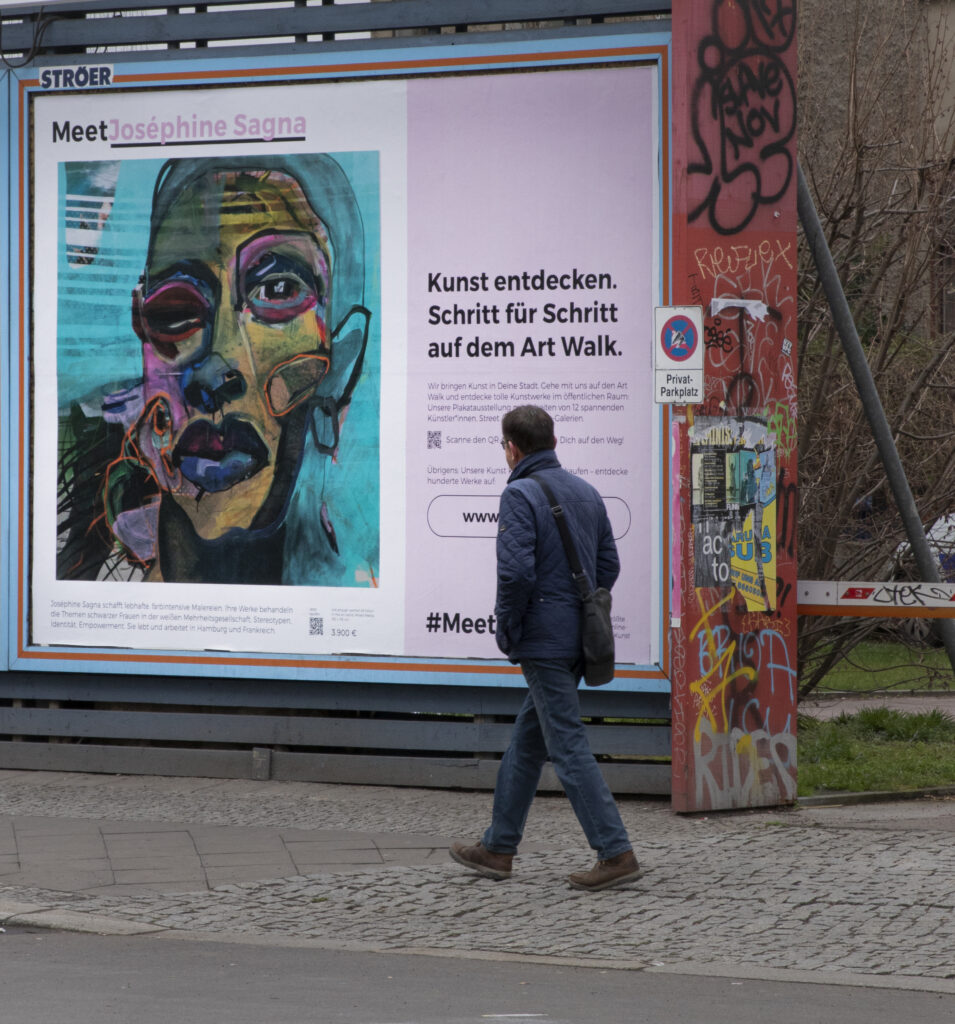 Art Vista:
It is very interesting and a whole new world. I have also read about your Billboards for Art and ArtWalks initiatives – have you heard that Geneva has voted to end commercial publicity billboards by 2025? There are already many billboards that do not have any publicity due to the pandemic that have been taken over by artists. What inspired you to start the billboard project in Germany?
MeetFrida:
I only started MeetFrida a year ago, as an answer to the pandemic and lockdown when artists didn't have any opportunity to be seen. Musicians and actors had a similar situation but the media covered that while artists didn't have the same opportunities. So I thought we need to support them somehow and find new ways to make their art visible. This is how we came up with the billboards idea, because you establish a museum in the city centre. So that's what we did last summer.
It works really well, artists love it and people love it. We use QR codes to establish where the ArtWalk is, and which other billboards are included. We can also see how many people are using it, and this summer in Hamburg, we had 40,000 screenings through QR codes which is an amazing number! So this is something we are definitely going to pursue. And we will also use NFTs on digital billboards to show animated artwork.
Art Vista:
That would be amazing. Which cities did you have the ArtWalk billboards in?
MeetFrida:
We had them in Hamburg, Munich, Frankfurt, Berlin, Leipzig, and Cologne. And are planning for other European destinations in 2022.
Art Vista:
How did the organisation of the ArtWalk work?
MeetFrida:
We have a collaboration with one of the companies that owns billboards in Germany, and they give them to us at the printing price, which is a great thing because otherwise we would not be able to afford it. We choose the artists and we set up the walks according to where the billboards are located. We can see in a certain area that there are, for example, 15 free billboards and we curate a way to walk through them. We represent about 70 artists and from these 70 we choose the artists for the ArtWalks. We try to find a mixture of artists from the city where it is taking place, as well as from further away.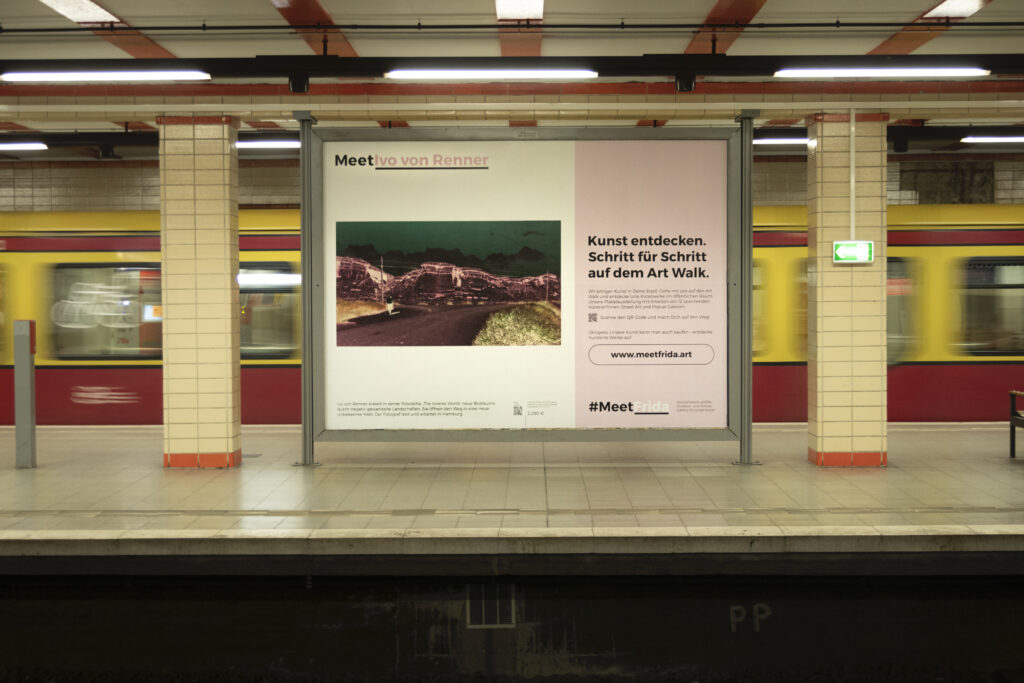 Art Vista:
And if the artwork sells do you get a commission on the sale?
MeetFrida:
Yes we do get a commission although because of Covid we want to give more to the artist, so we don't take the traditional 50%, but much less than that.
Art Vista:
In terms of other technologies you are working with, I also participated in the ARt Gallery (augmented reality) at Volta by scanning in the QR code on the "white cube" outside the fair. How has it been used up until now? What other applications do you see for the AR technology in the future?
MeetFrida:
We started that this summer and we collaborated with a start-up from Canada for the technology. Basically, the idea is to have a group exhibition in the public sphere that you can only see through your smartphone or tablet. You scan a QR code and the immersive exhibition opens up on your phone and you can walk through the artworks. It is a fun thing to do, and the artworks look really nice in their surrounding. We set up the gateways to the ARt Gallery – the cube you saw in front of Volta – in well known landmarks. For example, in Hamburg, the ARt Gallery was visible in front of the town hall, at the harbour and at the Alster, a lake right in the city center. That made for quite a picturesque backdrop of the AR exhibition. If you see some artwork you like, you can then click on the website and take it from there. The cube always gives you the QR code and the link to the website.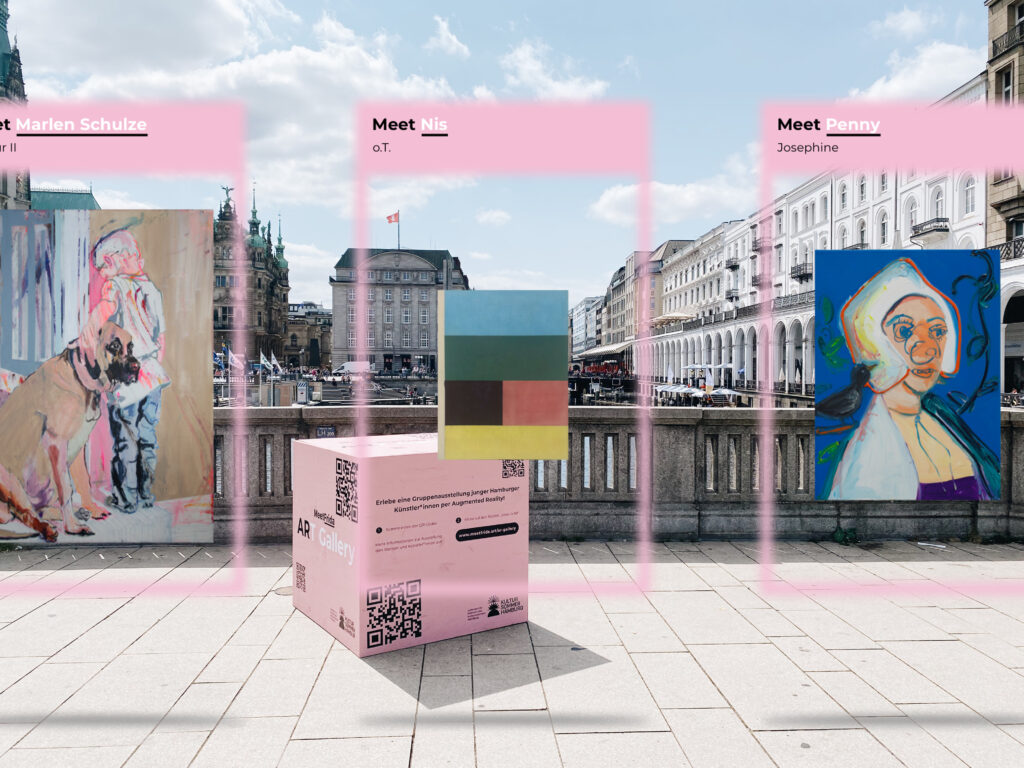 Art Vista:
The name MeetFrida is so unusual, can you explain how you came up with it?
MeetFrida:
As founder and gallerist it is in my personal interest to support and exhibit female artists – that is the entire reason why MeetFrida is called MeetFrida and not MeetVincent or MeetAndy. Looking for female artists that can be recognized by their first name – you immediately think of Frida Kahlo. But aside from her? There is hardly anyone who has a big enough impact to resonate with people outside of the art space. This fact is a statement in itself. Therefore we not only want to show the connection between new forms of art, between digital and real but also how women interpret and use these new forms. We want to look at the way they create new worlds around new media and how they view these new opportunities.
Art Vista:
What are MeetFrida's plans for the future?
MeetFrida:
We continue to find more ways to make art more accessible in new contexts and surroundings. That could be in public space, and also vacant retail or office space in city centers where we have had pop-up galleries before. We are also currently hosting an artists residency with 10 artists in Hamburg, which is something we will continue in other places. There are so many opportunities right now to make art more accessible for everyone.
Someone said lately, "We shouldn't ask why people are buying art, but why they are not buying art?" I agree that this should be our leading question, as it guarantees new answers of making art accessible and making art easier for people to understand. This is what we will do more of in the future, not just in Germany but internationally. We will expand to more European cities next year.
Art Vista:
It seems like the pandemic has really inspired you to look at new ways of presenting art.
MeetFrida:
It really has. I was so bored during the lockdown, and my entire life of travelling and seeing art suddenly disappeared, so I just started coming up with ideas! Then I asked myself why I hadn't started doing this type of work before. I feel like a fish in water now.