Born in 1972, Nicolas Boyer was educated at Sciences Po Paris and HEC before he trained as a photographer and cameraman at the École des Gobelins. Photoreporter between 2003 and 2005 for the French and international press ( Libération, Le Nouvel Obs, Paris-Match, Stern, La Repubblica, etc.), he then became an artistic director in an advertising agency between 2005 and 2014 before returning to photojournalism in 2016. In 2019, he won the Sony World Photography Award in the Travel category, and in 2022 he was a finalist in the Bourse Albert Kahn and part of the Festival Les Photographiques. Nicolas Boyer's photographs offer a different look at Japan because they are at the crossroads of contemporary art, advertising, and reportage. They play with clichés and locations, with the landscape acting as a theatrical backdrop.
Kristen Knupp: What is your background, and what do you bring to your photographs from your advertising experience?
Nicolas Boyer: I have always been interested in images. When I was young I drew comics and I created a comics magazine with friends. Images have always been a part of me but I was told by my family that it wasn't serious enough to pursue as a job. I graduated from Sciences Po and HEC in France and started in business which was very boring. Then I joined the advertising industry and after six months I joined the creative team as a copywriter. But I always had the art world in my mind, and in my late 20's I dreamed of working as a photojournalist, and I wanted to try it. I quit my job and studied at École des Gobelins in France for six months and then started to work as a photojournalist. I worked for Libération, and other big names but it was a struggle. After one and a half years it was still difficult and I realised that I needed the right networks to succeed, which I didn't have. In Paris, there were a couple of "collectifs" like MYOP or Tendance Floue, and these were influential groups in photography whose members got many of the assignments. Still, I continued, and most of the assignments I received were from abroad, such as NZZ in Switzerland, Stern in Germany, and La Republicca in Italy.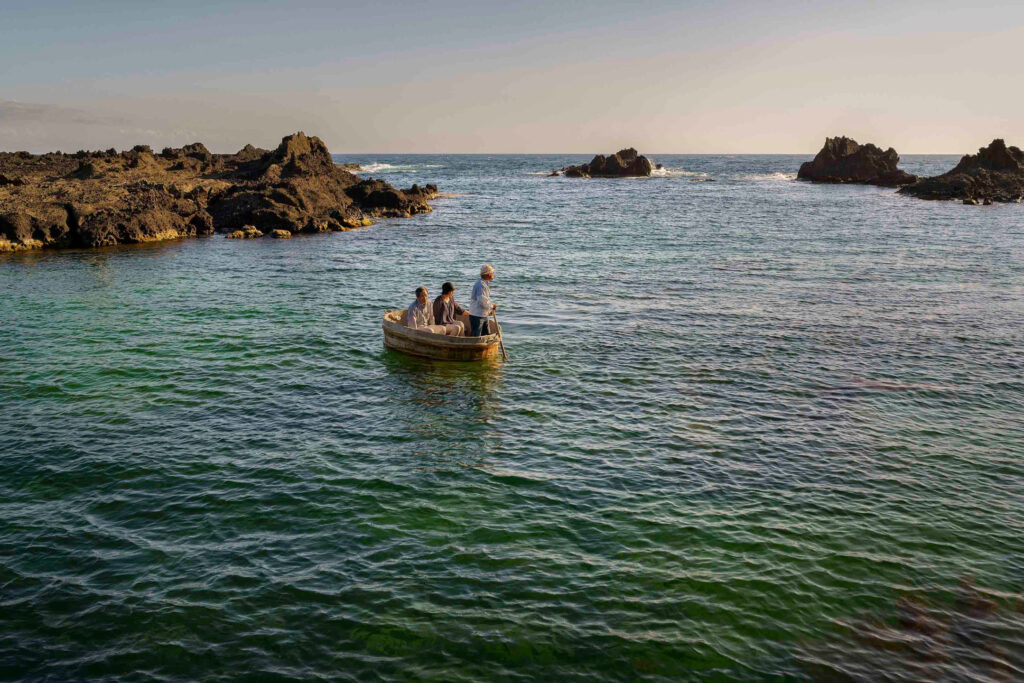 KK: How did your exhibition "24 Vues Sans Mont Fuji" at the Musée des Arts Asiatiques in Nice come about?
NB: I heard about the museum and its program in which they exhibit around twelve artists every three years in different mediums dealing with subjects concerning Asia. I applied two or three times and then when the Hokusai exhibition was announced, they decided that it would be a perfect match with my work and would create a dialogue between the drawings of Hokusai and my artwork. If I can say, very humbly, we work with the same type of representations of landscapes where the individual is also featured.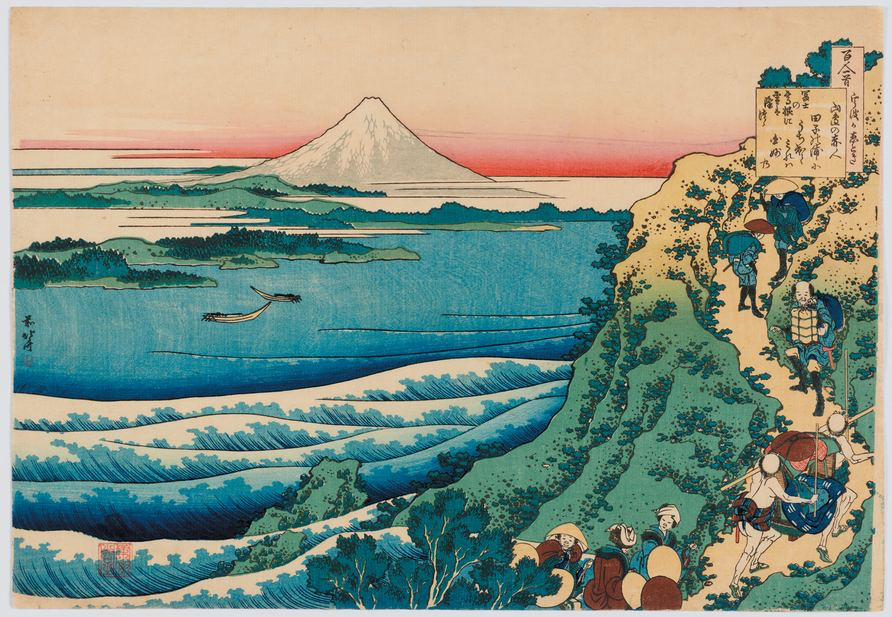 KK: Your photographs are very stylized, like a still from a movie, and they seem to be posed. However, I read that they are not very posed, and if they are arranged it takes only two or three minutes, so they are actually quite spontaneous. Could you explain that process?
NB: There are two components regarding the photos. Already, Japan is quite artificial and has aesthetic urban landscape. I took a photo of a Yakuza, and it seems to be like a Tarantino or Takeshi Kitano film. The lighting is the exact lighting that was in the alley. I didn't add any source of light. There is also a photo of a young couple, the man is a little bit drunk, I saw them outside the Nagoya station where they were crossing the street. The lighting is from the Prada boutique and there is no addition of light. When you are a photographer you need to know your camera, but you also need some luck. Luck is very important; if you arrive one minute before or later you will miss the picture. I have missed many pictures, especially in Iran. There were times when I was told that something was happening five minutes too late, and the people were gone. The important thing is to know how to give luck a hand so that it arrives more often. That is what we call the craft and that's not something you learn in school.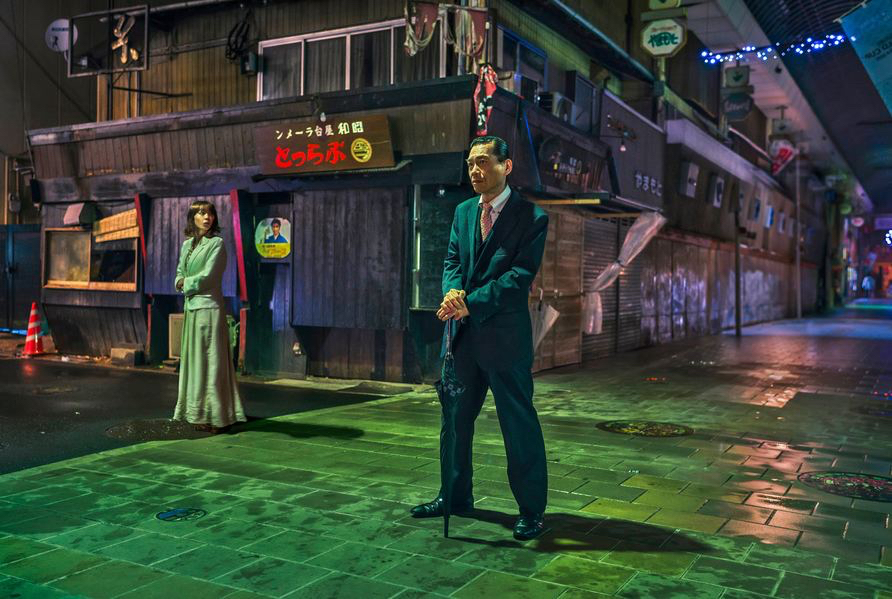 The aesthetic aspect also comes from my advertising background, where for nine years I worked with great photographers and great post-production. I try not to overproduce my pictures, and I try to make them just as I saw them. The camera sensor is smaller than the eye sensor, in terms of the dynamic of light. The best camera has a range of 15 degrees of variation and the eye has more than 23 or 24 degrees of variation. The retina can see very dark parts without being overlit. I try to keep the natural impression of what I have seen by layering different levels of raw developments. I have been compared to Gregory Crewdson, the American photographer, because of the strange light in my photographs.
About fifteen percent of my book of Japanese photographs are staged photographs, like those of Japanese schoolgirls. I saw a group of them on their way to school, and because of the school uniform and what it represents in terms of conformity and discipline, I thought it would be funny to stage a situation where they are pulling each other's hair and wrestling. Despite its beauty and politeness, Japan is a very competitive country and school is very difficult. There are suicides and bullying situations, and I thought that the photographs of Japanese schoolgirls could be a starting point for discussing these subjects.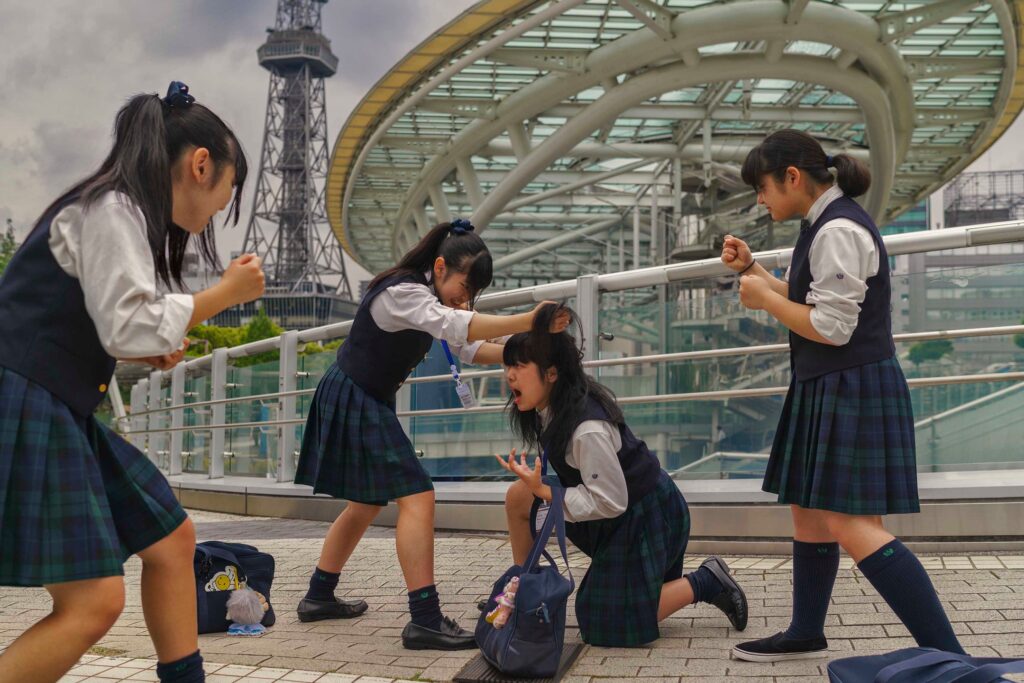 KK: I like the contrast between the expected behavior of the schoolgirls and what they are doing in the photographs, and there is a sense of humor. I also saw contrasts in your photographs such as between the women in the kimono on a concrete staircase.
When I went to Japan for the first time I was just returning from Detroit and Iran. I didn't know Japan at all but I knew that there are millions of pictures of Japan on Instagram. It is a country that has been photographed for decades, and sometimes excellently, as well. It was a challenge for me to go there, not for fun, but to work on a series with an aspect that hasn't been seen too many times before. On Instagram, they produce the same images, like the kimonos, temples, and nightlife with neon lights. It is a kind of void because everyone is doing the same thing. So with the photograph that you mentioned, I wanted to try using the kimono but with a different background.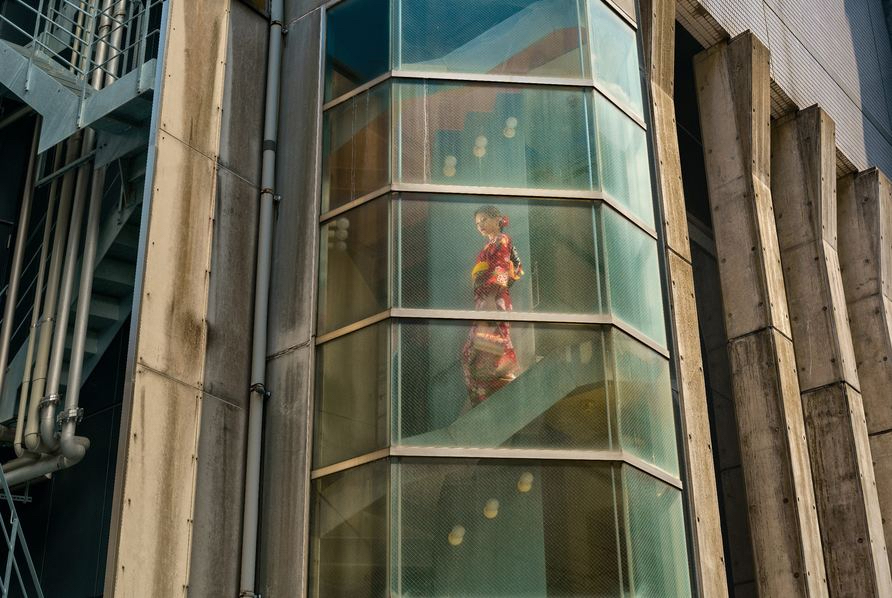 KK: You said something about using the concept of ukiyo-e which is about focusing on moments of daily life in this series. What is ukiyo-e, and how did it influence your work?
NB: Ukiyo-e refers to a tradition of painting and poetic representation dating back to the 17th century. It means a "monde flottante" or the floating world. It refers to an imaginary world that can be very ephemeral and dreamy. There are books written on it and it is difficult to explain. It is a state of mind, and very pretentiously, I have tried to use it in my work, for example, when I shot the blue tarpaulin. This type of tarpaulin is omnipresent during picnics to celebrate the cherry blossom season which is fleeting and ephemeral.
KK: What about Japan interested you and convinced you to work there?
NB: I had a friend from primary school whose father was a diplomat and he died when he was 29 years old from leukemia. He was brilliant. He didn't speak a word of French when he arrived in France, and within a year he was at the top of the class. I went to Japan to meet his widow 15 years after his death and I wanted to discover his country. Everyone has to see Japan, at least once in their life. It is a country of contrasts. The Japanese are very nice and polite but can be very tough as well. Women have a difficult life, and life is quite difficult for everyone. There is a period when you are young, right after you finish your studies when you can take some time off, but before that and after that it is very difficult. People who try to be different from the system can struggle. Linguistics can be very revealing in this respect: the adjective "kichigai" means "crazy" in Japanese. The word stems from "ki" which means "mind" or "spirit" and "chigai" which means "different", so literally, someone who thinks differently is considered to be crazy. I met some very interesting people like this who are trying to live outside of the system.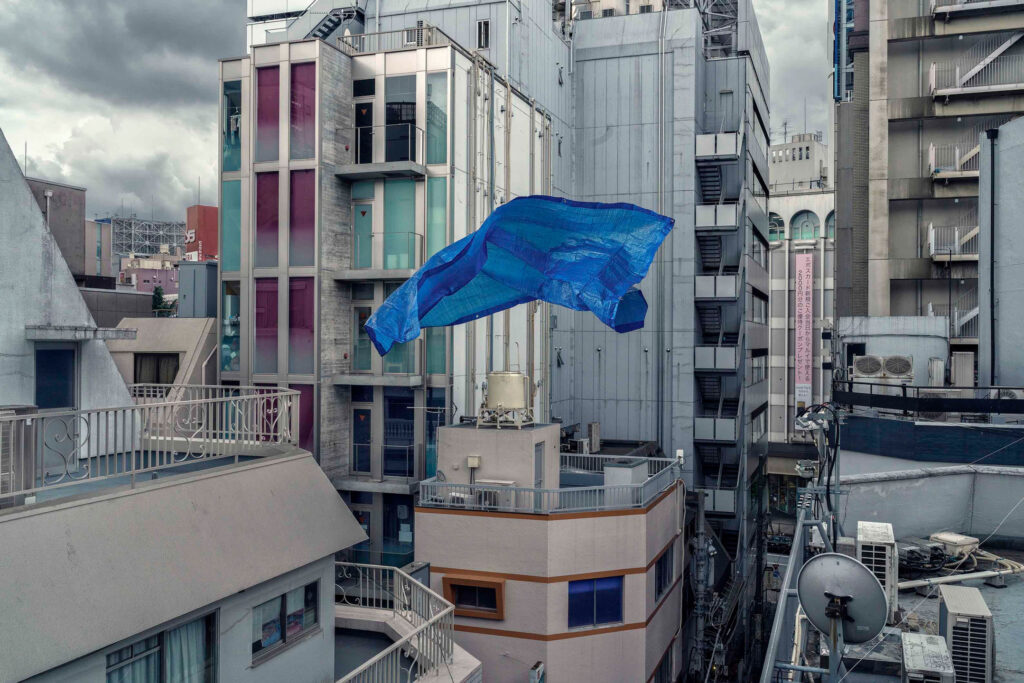 KK: What are your next plans?
NB: My next big project is a photography book on Iran which should be released in the Autumn of 2023. I am currently trying to find funds to print the book. The issue is that printing costs have soared in the last two years. My book on Japan would have cost 50% more in one year. It is far beyond the rise in inflation. Printing 1,000 copies of my 264-page book on Japan cost 12,000 Euros the first time around, and 8 months later it costs 15,000 Euros for 700 copies. My book on Iran will be 300 pages, so I am looking for funding from charities, donations, or crowdfunding.
KK: Where will the Iran photographs be shown?
NB: I am looking for funding for an exhibition from the Iranian diaspora, and it would most likely be shown in England, Germany, or France. I was lucky with the Japanese exhibit to receive funding from the Sasakawa Foundation, and I am looking for something similar for the Iranian exhibit. I may also look in Switzerland for funding this exhibition which is more photojournalistic-style rather than the semi-staged photos from Japan. They are somewhat more challenging in that they show the reality of Iranian life, and for this reason, they are very interesting to exhibit.
Nicolas Boyer's work "24 vues sans mont Fuji" will be at the Musée des Art Asiatiques alongside Hokusai, "Voyage au pied du mont Fuji", until January 29, 2023. For more information on Nicolas Boyer's work click here.