You may think that the NFT wave might be receding due to the recent volatility of cryptocurrencies in the headlines, however, the rise of artworld NFTs since the sale of Beeple's digital artwork at Christie's for $69 million in March 2021, is undeniable. Digital art transactions have ranged between a high of $78 million per month in April 2021 to an average of $24.7 million in October 2022. Despite the volatility, it is clear that NFTs are here to stay. They are forecast to become an even larger part of the art market as more and more people become familiar with them and intrigued by the digital art world.
Philippe Cramer of Cramer + Cramer studio thinks that now is the time to focus on the infinite possibilities of NFTs and the metaverse. At artgenève 2022, he and Pace Gallery were the only ones selling NFTs; Pace showcased the work of Lucas Samaras, while Cramer sold his own NFTs which went very well. Admittedly, he spent a lot of time educating people on how NFTs and the blockchain work, as well as helping people set up their digital wallets, but it was worth the effort as the sales stacked up.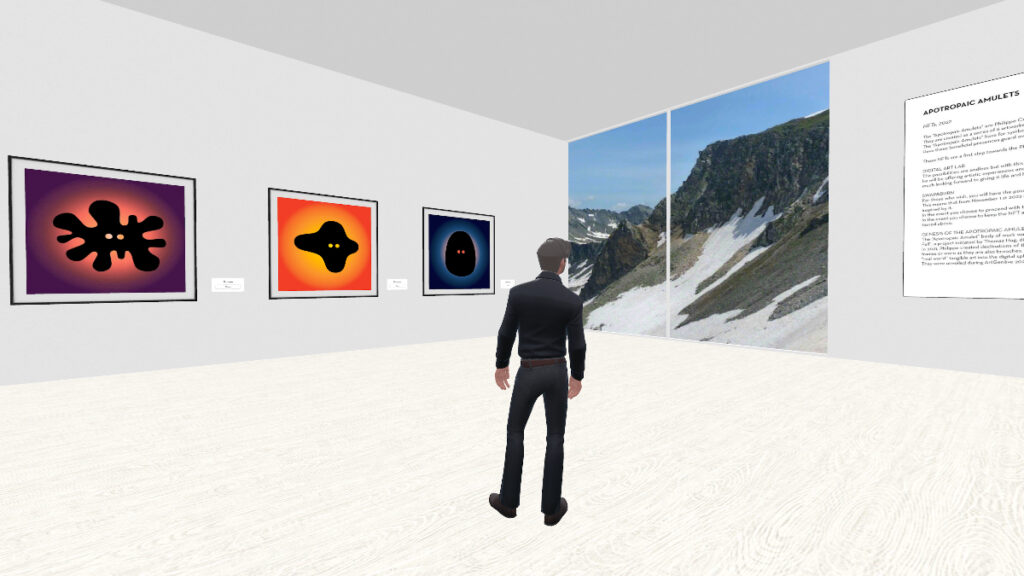 Based on this success, Cramer is diving further into the digital art world, having created six "Apotropaic Amulets" and matching sculptures in which to display them. These were inspired by the large-scale wall sculptures he created in 2020 for the popular "Night Fall" element of artgenève, initiated by fair director Thomas Hug. These sculptures eventually evolved into the NFT series first revealed in 2022, and for artgenève 2023 Cramer plans to show an updated version of the six amulets that will be available on the Polygon network in an edition of 28. With a new optional matte-black display sculpture to accompany the digital pieces, collectors will have the best of both worlds; a digital piece and/or a physical artwork.
The purpose of the amulets is to "avert the Evil Eye and bring goodness to you." Each amulet has specific properties to protect its owner, for example, "KRRRRR" (shown top middle below) will "defend you against all creepy entities, all angles ready for battle". Who would not want a ferocious yet somehow adorable protective force in their life? Furthermore, in a constantly-changing world, an NFT buyer has the option to "Swap&Burn", which means to exchange their NFT for the "in real life" sculpture inspired by it. One must only destroy it on Polygonscan, the Polygon blockchain platform, and Cramer will provide the matching sculpture to replace it.
Once you have bought a Cramer NFT, you also gain access to his digital art studio in the metaverse, known as The Cramerverse. In The Cramerverse, one enters an elegant digital art gallery set in the stunning Swiss Alps using augmented reality goggles. Digital artworks are on display, and Cramer plans to allow visitors to view prototypes of new pieces before they are released to the general public. There will be opportunities to provide input into designs and customize pieces. Cramer says that at artgenève 2023 he is looking forward to "having the public discover my studio/gallery space in the metaverse with my digital/physical twin artworks." A whole new world is opening up in the digital art sphere and Cramer is on the cutting edge.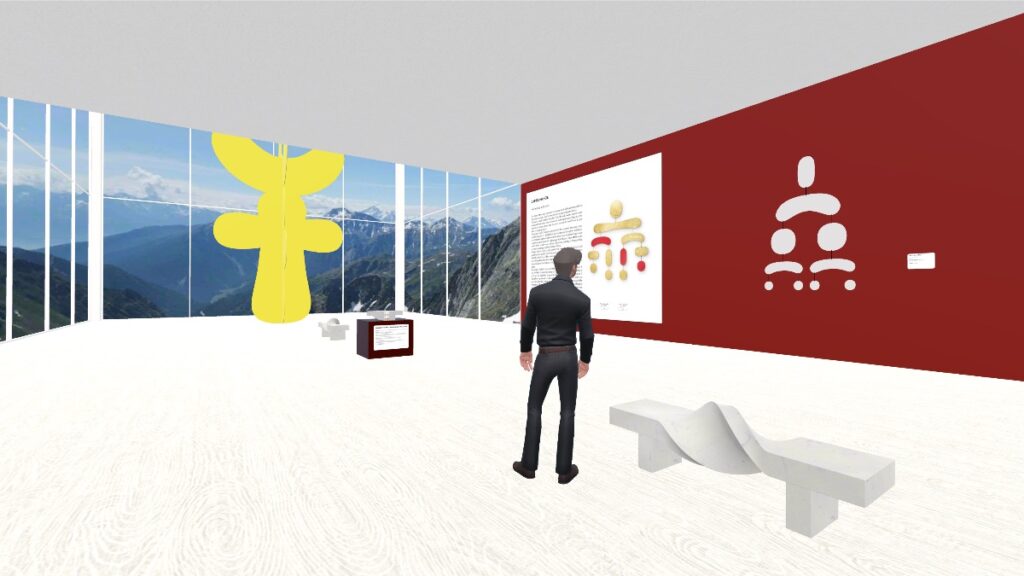 While the digital world has many exciting possibilities, Cramer also still leads Cramer + Cramer studio, which was established in 2003 with an emphasis on creating hand-made, high-quality design pieces, such as his iconic Randogne lamps, Ragaz vases, and Baar stools. For inspiration, he taps into memories from his childhood and this is reflected in pieces such as the coffee table with brightly-colored crayon lines tracing the patterns of the woodgrain. A wall-mounted mobile is inspired by the Swiss tradition of two-dimensional silhouette portraits. Within the golden spinning outer rings is a portrait that can be customized with the collector's own profile or, for example, those of family members.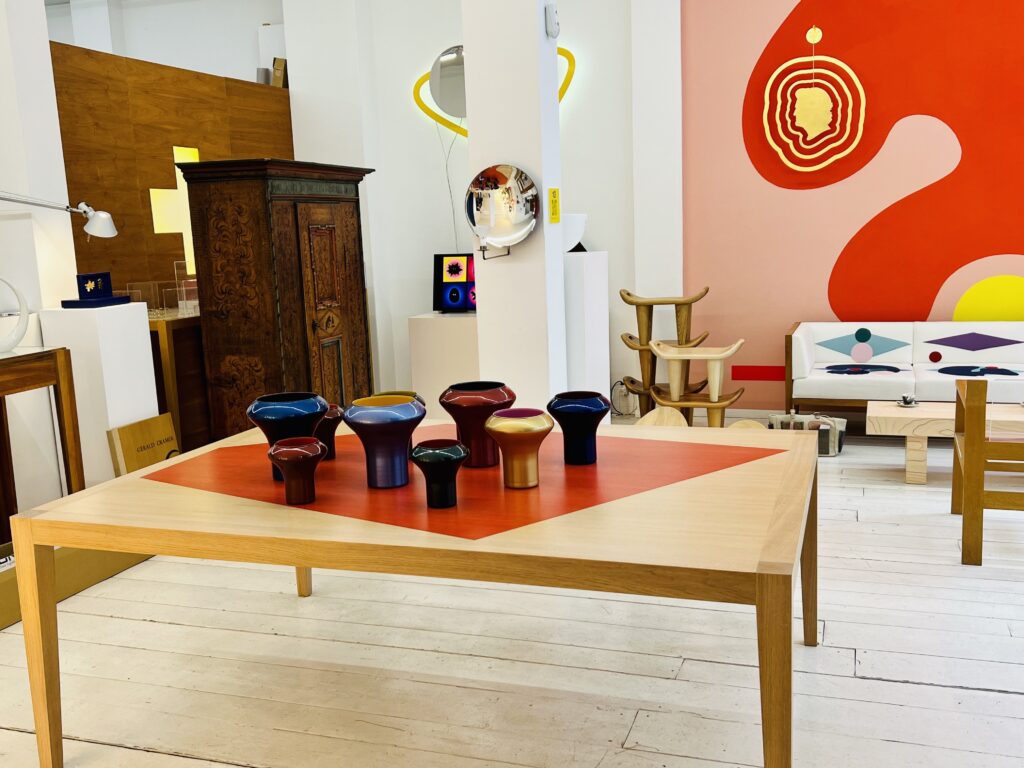 Cramer is currently looking at ways to bring the hand-made elements of his design studio into the digital world. He is working on "a new series of sculptures that will combine the hand-made aspect of real-world crafts with the virtual world." He finds that "this will be very interesting because up until now, the metaverse has a very digital aesthetic and one can easily tell that it has been designed with computer programs." With his scanned-in hand-made objects, a new aesthetic will be introduced to the digital world that may open up its appeal beyond the techno-types to a wider audience. In this effort to make the metaverse more aesthetically appealing, Philippe Cramer is uniquely positioned to lead the way.
Find out more about Phillipe Cramer's work here.