Salomé Monpetit, founder of the Matchwithart concept, has been delighting us visually with her Instagram posts since 2018. Passionate about fashion, she takes on the aesthetic challenge of harmonizing her clothes with works of art. Beyond the playful aspect, her performances are intended to be educational and culturally enriching.
Sonia Jebsen: Matchwithart is the name of your Instagram account with 23,000 followers. Tell us about the beginnings of this beautiful artistic adventure?
Salomé Monpetit: Matchwithart was born in 2018. For a few months, I had been thinking about an original way to communicate about art. During an exhibition, I had inadvertently dressed in the same tones as a work. A person made a funny and relevant remark to me: I blended into the picture. I had my idea there, and Matchwithart was launched. In fact, the concept had been in the making for a while. Unconsciously, my outfits resonated in colors and patterns with the works I discovered. I used a kind of innate dress code, like those that our society teaches us to wear when we go to parties, a concert, or a dinner. I began posting on the account at the end of 2020 with undeniable success in 2021. To the visuals, I added text and Matchwithart became my professional activity in 2022.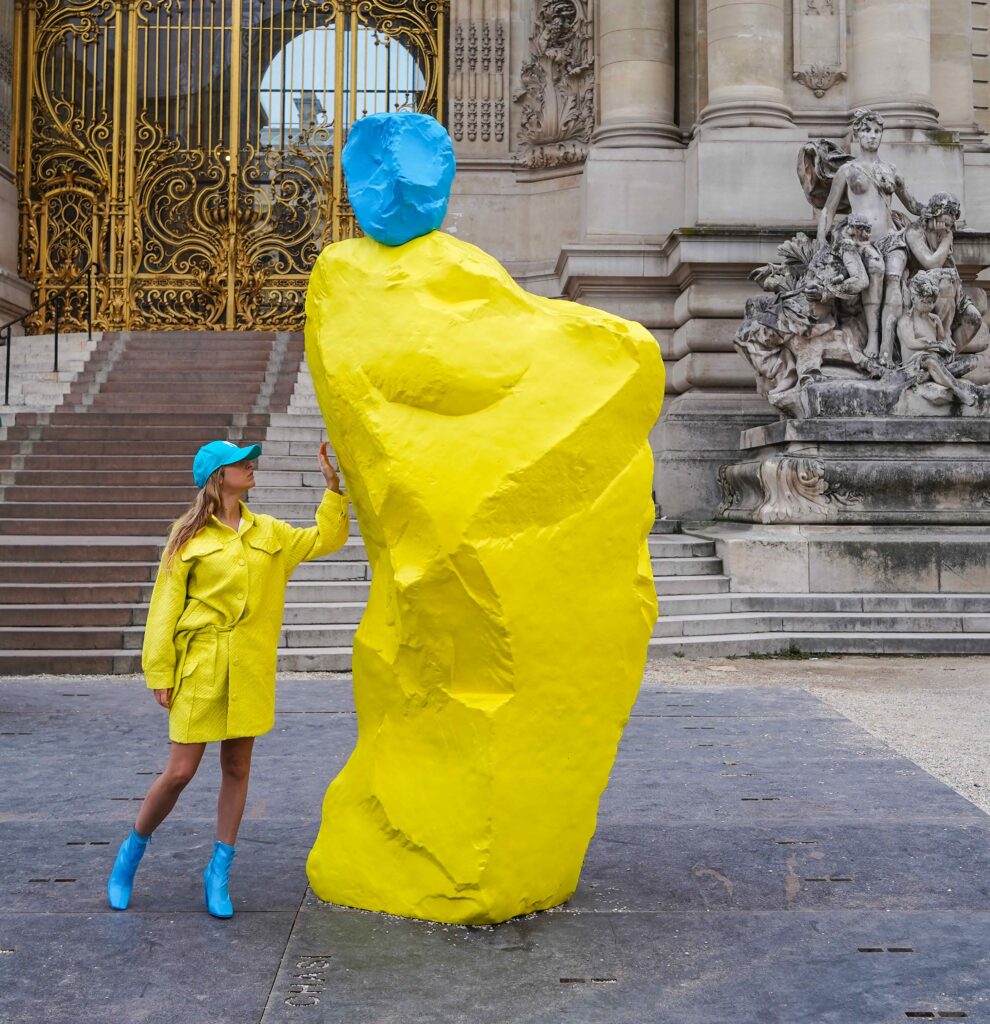 SJ: Combining art and fashion, what a brilliant idea! Are these interests lifelong passions?
SM: I'm a fashion and art addict. In my eyes, the two backgrounds come together through their creativity. I have always been in love with the work of Elsa Schiaparelli, thanks to her artistic collaborations, and then I fell under the spell of the art world. Fashion is my tool for creative expression. I'm fond of original clothes like sequined pants, and feathered blouses. I banned black from my wardrobe for a long time, and I'm also known for the eccentricity of wearing clothing that makes you smile or grimace on Instagram and in my life. My desire to democratize art influenced the concept: to humanize a work by "posing" in front of it. I had to find an additional element to capture attention, and the "matching" came naturally after that.
SJ: Do you have an artistic education and what is your professional training?
SM: I obtained a master's degree in luxury marketing at EIML Paris with the final observation that art was the purest form of luxury, unattainable for the majority of people. I worked in the art world in a gallery, an auction house, and an art club. As I lacked an "art" diploma, I turned to ICART to obtain an MBA in the art market, which complemented my studies and my professional experience. I returned to an auction house in 2020, developing Matchwithart in parallel, before embarking professionally on content creation in 2022.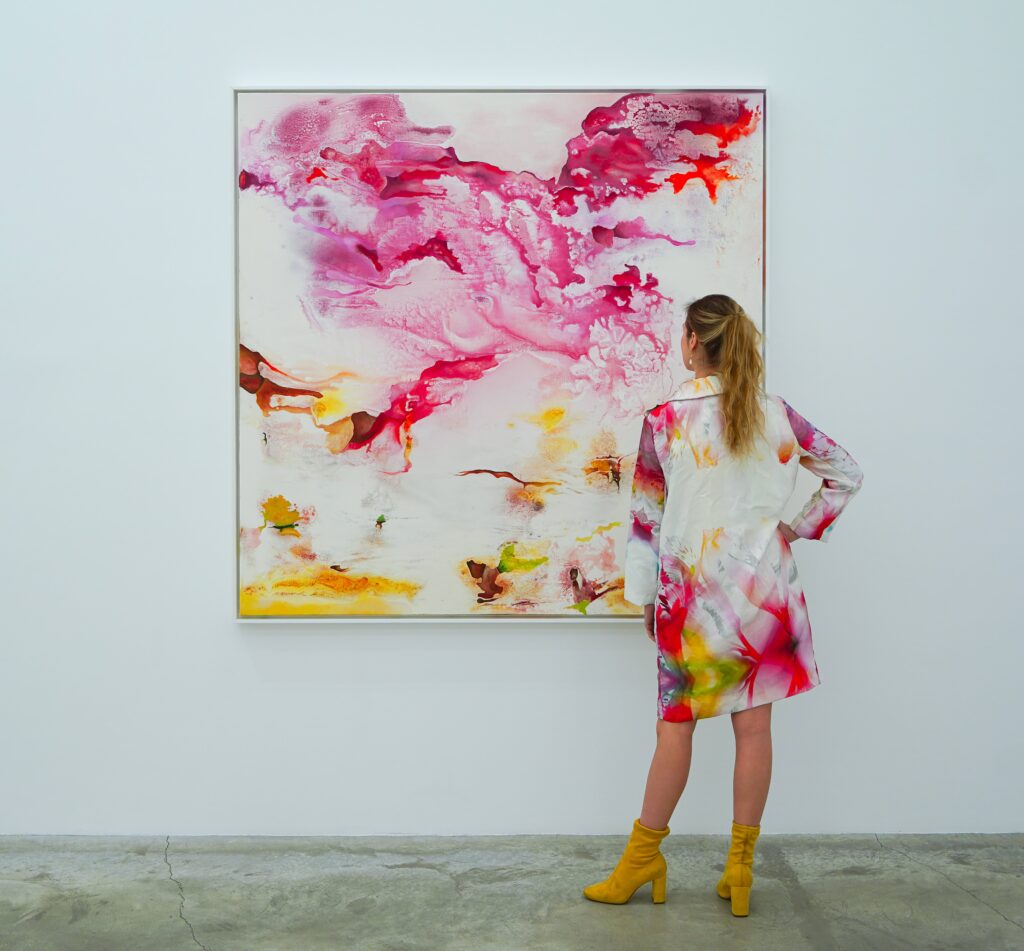 SJ: What are the steps between choosing the works and choosing your clothes?
SM: The process is different depending on whether it is a partnership or a match of my choice. For contracts, the selection of works is made in agreement with my partners, according to the needs of each, but I have an "imposed" list. My initiatives draw their inspiration from Instagram and gallery exhibitions. I go to the location and I begin my research. For 99% of performances, the work precedes the outfit. The artists that catch my attention are often unknown to me. This is followed by hours of research on partner sites to find the ideal outfit. With experience, this phase is faster because I use the original keywords and brands. This is the invisible part of the iceberg, but essential.
SJ: Do your interventions take place mainly in Paris? Will you branch out internationally?
SM: I mainly started my work in Paris for practical reasons. Since 2022, I have done projects in Metz, Saint-Etienne, Lyon, Aix-en-Provence, and Cannes. I recently collaborated with the Geneva Musée d'art et d'histoire for the exhibition curated by Ugo Rondinone. My field of action is open and limitless.
SJ: Your account has an undeniable educational aspect. What is the feedback from your audience on Instagram and from art professionals?
SM: My work gets 99% positive feedback. Artists and institutions benefit from communication about their exhibitions that is carried out in a professional and fun way. They are increasingly calling on content creators to help them engage with their audiences. The public is very receptive, and sends me compliments and encouragement. My collaboration with certain contemporary artists sometimes allows a direct exchange. I have also written about their work, which is a nice challenge for me. However, the result is always positive.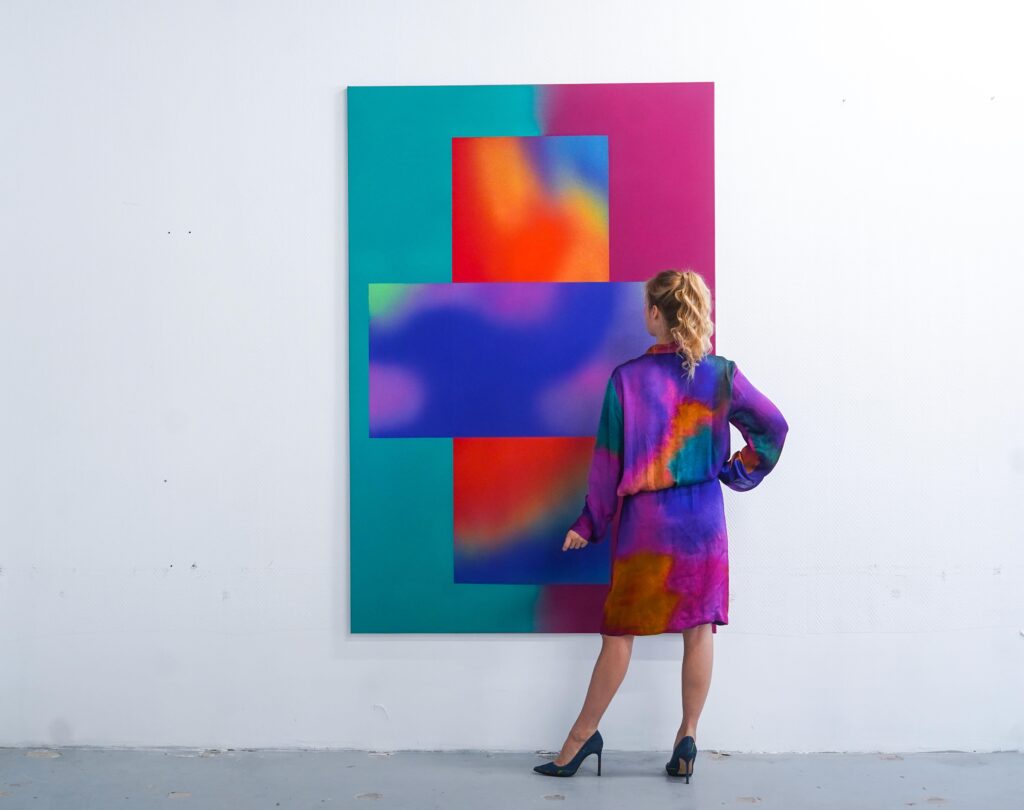 SJ: What was the most difficult project you have undertaken and the most amusing?
SM: Depending on the location, such as art fairs or auction houses, photo shoots are less easy due to the ephemeral side of the event, and the architecture of the place is not very compatible. If it's a sculpture, I have to take into account the volume of the work. I have a lot of fun wearing unusual outfits for the place or the season: being dressed in an evening dress with straps in the middle of winter at 11 a.m. for example. At the Louis Vuitton Foundation, I staged myself in front of Katharina Grosse's installation in the presence of 40 curious and caring people, despite my anxiety. So far, I have met all the challenges.
SJ: Which modern and contemporary artists do you admire?
SM: I am a fan of the Swedish artist Anna-Eva Bergman, someone whose work I discovered five years ago. I look forward to the retrospective of her work at the Museum of Modern Art starting on March 30, 2023. I am currently diving back into the universe of surrealist artists like Jane Graverol, Léon Tutundjian, and Salvador Dalí who are taking me on a trip. My heart pounds before the paintings of Marc Chagall, my first love. I dream of diving into one of his works. For contemporary artists, the list is long. I noticed Cécilia Granara, Lise Stoufflet at Pact Gallery and John Fou. These three young artists have different but very colorful worlds. Their works tend towards figuration without being stamped realistic. I like this ambivalence of art: the use of known forms to create a universe specific to the artist.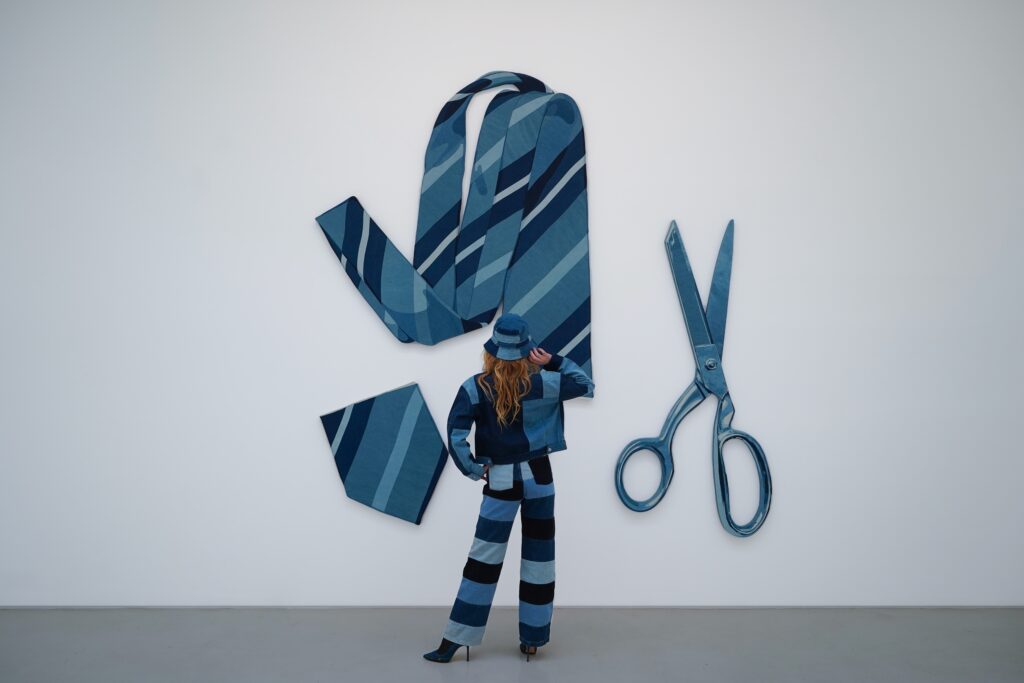 SJ: How do you plan the evolution of Matchwithart?
SM: I would like to use video to tell behind-the-scenes stories of auctions or even anecdotes about the artistic world. This would take me away from the "matches" but would allow me to speak. The current objective is to perform outside Paris or abroad. The concept of Matchwithart is universal and applicable worldwide. I am considering an English format to reach an international audience and the creation of a clothing brand linked to the work of contemporary artists. This is the ultimate dream.
Matchwithart can be found on Instagram and to see more of her work with the Musée d'art et d'histoire: click here.