It was a scorching week at Art Basel this year in terms of temperature and art. The coolest hangout was on the bank of the Rhine River in front of Grand Hotel Les Trois Rois. Apart from swimming in the river, there was the main fair, Liste Art Fair, Volta Basel, Photo Basel and the Design Miami fair to check out. At the main fair, David Zwirner showed a gorgeous Bridget Riley oil painting on linen, Rose Red from 2012. The horizontal stripes in sunset-over-the-Rhine tones are typical of Riley's work. A few steps away, Cristea Roberts Gallery exhibited Riley's Nineteen Greys, 1968. This included four silkscreen prints presented in a grey portfolio box. At age 92, Riley is the queen of Op art, and it seems only right to kick off the Art Basel 2023 review with her work.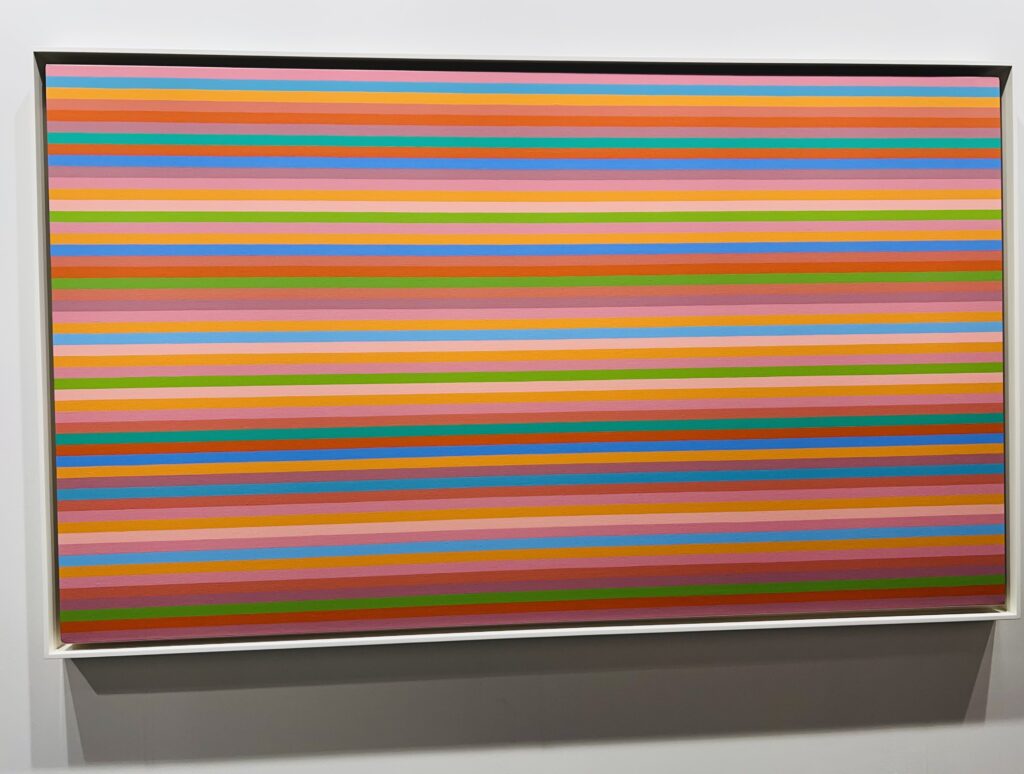 The Unlimited sector of the main fair had several interesting pieces by artists from Africa and the African diaspora. Sea Never Dries, 2022, by Serge Attakwei Clottey resembled a golden mosaic path or shimmering robe floating down from the ceiling. Made of pieces from the yellow containers found all over Africa, originally used to hold cooking oil, water, and fuel, the diamond-shaped cut-outs are held together with copper wire. Reminiscent of the work of fellow Ghanaian artist El-Anatsui, Clottey uses the plastic from the containers to comment on water shortages and creates dramatic tapestries in a style he calls "Afrogallonism". Dappled shadows cast interesting patterns on the fair-goers meandering underneath.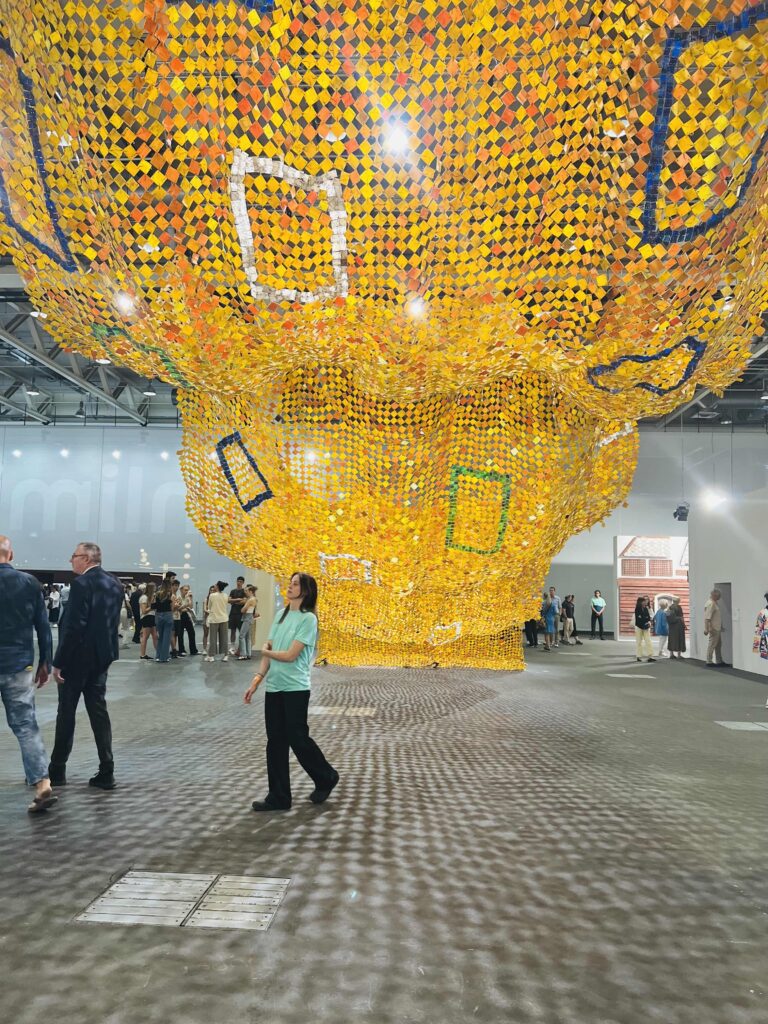 Next to catch the eye was Yinka Shonibare's The African Library, 2018, which presented shelves of books covered in Dutch wax cotton cloth with the names of notable figures from the African continent. A who's who in African political and cultural history, this piece has an educational element to it with the names of figures such as Nelson Mandela, Patrice Lumumba, Ruth Perry, and others printed in gold on the bindings. and it commemorates the fight for independence from European colonies. The use of patterned textiles, the artist's signature style, renders his art instantly recognizable. In this piece, the variety of patterns and colors reflects the diversity found among the fifty-four countries that make up the African continent.
It is always good to catch one of the many fascinating Art Basel Conversations. The Artist and the Collector: Katharina Grosse, Firelei Báez, and Kamal Shah concentrated on the challenges that artists and collectors have overcome to represent the female perspective in their art and collections. Kamal Shah, in particular, described becoming a collector of female artists and what attracts her to certain pieces, especially powerful, large-scale pieces. As artists, Katharina Grosse and Firelei Báez spoke about their stories of becoming artists, and what they focus on in their work. As a Dominican artist living in New York, Firelei Báez's work presents diasporic histories in an imaginative realm. Her piece at Unlimited, the vast ocean of all possibilities, resembled an underwater castle, with blue and white stencilled birds, combs, and animals on the stucco-like crumbling walls. In her work, Báez reimagines the ruins of Sans Souci Palace in Milos, northern Haiti, and in this way, she recontextualizes Caribbean history.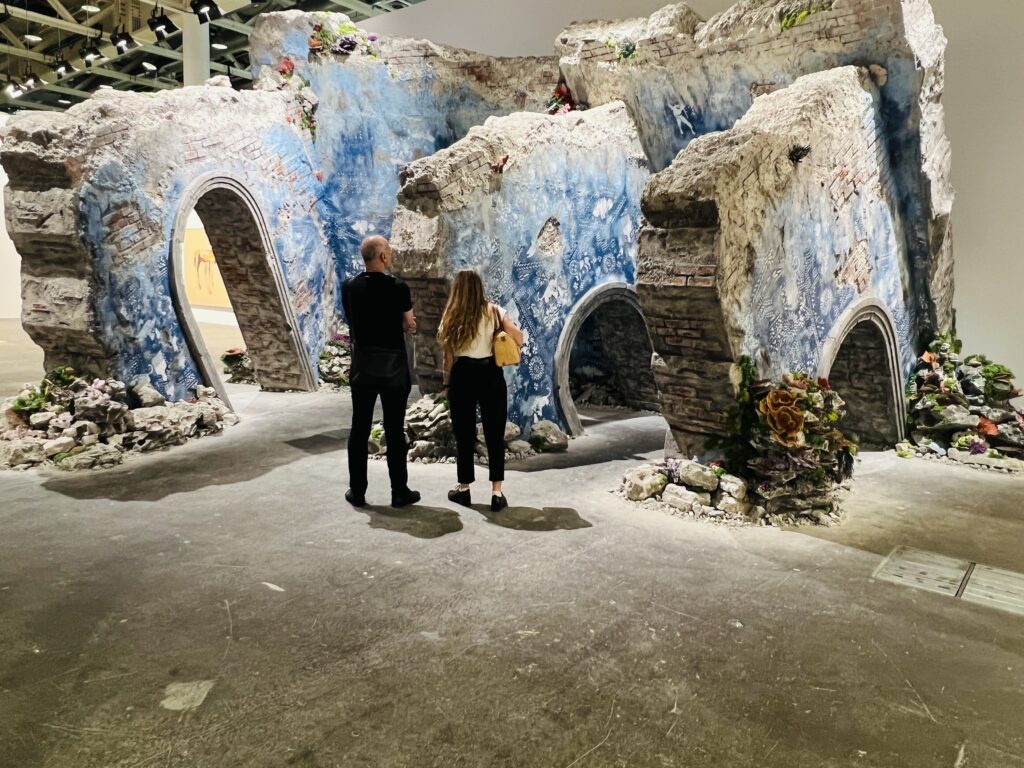 A recurring theme of Unlimited 2023 was the presence of ships, whether they were a large-scale acrylic painting by Yu Hong, The Ship of Fools, 2021, based on Hieronymous Bosch's triptych, or an aluminum ship in Horizons, carrying alien-like "austronauts" by artist Jean-Marie Appriou, or the video projection of a burning ship by Adel Abdessemed. Born in 1971 in Algeria, Abdessemed's work focuses on social justice, representation of those without a voice, and recounting the state of the world today. This piece, presented by Galleria Continua on one of the largest video screens in Europe, greeted the viewer on entering the Unlimited sector. As the burning ship gets closer, the figure of a man standing on the bow appears, arms crossed. Is he oblivious to or knowingly ignoring the flames just behind him? As a statement about the dangers of inaction in our society, this couldn't have been much stronger.
The fan favourite of Unlimited was undoubtedly Monica Bonvicini's Never Again, 2005. Made of steel pipes, chains, black leather, and rivets, the interactive swings, explicitly stated to be for single-use only, nevertheless had a sexually subversive whiff to them. They attracted selfie-seekers by the dozen. Bonvicini's work deals with the built environment and how power and sexual identity are defined within these spaces. Climbing into the swing created awkward moments while fair-goers wobbled their way in. The popularity of these slouching leather swings, in which most spent their time staring at their own image on their phones, seemed to reflect the solitude and loneliness in modern society. Even at a crowded art fair, some people were intent on being alone.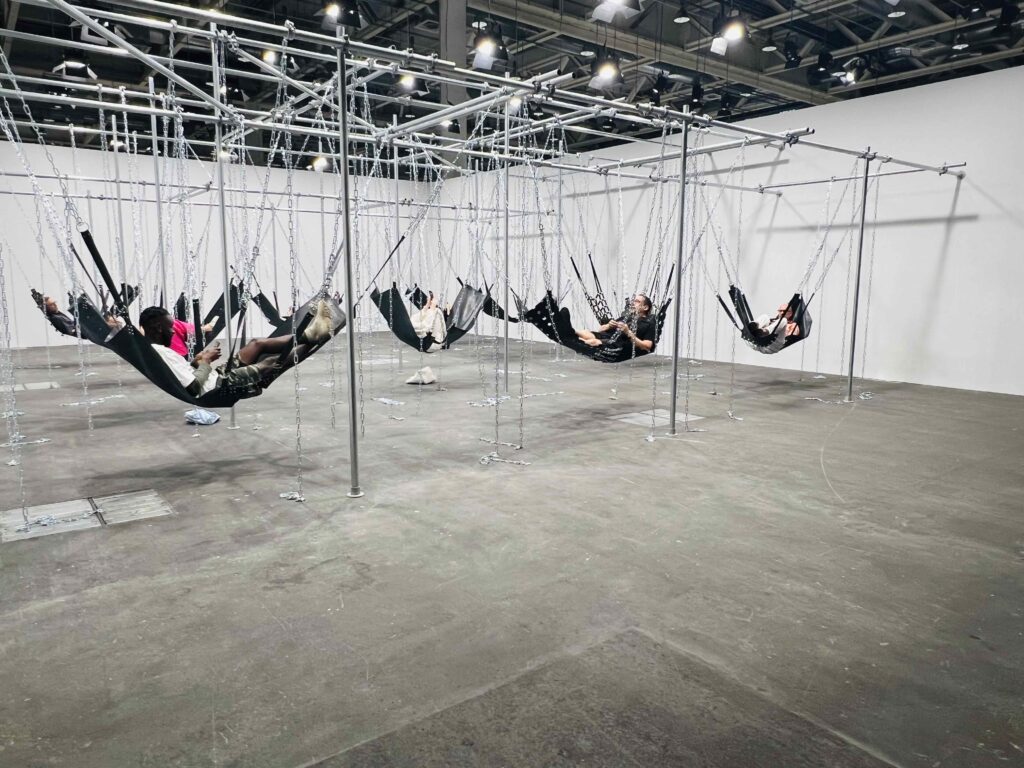 As part of Kabinett in which select galleries presented small thematic presentations in their stands, Kurimanzutto presented sculptures by Petrit Halilaj. Halilaj's work is concurrently being presented at the Musée International de la Croix-rouge in Geneva in very volcanic over this green feather, as part of the museum's focus on mental health. Halilaj's practice reflects his biography in terms of its focus on identity, ideas of home, and memory. An ethnic Albanian who grew up in Kosovo, when Halilaj was twelve years old, the army arrived, took his father, and threw the family out of their house. The family home was subsequently burned and Petrit and his family had to flee to the Kukës II Albanian refugee camp. There, he drew things he feared but also his most beautiful dreams which always included birds. At Art Basel, Halilaj presented elegant, deconstructed sculptures of stork-like legs with dangling singular feathers.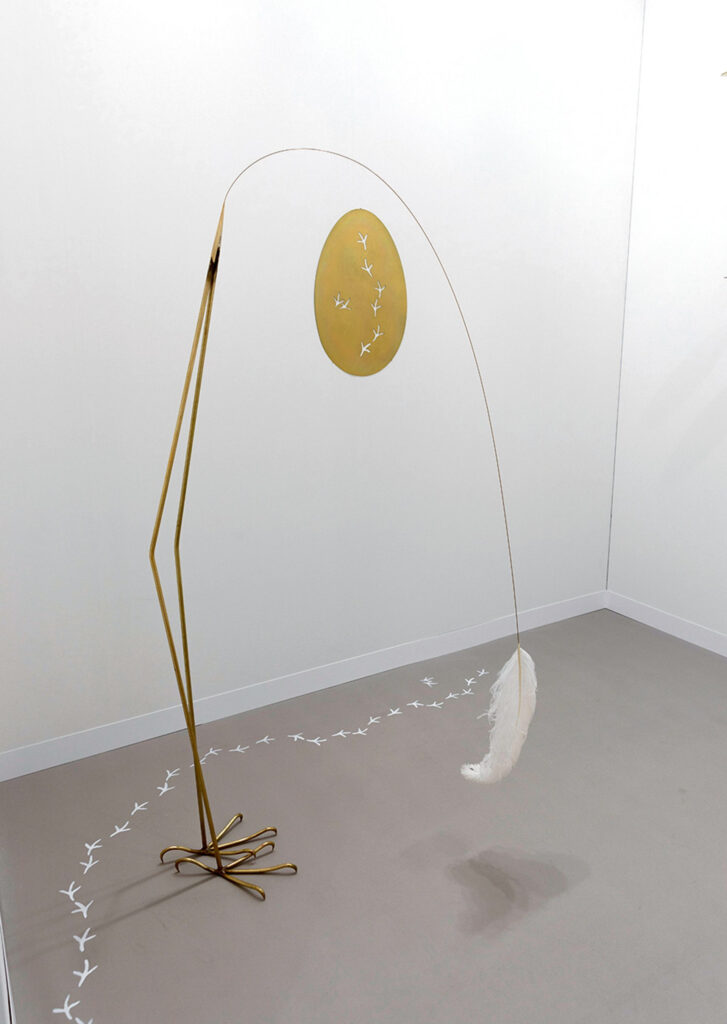 The Liste Art Fair, conveniently located about 100 meters from the main fair, featured the work of Tomoko Sauvage at the entrance. Sauvage is a musician and sound artist born and raised in Japan, now working in Paris. In 2021, she created sound interventions on Isamu Noguchi's sculptures for the Barbican Centre. At Liste, Sauvage presented In Curved Water, a sound installation that connects the material with the immaterial. Suspended blocks of ice dripped into small bowls on the floor, the drips echoing out from speakers. Subtle plinking sounds on a sweltering day in Basel reminded viewers of the increasing temperatures around the world. Further inside the fair, Erin O'Keefe's photographs at Seventeen Gallery boggled the mind with layered constructions of stacked painted blocks. Using tricks of depth and perception, these unique, one-off prints surely delighted some lucky collectors.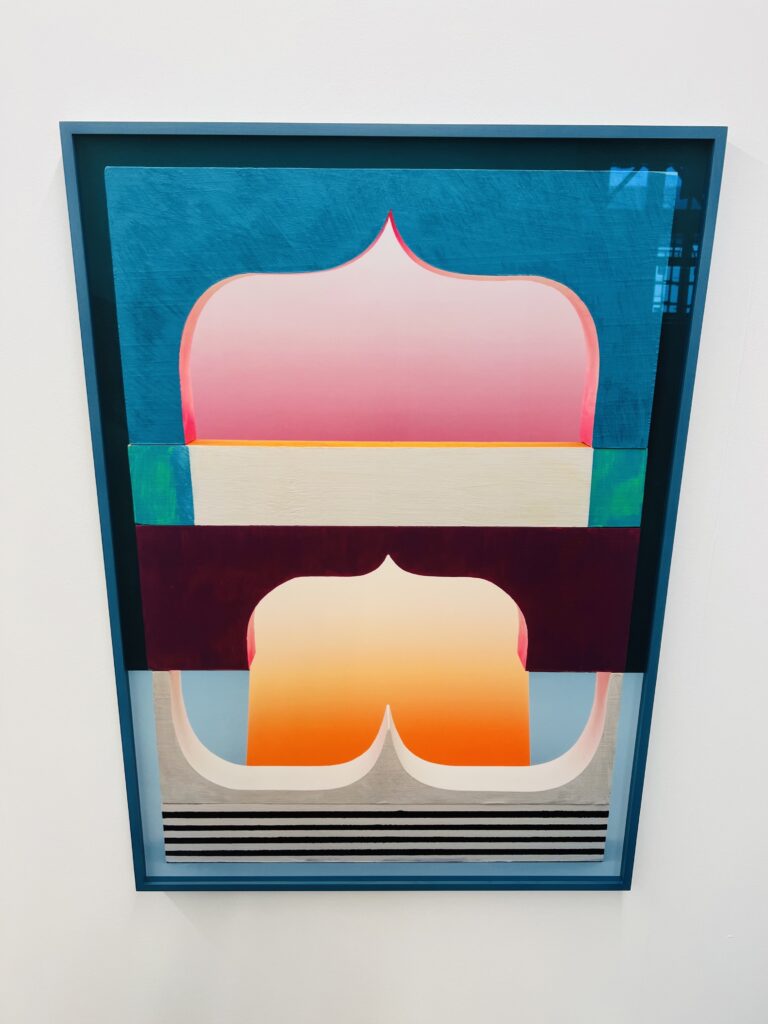 Volta Basel was back in a new location with shuttles transporting collectors from the main fair. On the second floor of the 1960's Klybeck 610 building was a professionally-presented fair with 29 galleries represented. At Parisian-based Sobering galerie, the photographs of Brazilian-born photographer Alice Quaresma were on display. Her work explores the topic of identity and the feeling of displacement through images of Rio de Janeiro overlaid with abstract painted symbols and shapes. Galerie Gans from Vienna exhibited the realistic oil on canvas work of Julia Faber, including The Pride of the Western World, based on Dutch still-life paintings. The incredible technical skill displayed alongside a dystopian vision shocked and awed in equal measure. Further on, Irish gallery Hang Tough Contemporary showed the dreamy, foggy abstract paintings of Paul Hallahan.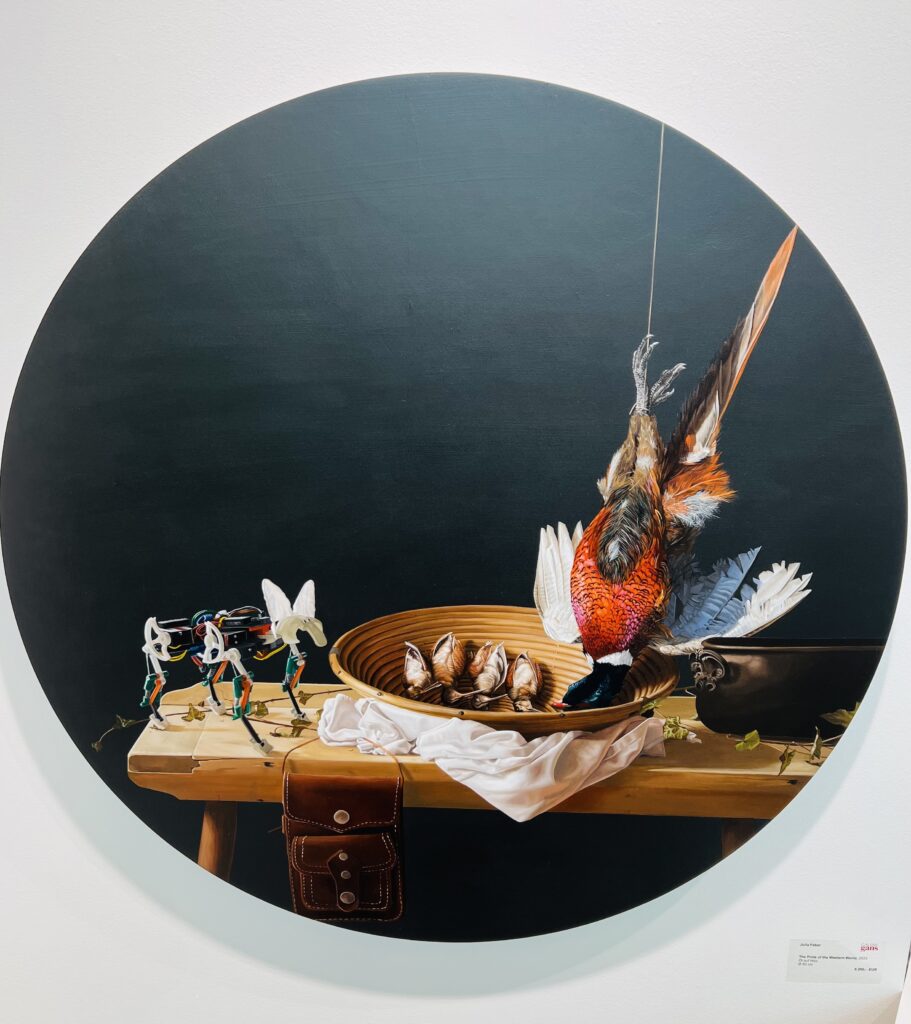 All in all, this was one of the most relaxed Art Basel Fairs in recent memory, perhaps due to the weather which allowed visitors and exhibitors alike to drop the more formal pretences and relax a little. There was joy in the air as the sales numbers climbed along with the temperatures. Hopefully, next year will be just as hot.