Inaugurating its new building on Plateforme 10, the emerging innovative cultural hub near the central train station in Lausanne, the Musée Cantonal des Beaux Arts has come back, with a few surprises. If, from the outside, the modern new edifice looks stern and square at first glance, the bright, light-flooded entrance hall with its wide stairs leading up to the large semi-circular window 'had me at hello'. The beautiful window, an original feature of the former locomotive shed has been preserved and is still overlooking the railway tracks, putting the past of the complex into context.

At the bottom of the stairs, rising from the ground, a large tree has taken root: although not specifically designed for this space, Italian artist Giuseppe Penone's artwork could not have been more ideally-fitted, with its small footprint (leaving ample space around) and expanding as it rises gracefully towards the skylight. Called 'Luce e Ombra' (Light, symbolized by the golden leaves and Shadow, the granite sphere on top of the work), it references the probably most elemental 'ingredients' of art as such.
The opening exhibition 'ATLAS' takes us on a journey through the collections of the Museum, accumulated to a huge part through donations, whether in from of gift, legacy or long-term loan and represents as well a sincere 'thank you' to all the individuals, private and public institutions that have enriched this public heritage. 'ATLAS' is exploring 'territories and themes' such as Forests, Pain, Music or Maps of the World, resolutely mixing premodern, modern and contemporary art. This fresh 'shake-up' presents us with surprising dialogues and comparisons between unexpected 'neighbours' in the exhibition.
Just to give one example: in 'Map of Love', dedicated to paintings, drawings, sculptures and videos on emotional or physical contact, a traditional oil painting by Swiss painter Charles Giron from 1885 (depicting a young, shy couple next to a bubbling mountain stream, holding hands but not even daring to look each other in the eye), shares the wall with a minimalist artwork from 2005 (consisting of two steel bands barely touching each other) by German 3D artist Gunter Frentzel.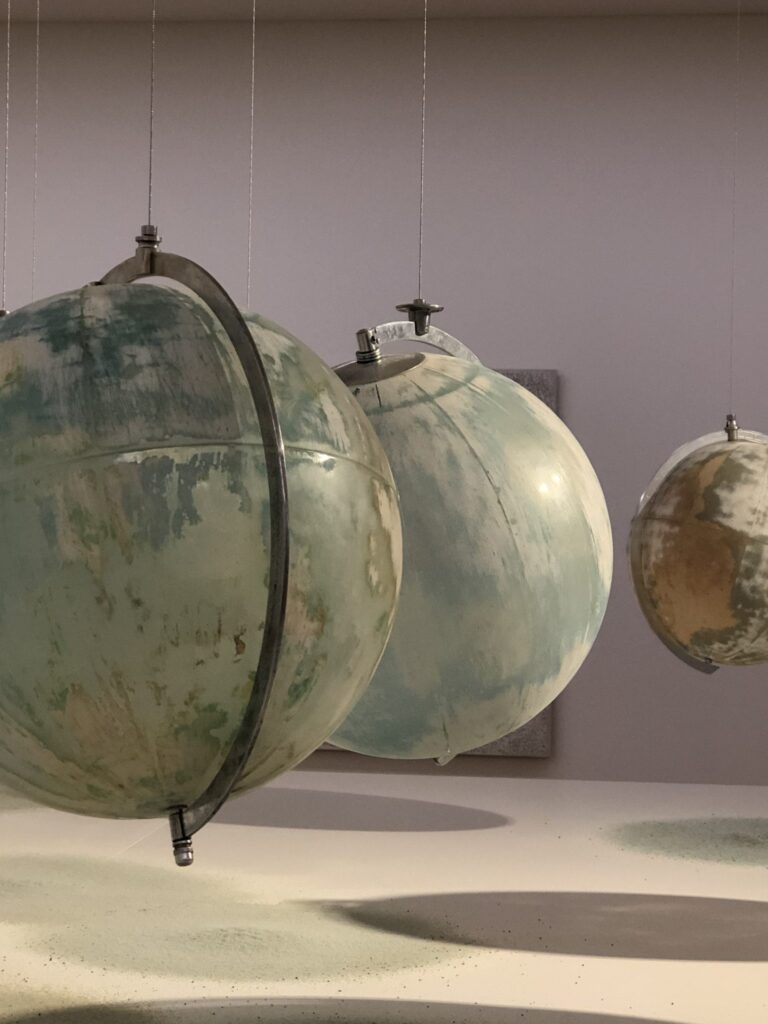 One whole room is dedicated to the provocative art installation "Swiss Army Knife" by Thomas Hirschhorn, a chaotic display, looking very much like something a school class might have produced in a collaborative project: wood panels, folding tables, photocopies, newspaper cuttings, photos and letters, objects and connections created with aluminium foil, in short, bricolage on a large scale. It takes a bit of time and patience to make sense of it all. Swiss artist Hirschhorn takes a national symbol and icon of Swiss success and uses the tool to cut, poke holes and file down the image of Swiss culture and history, looking into chapters like the army as such (partially autobiographical), Nazi gold, luxury watchmaking or globalization.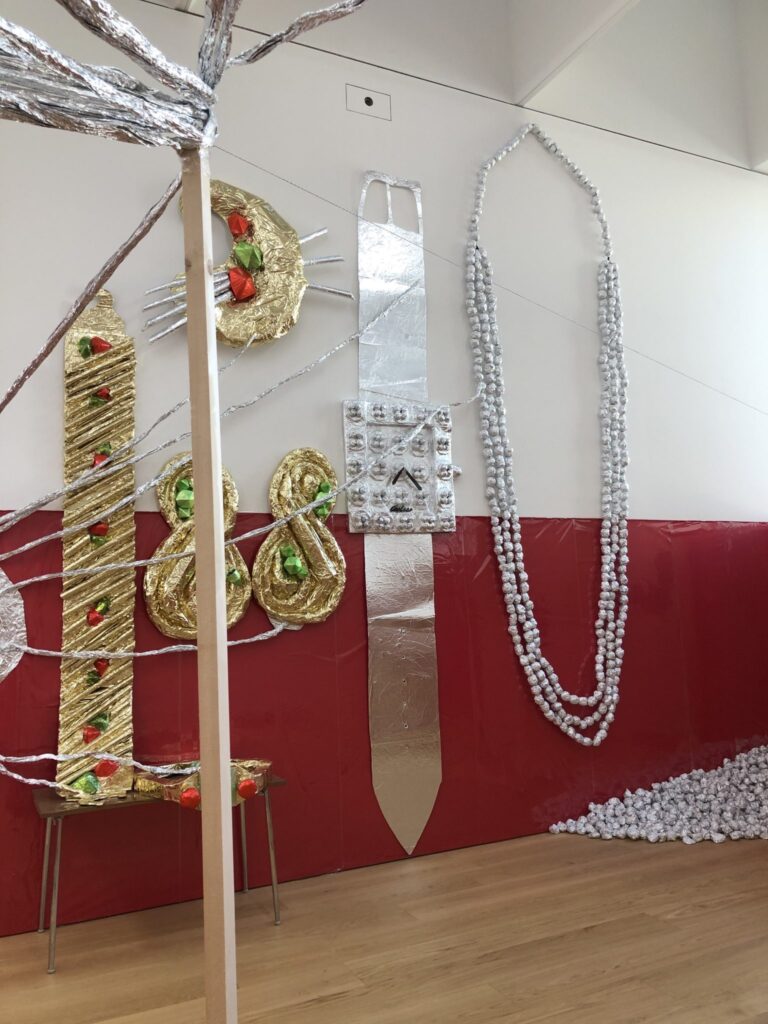 'ATLAS' is a bit like entering a treasure cove or unknown lands…you never know what surprising discoveries might await around the corner. Some constellations don't seem to make sense at first glance but suddenly feel completely logical with a little help from the audio tour app that visitors can download on their own phones (headphones can be provided if you don't bring your own). It even includes music, especially curated for each space.
About Uli Van Neyghem
Uli Van Neyghem is a free lance art journalist and artist living in the Geneva region. In her paintings she creates serene atmospheres, using acrylics. Her contemporary renderings of Swiss cows or mountain animals have become signature collections. She is also co-founder of Collaborative Art™, creative team building and live art entertainment. Instagram: @ulivanneyghem