A nomadic artist
Rebecca Brodskis (1988) grew up in contact with her painter-grandmother living in Morocco. Her father, Lu, surrounded himself with artists. At 18, she began studying at the Beaux-Arts in Paris, then at Central Saint Martins College of Art and Design in London. She admits that she did not graduate because she was not in tune with the system. A choice is to be made professionally, and painting becomes her profession. The consequences are heavy because she struggled financially and her daily life was difficult. She flew to New York and worked as an assistant for the Norwegian artist Lars Laumann. Back in Europe, she settled into a workshop in Berlin. At the same time, she took courses in sociology on the themes of vulnerability and social crisis.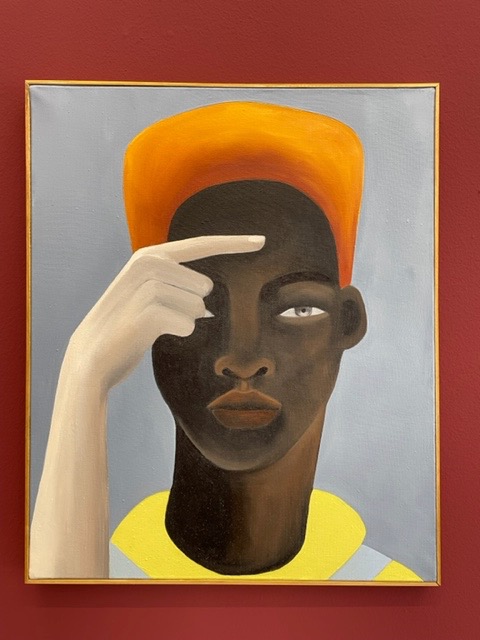 We give you two quotes that fit perfectly with Rebecca Brodskis' philosophy of life:
"He who travels without meeting the other does not travel, he moves" by Alexandra David-Neel.
"A destination is never a place, but a new way of seeing things. by Henry Miller
Through travels and incessant changes of living quarters, the artist escapes the routine, the daily life that quickly and relentlessly sets in. In this way, she reinvents her days by modifying her routes, and goes from discovery to discovery. Contact with other cultures is a source of enrichment, of confrontation with difference, and constantly feeds her inspiration. Unlike Sartre, hell is not other people for Rebecca Brodskis. She is an artist fascinated by humanity in its infinite diversity.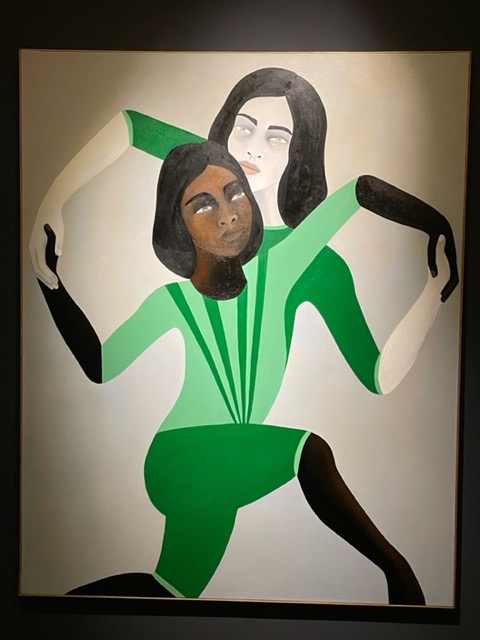 Rebecca Brodskis confesses her obsession with the human being, an inexhaustible source of inspiration. Do the characters she portrays in her paintings really exist? The portraits result from an amalgam of which she has the secret: to her friendly relationships, she adds a pinch of encounters added with a dose of fiction. However, the artist refrains from working from photos.
As we walk through the exhibition, what do we see? The recurrence of faces, colors, the movement of bodies, the play of hands. Looking closer, the artist avoids differences between races only suggested by skin color. While blurring the tracks, she makes her characters universal. The faces are impassive, the looks similar, and the luscious mouths remain silent. No frills, no decor, each character poses with elegance and apparent serenity.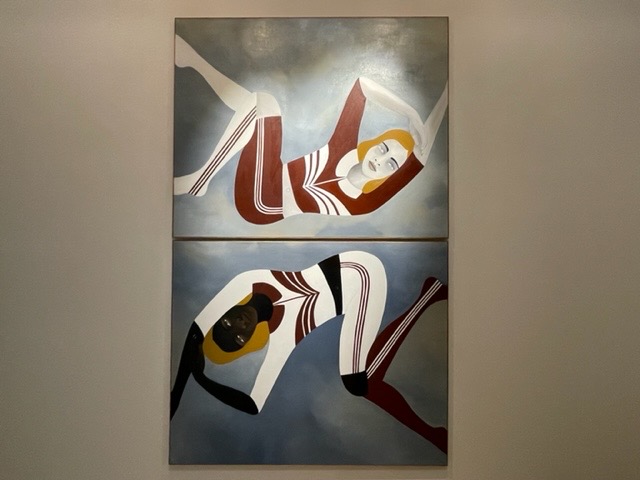 The artist and her tightrope walkers
Rebecca Brodskis affirms her artistic identity. Her pictorial technique plays on the contrasts between bright and matte colors, between flat areas and graphics. By addressing the theme of balance, the artist addresses above all "our mental state: indeed, our psyche constantly navigates between balance and imbalance, stability and instability, hope and fear". If nothing shows through in the looks, the bodies and hands say a lot about our torments, our passions, our struggles, and our hopes. The titles reveal the meaning of the attitudes: Esperanza, Resistance, Freefall, Prayer, or even Balances in imbalances…
Like acrobats or tightrope walkers, Rebecca Brodskis' humans struggle in this endless spiral that is the cycle of life. Movement is essential to keep balance, to stay alive.
"Our lives are made up of a whole network of inextricable paths, among which a fragile instinct guides us, an always precarious balance between heart and reason". George Dor
Cover image: D'Equilibres en déséquilibres, 1 et 2, 2022, huile sur lin, Rebecca Brodskis, ©NeigeSanchez