Walking into the Sam Gilliam exhibition at Pace Gallery is like entering an exotic rainforest after being in the desert for months. The colors are surprisingly lush and almost overwhelming. Large-scale works saturated with vibrant hues reach out from the walls. Far from my idea of a typical watercolor; small-scale, pale pieces, these are huge, bright and almost sculptural. The Japanese paper, called washi, is thick, and layered or folded, creating slabs of piercingly-bright shards pieced together with vertical or horizontal lines running through them.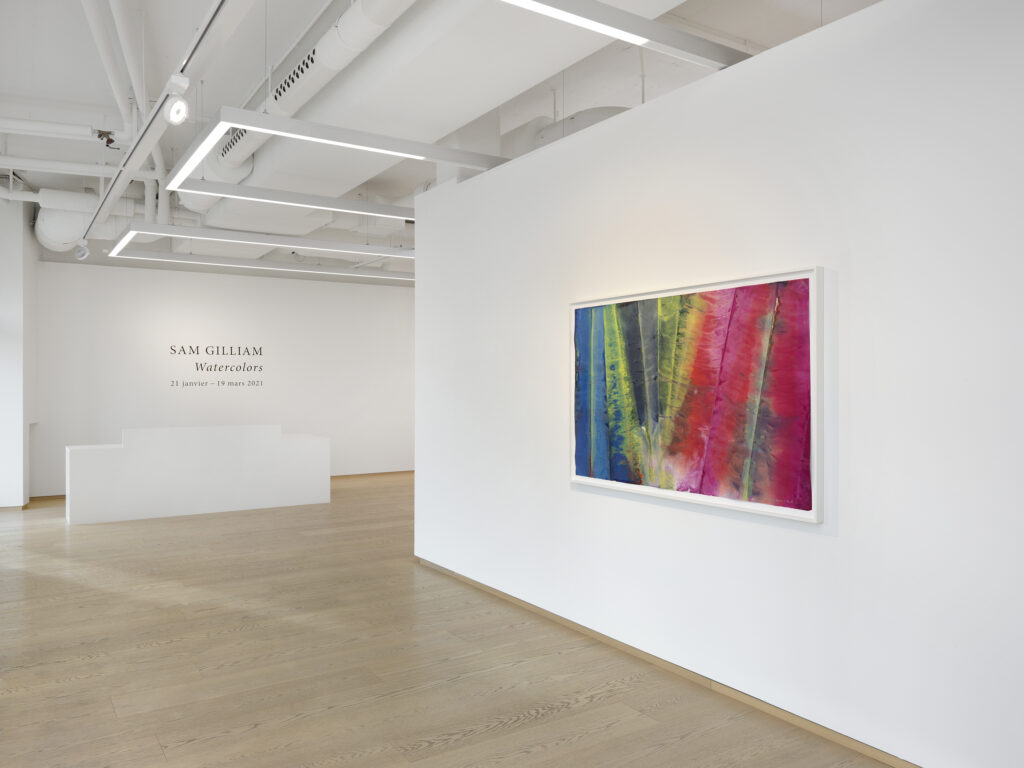 Gilliam travelled to Japan in the 1950's during his time in the U.S. Army and said "the most exciting thing there was the ritual, climbing mountains, Japanese songs, and the cultural element of Buddhism, the stillness…you begin to understand the meaning of time as it is stable, as it is constant, as it is moving various aspects. And from that I started making a lot of watercolours."
My idea of what a watercolour can be has been challenged by these pieces. They are made of large sheets of Japanese paper saturated with layers of monochromatic pigment. To me they resemble bamboo, or hanging pieces of laundry, and have a weight to them not usually found in watercolors. Arne Glimcher's forward to the Pace Gallery catalogue states that Gilliam's watercolors "harness color as a conduit for pure emotion". The emotional impact of these pieces hits with unexpected force.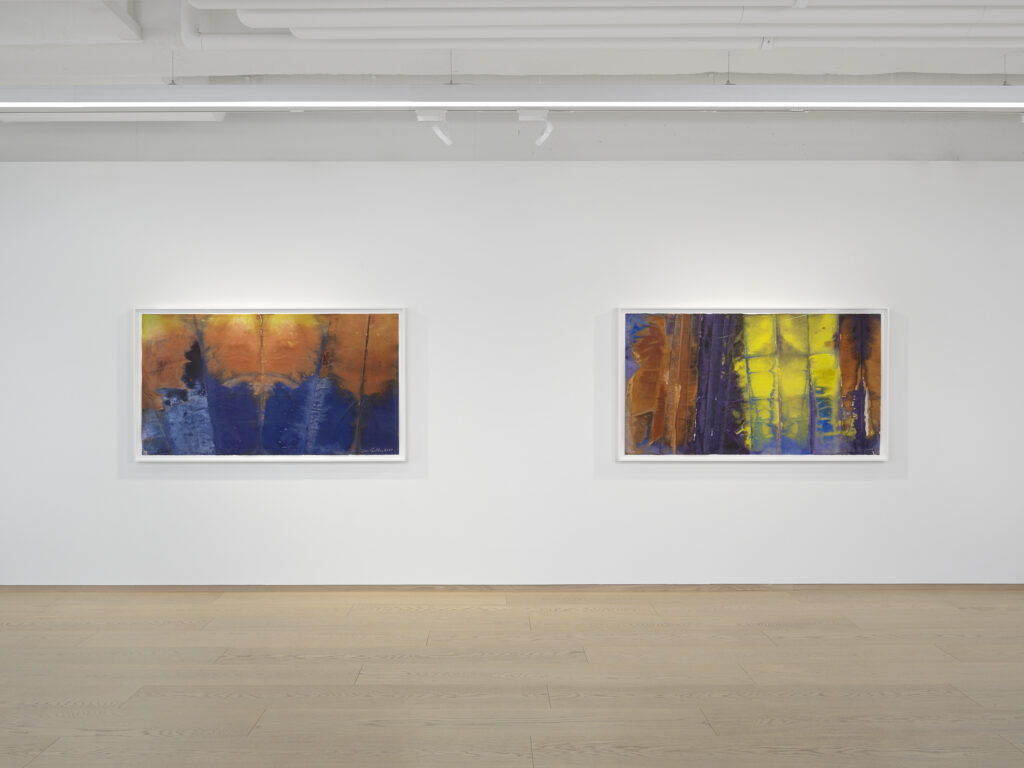 Sam Gilliam was born in 1933 in Tupelo, Mississippi and has been a practicing artist since the 1960's. Stylistically, his work ranges from Abstract Expressionism to Minimalism, and critics add Color Field painting to the mix. He was associated with the Washington (D.C.) Color School group of painters early in his career and his work is now in the collections of fifty-seven major museums.
Gilliam has sited many influences including Jackson Pollock and Anselm Kiefer, and he has said that his favorite artist is Barnett Newman. In an interview in 2019, Hans Ulrich Obrist asked Gillliam what advice he would give to a young artist. Gilliam said: "You should digest Barnett Newman. Digest the mystery of every artist in the past. Sit and listen to a lecture by a good art historian who puts things in focus. Read books backward. Read books any way you want."
His body of work is wide-ranging and he is continually experimenting. A recent exhibition at Pace Gallery in New York (November 6 – December 19, 2020), titled "Existed, Existing" featured Pollock-like splattered paintings that resemble topographical maps with detritus from the studio embedded into them, so as not to waste the creative output of the artist. Sections of the paintings are scraped with a rake-like instrument, revealing the range and depth of color underneath the surface.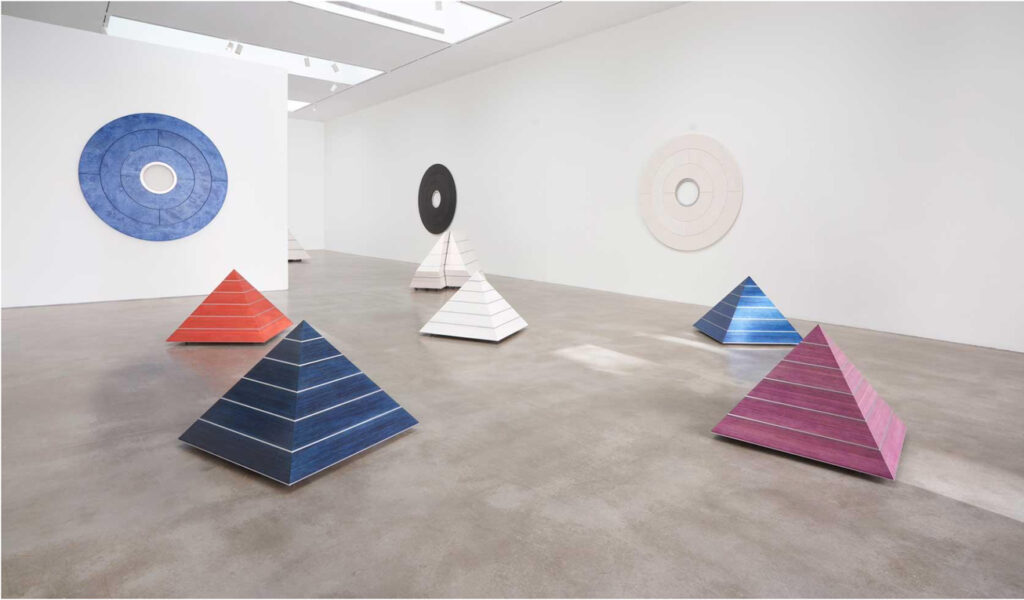 These pieces were hung alongside minimalist target and pyramid sculptures in stained wood and metal. This work uses the simple shapes of triangles and circles to create iconic, totemic pieces. Swirls and variations in color are revealed by the wood grain, contrasting the natural, organic quality of wood with the precise, machine-cut shapes.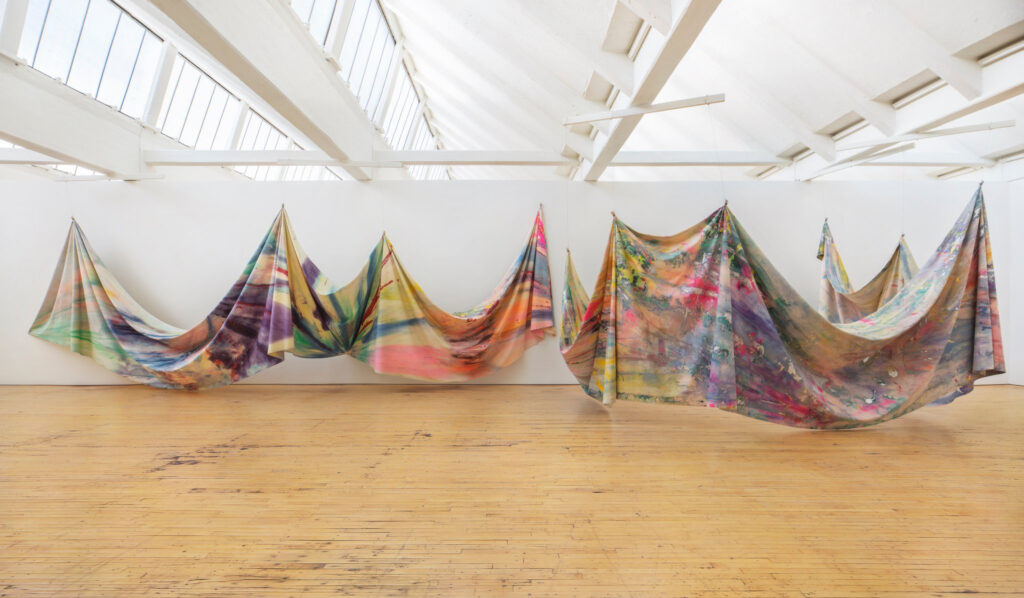 The body of work that seems to be more closely related to the watercolors at Pace in Geneva are Gilliam's draped canvasses from the 1960's, such as "Double Merge", 1968. These pieces break away from the structure of a framed canvas and are free-flowing waves of color on cloth.  Created by an African-American artist at the height of the Civil Rights Movement, this work was a way of re-examining and redefining the parameters of art from a new point of view. The work is still mesmerising today.
One can see the connection between this work and the watercolours at Pace in the layered folds of washes of color. As a "conduit of pure emotion" these watercolors are deliciously verdant and full of life. They are the perfect antidote to the winter doldrums and announce the arrival of spring.
Sam Gilliam: Watercolors at Pace Gallery, Geneva, is on until March 19, 2021.