How do groundbreaking revelations in science and their repercussions on the human self-perception reflect in the art of the respective epoch? The present exhibition at the Kunstmuseum in Bern zooms in on this question on a national level, looking at Swiss art from the 19th and early 20th century, with masterpieces by Swiss artists from Ferdinand Hodler to Félix Vallotton, as well as works by female artists such as Annie Stebler-Hopf who have so far received less attention.
According to Sigmund Freud, three major scientific discoveries have fundamentally shaken humanity's understanding of itself: Following Copernicus' very disappointing discovery that our planet was not the centre of the universe, Charles Darwin humiliated mankind with his evolution theory. As a third blow, Freud himself discovered the unconscious….and humans were not even masters of their own minds anymore. In which way did this mood of uncertainty influence how artists saw and represented the world around them?
In the works of this time, idyllic and romantic landscape paintings make way for a menacing and monumental picture of nature. The human figure (formerly shown as heroic knights or conquerors), now appears only at a distance, almost invisibly small and vulnerable at the foot of gigantic mountains. Humans don't get more significance than grazing animals, equal in the presence of overwhelming nature and elements. Gabriel Loppé's 'Das Matterhorn' from 1867, in which two hikers practically disappear in the barren, alpine landscape with sharp-edged icy peaks demonstrate this graphically.
Landscape paintings became a vehicle to transmit emotions such as fears, concerns and hope. Some Swiss painters used mountains as a symbol for stability to embody a sense of national identity in the context of the newly-created confederation. The times where nature just provided a decorative backdrop to human achievements, glory or pleasurable activities like picnics were over.

In paintings of this era in which humans remain the subject, and not just a footnote at the bottom of a page of monumental nature, they appear lost and tired, disoriented, haunted by dreams and fear, resigned or disillusioned. Great examples are the paintings by Eduard Boss, Albert Anker and Ferdinand Hodler. The human figure is no longer represented as triumphant and sovereign, but unprettyfied and with psychological depth.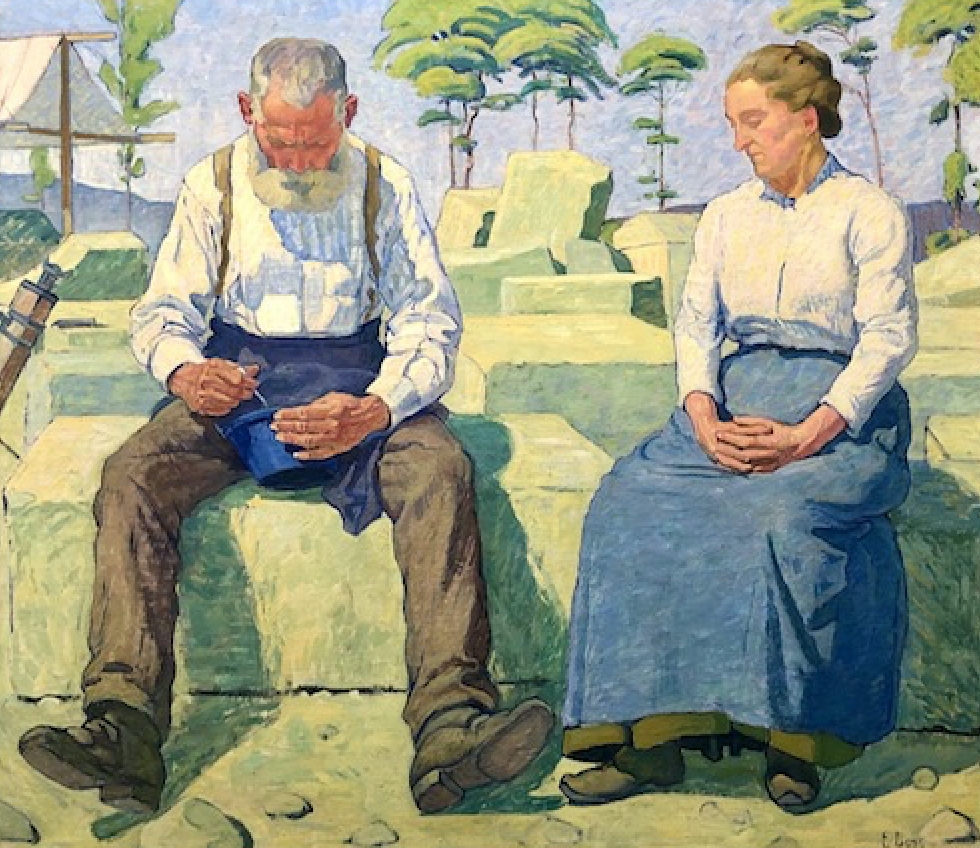 Freud's revelations of a deeper, unconscious mental reality and Darwin's evolution theory also lead to paintings picturing hybrids of all sorts (half-human, half animal): violent, instinct-driven minotaurs, nymphs and sirens owned by desire, pointing to the uncontrolled aspects of humanity.

Doubtlessly at the heart of this interesting exhibition are Ferdinand Hodler's deconstructed and strikingly modern masterpieces 'Aufstieg und Absturz', commemorating the first ascent of the Matterhorn in 1864 (triumph and tragic fall so immediately connected). They symbolically illustrate the theme and message of the exhibition and their staging on a monumental wall at the centre of exhibition rooms, could not be more perfect.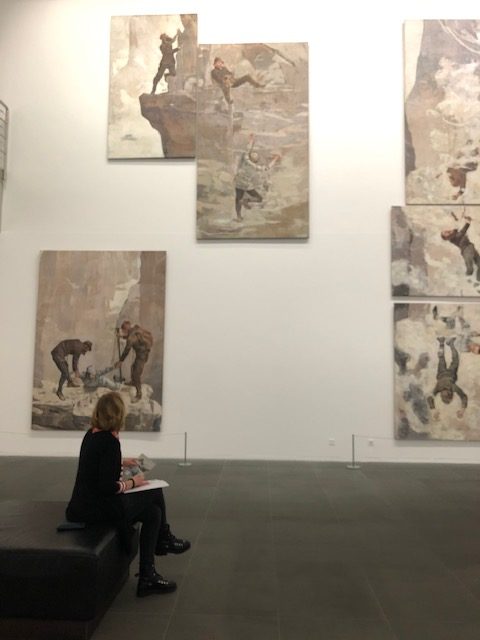 'Things fall apart' is a carefully curated exhibition putting Swiss masterpieces into their historical context and illustrates beautifully how art acts as a mirror of society.
About Uli Van Neyghem
Uli Van Neyghem is a free lance art journalist and artist living in the Geneva region. In her paintings she creates serene atmospheres, using acrylics. Her contemporary renderings of Swiss cows or mountain animals have become signature collections. She is also co-founder of Collaborative Art™, creative team building and live art entertainment. Instagram: @ulivanneyghem