Thomas Lesigne's solo show "More News from Nowhere" at Galerie Mighela Shama explores themes of discovery, memory, exoticism and the relationship between color and light. The watercolors and pencil drawings demonstrate his mastery of these two forms of artistic expression, and expand upon his previous show in Geneva one year ago.
Thomas Lesigne was born in Avignon in 1989 and attended the École nationale supérieure des Beaux-Arts de Paris where he was a finalist of the contemporary drawing prize in 2017. "More News from Nowhere" is his first solo show in Geneva, having previously shown watercolors at Galerie Untitled 1983 in "Both Directions at Once", a shared show with the artist Karolina Orzelek. In his previous show, Lesigne's work displayed more somber colors and fog-like atmospheres. Compared with this, in "More News from Nowhere" the fog has burned off and his new pieces are full of brighter hues and a crisper light.
This makes sense considering the new pieces were created while Lesigne and friends travelled for several weeks through Central America, exploring Guatemala, El Salvador and Costa Rica. Many of the subjects in his new pieces are solo, nomadic figures interacting with the tropical landscape. Sometimes gazing into an intense green canopy of leaves, sometimes crossing bridges or descending into the jungle, these figures are young and free, exploring an exotic and exciting world. As it is often when discovering a new place, everything seems better, brighter, and more intense than the life left behind at home.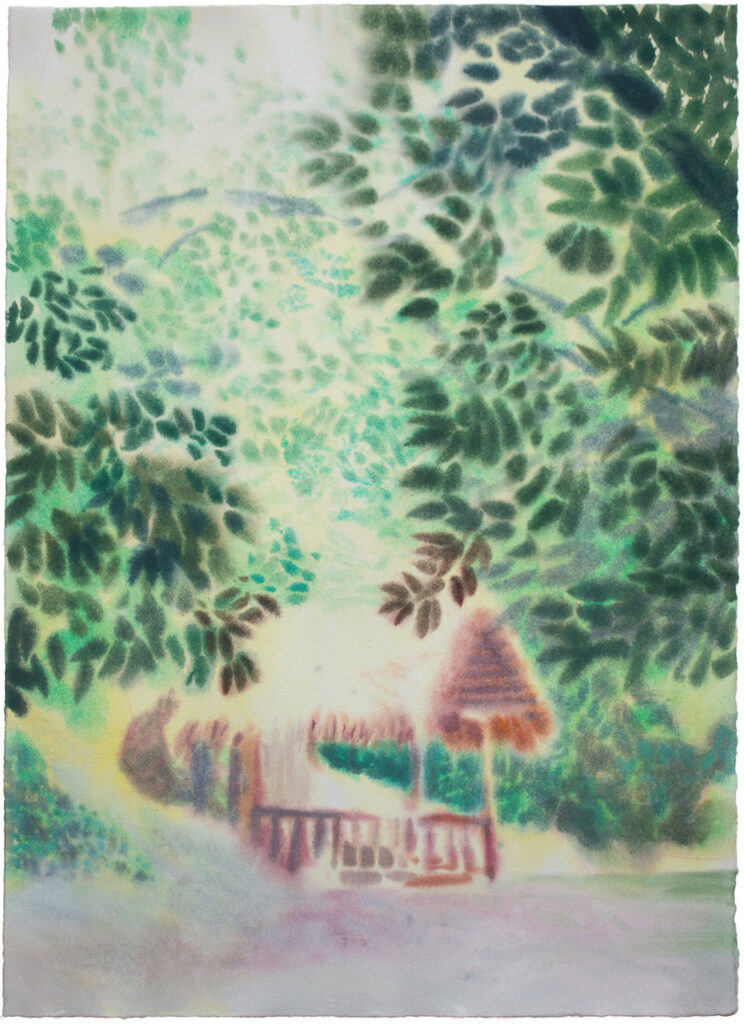 In the process of creating his watercolors, Lesigne starts with a drawing on paper and then wets the paper and quickly adds color to the surface before it dries. This process necessitates an energetic creative moment where all the attention is focused on capturing a memory and feeling. Blurred outlines suggest the composition of a body or a leaf, capturing the essence of it. In Halo, light reflects and glows around the roof of an idyllic primitive hut in a verdant forest. The sun shines down from above through an opening in the canopy, highlighting the thatched roof of the structure, and cutting shapes through the leaves. The hut is evidence of civilization, a refuge where one can find shelter from the heat and escape the dense foliage.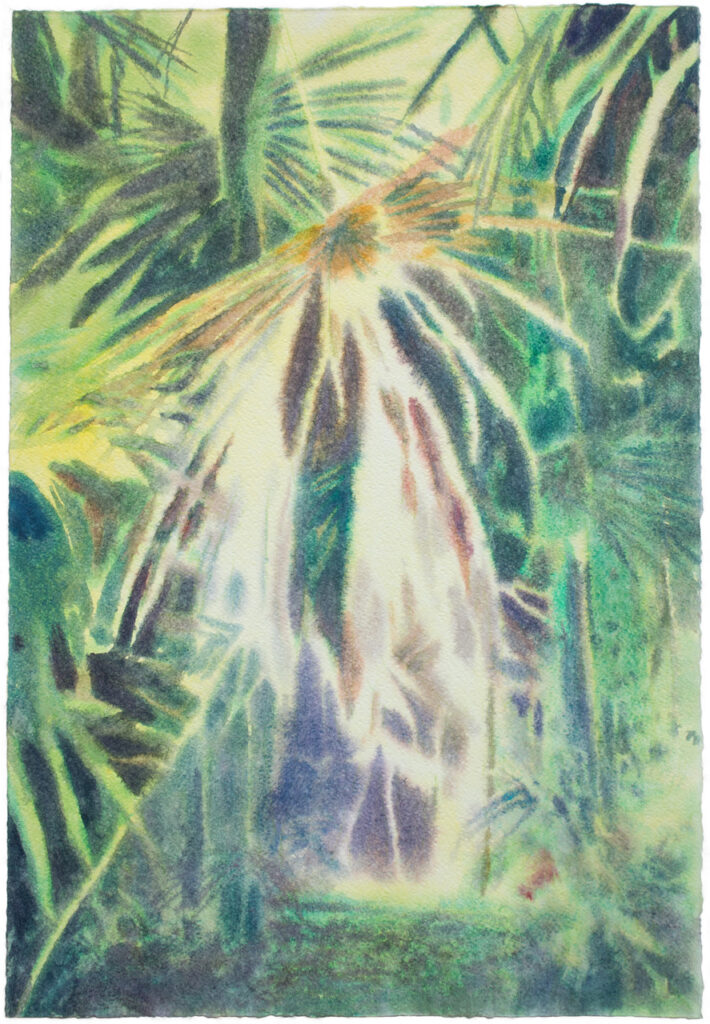 Palmae, 2021, another watercolor on paper, is similarly lit from above, and a palm tree glows in the jungle, picked out from the rest of the trees by an intense beam of tropical light. The exotic fronds shimmer in the golden glow, contrasting with darker shades and creating a sort of chiaroscuro effect. Interesting patterns are formed by the overlapping leaves. Light shining from above can be interpreted as a spiritual experience, a worshipping of a new location, and of the experience of discovery.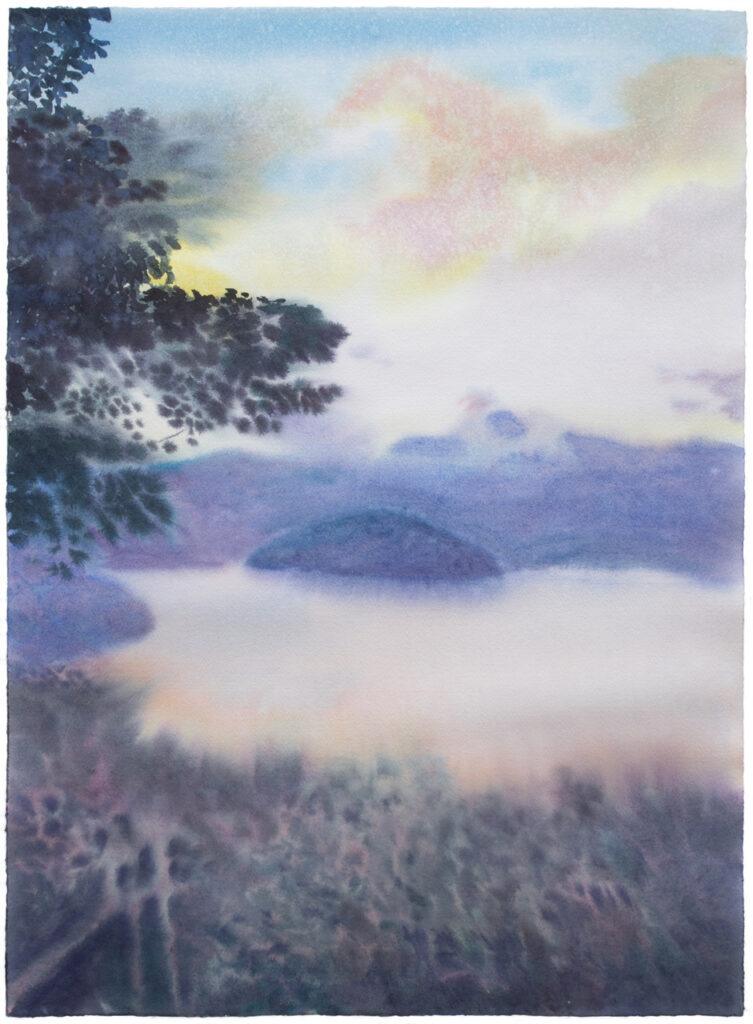 In Caldera, 2021, Lesigne captures a view of a lake with a volcano at its center at sunset. A range of stunning pastel shades blend together; from lavender to delicate rose, peach, turquoise and framed by darker shades of deep purple. This piece allows Lesigne's to display his mastery of coloration as well as his eye for atmospheric beauty and its romanticism reminds one a little of Maxwell Parrish's work, especially his turquoise and purple sunsets with fluffy, golden clouds.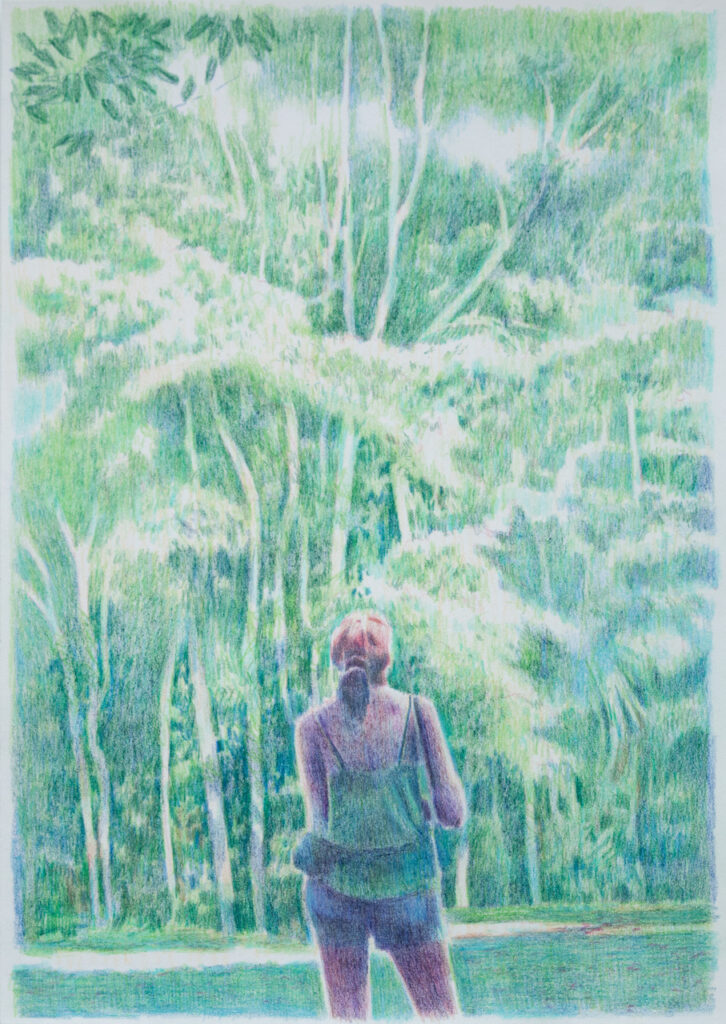 However expressive the watercolors in this show, it is with the pencil drawings that one can truly appreciate the range of Lesigne's skill with color. With the pencil, he is able to add even more detail and texture to the pieces. In La canopée, 2021, a woman stands in front of the jungle, entranced by its beauty. This nomadic figure is dressed lightly for travel. She glows with an aura of gold, as do the layered wall of trees in front of her. With the pencil drawings, Lesigne's energetic markings convey a sense of pulsating light and vitality emanating from the scene. Light and shade bounce off of each other in this work.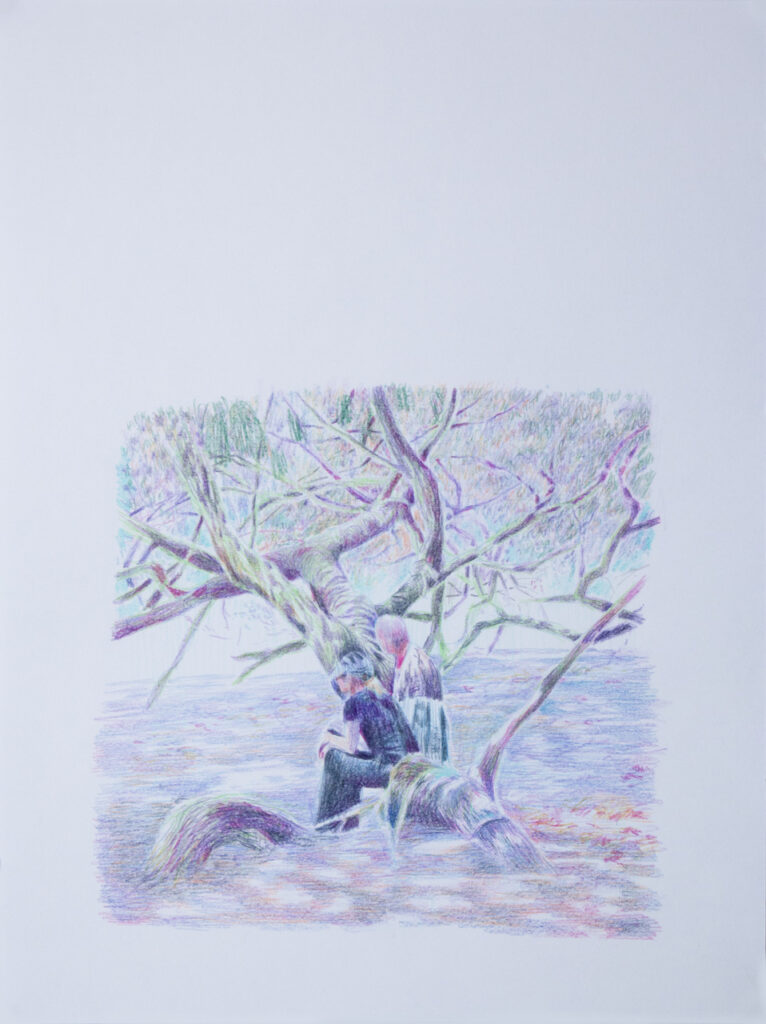 Untitled, 2021, demonstrates Lesigne's eye for detail in a small drawing of two travelers resting in the shade of a tree. Combining lime-green with ochre and violet, among many other colors, he conveys the dappled scene in a style that is reminiscent of Impressionism. Short, broken strokes of different shades create an intense color vibration. And, although the depicted location is thousands of miles from a Parisian brasserie, the tree and ground undulate with light and shadow in a similar manner to parts of Renoir's Moulin de la Galette.
"More News from Nowhere" is an impressive display of the range and quality of Thomas Lesigne's work. His exploration of hues in both the pencil drawings and watercolors builds and expands on his previous work. It will be interesting to see where this exploration takes him next.
"More News from Nowhere" is at Galerie Mighela Shama until February 11, 2022.