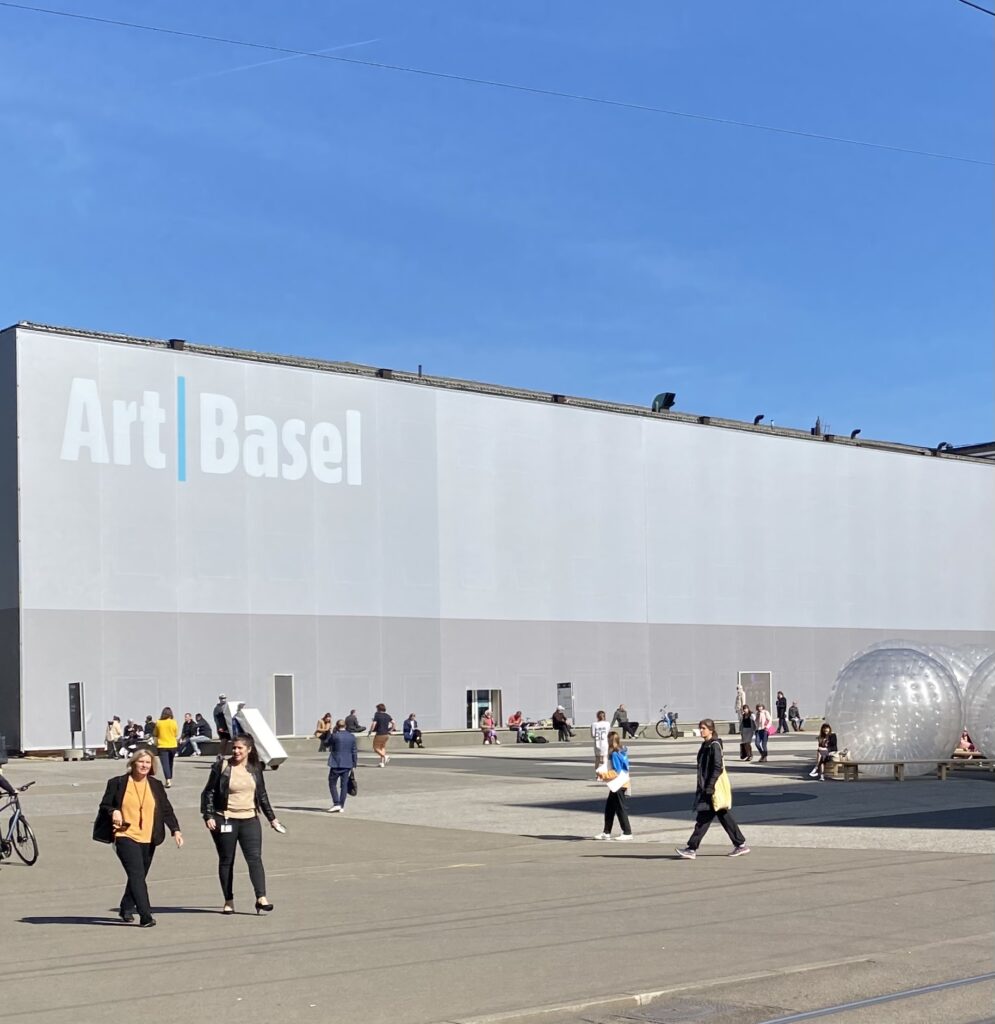 After a long wait, it was fantastic to be back at Art Basel seeing artwork in real life. What were the main themes at Art Basel this year? After being locked in their studios for over a year, it seems that artists have moved towards the homemade, with craft-inspired work on display that evidenced a human touch, and textiles appearing at many galleries. As part of this ethos, many galleries had hand-written the artwork information on the stand wall, emphasizing the humanity behind the show. The creative process has also become more important, and evidence of hours spent creating pieces is often a prominent feature. The second floor galleries of the main hall, in particular, were willing to take more risks, focus on new themes and trends, and show up-and-coming artists this year.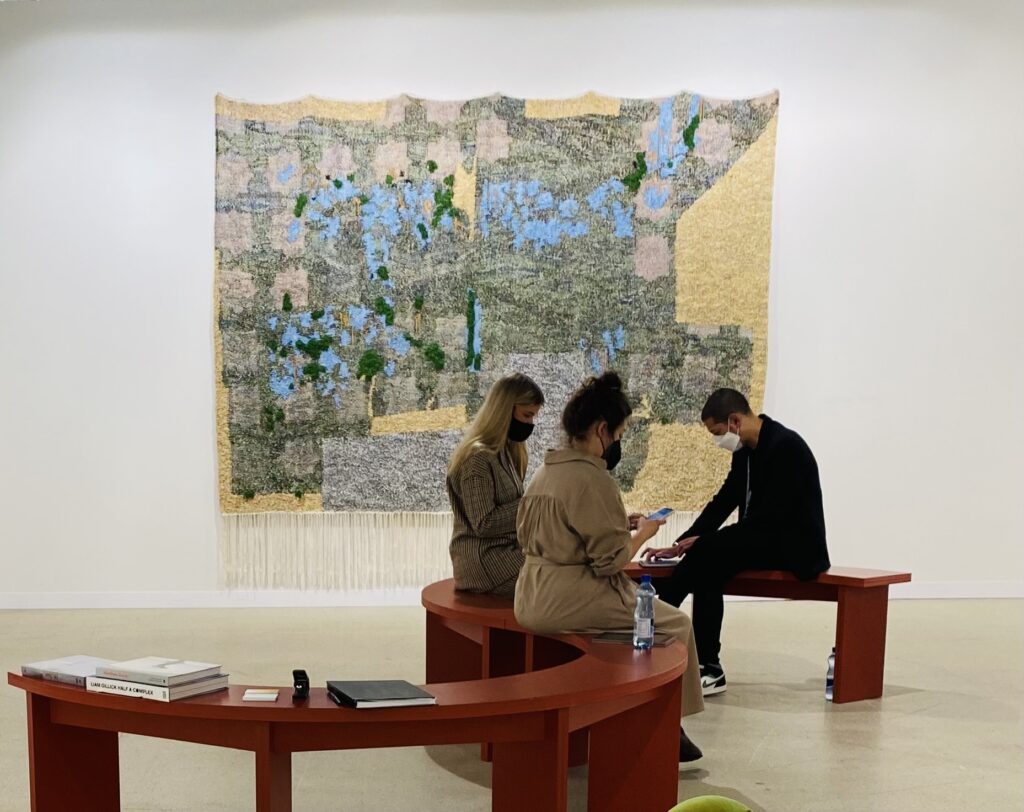 For example, Casey Kaplan gallery from New York was showing a large woven piece by Igshaan Adams, "Mapping Yvonne's Kitchen, 2021", that featured gold necklace chains woven into the fabric. This piece had an organic composition that seemed to grow naturally with green tufted areas as well as a shaggy fringe hanging from the bottom edge. It contrasted nicely with the futuristic furniture and sculptures on the stand. Other galleries were showing similarly tufted tapestries with organic colors and shapes, some exhibiting a furry, almost animalistic quality to them.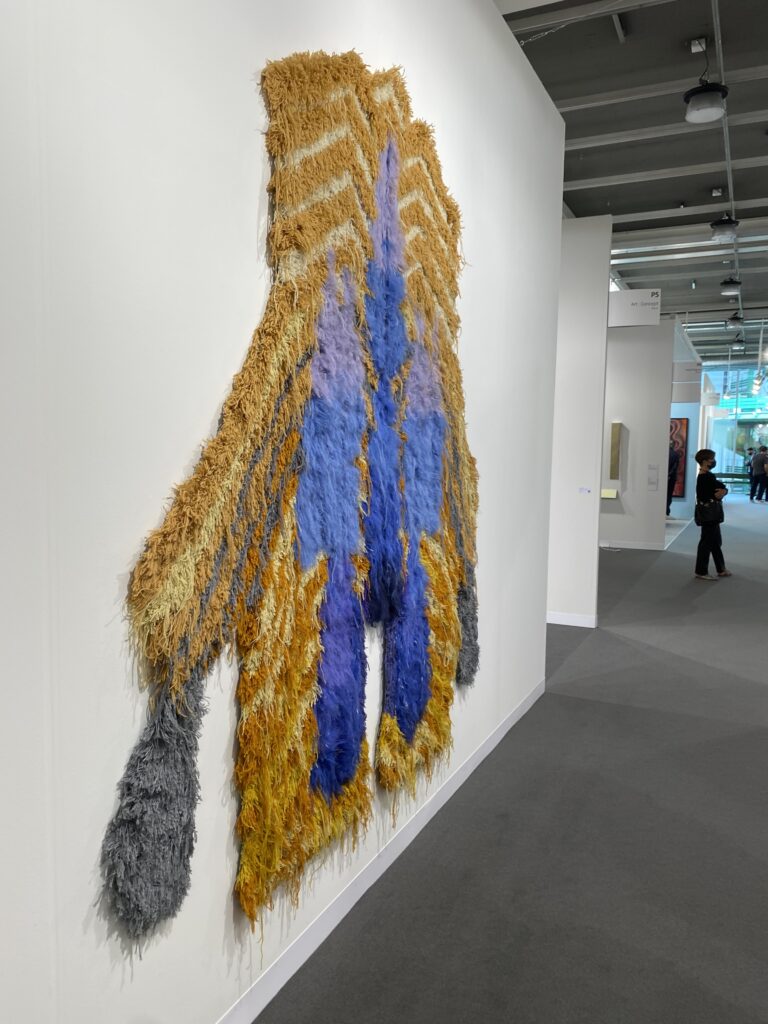 Sikkema Jenkins & Co. were showing Jeffrey Gibson's beaded work with artificial sinew and acrylic on deer hides at their booth. The eye-catching brightly-coloured framed works and glass-beaded sculpture on a rustic wooden plinth are evidence of the focus on hand-crafted pieces. Even these, however, have a very professional finish and presentation, which is something that can differentiate gallery-led exhibitions from less well-financed ones.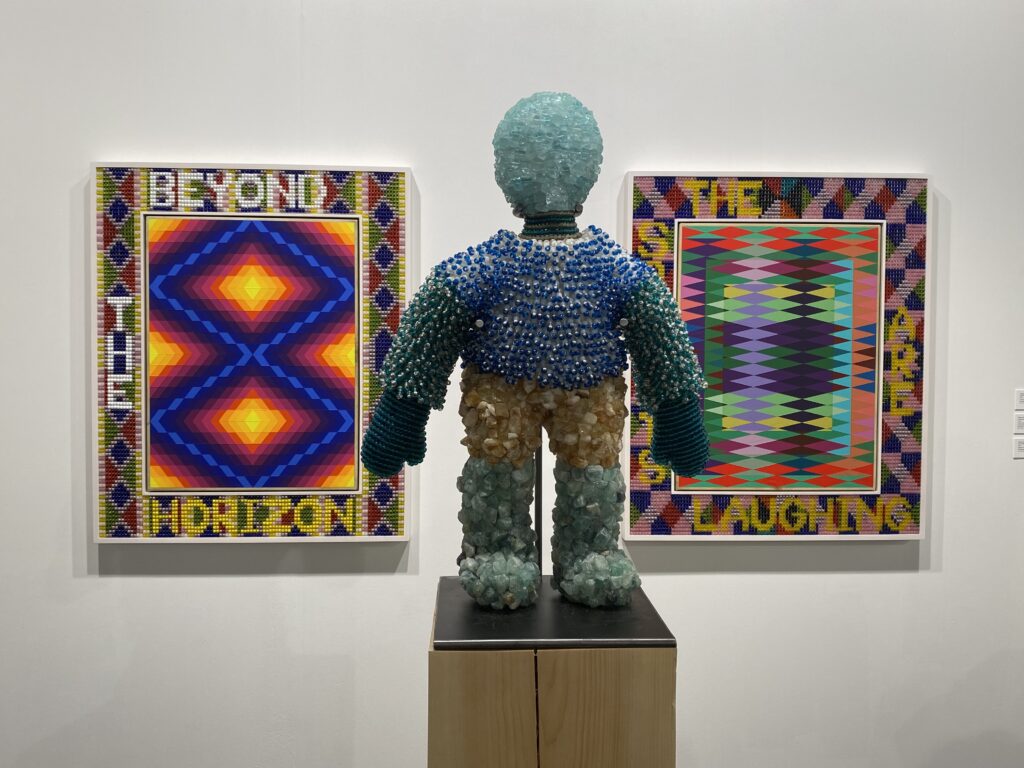 Regen Projects from California showed a large Doug Aitken textile piece from 2020 titled "I Lost Track" that captures the fair's zeitgeist. Made of mixed fabrics, it tells the story of the pandemic in its prose: "I lost track of information, I was blitzed by opinions, I began to see opinions arching in the air, intersecting flight patterns…". Art produced during this time often reflects the sentiments and feelings engendered by our common experience of uncertainty over the last 18 months.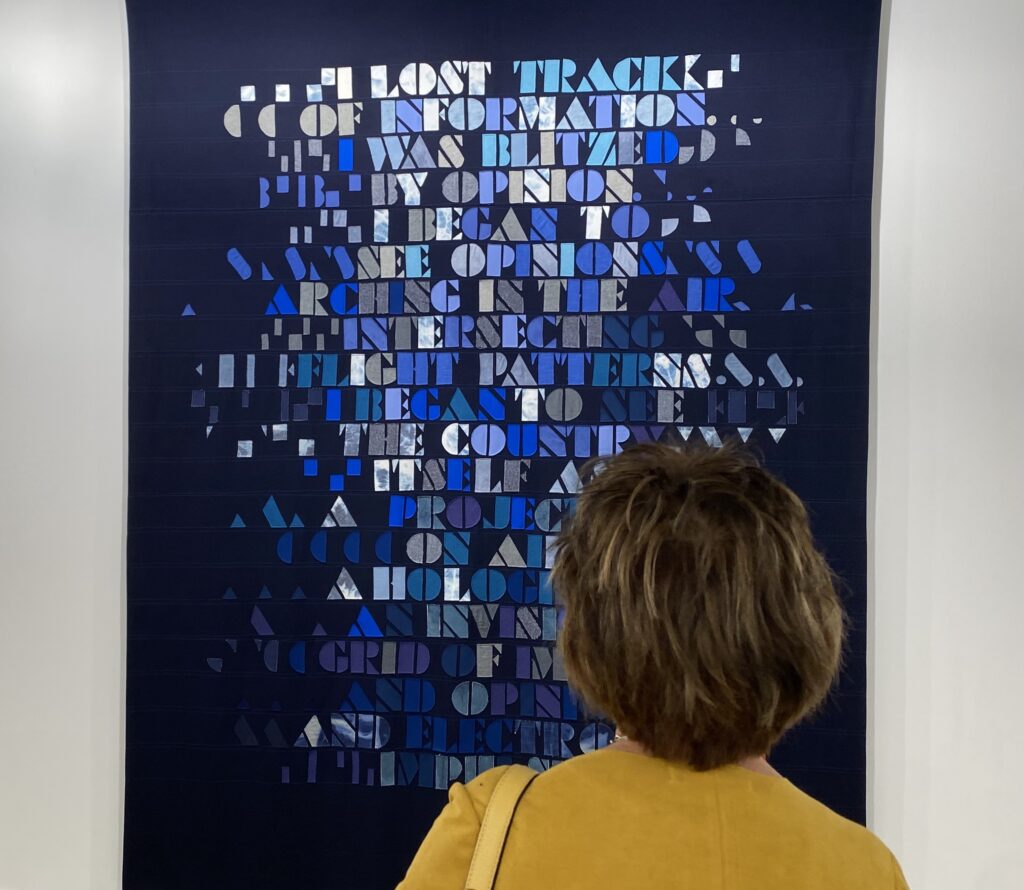 At Unlimited, this handcrafted sensibility was embodied by the first large piece encountered upon entering, Urs Fischer's Bread House. Made from actual bread loaves, some of which are replaced daily and waft their lovely scent, the house stands upon cosy rugs, enticing one inside. This work exemplifies Fischer's exploration of the boundary between fantasy and reality. Is this a safe house or a dangerous one, as in the story of Hansel and Gretel? Can we relax and feel comfortable, or should we remain on guard against whatever is coming next?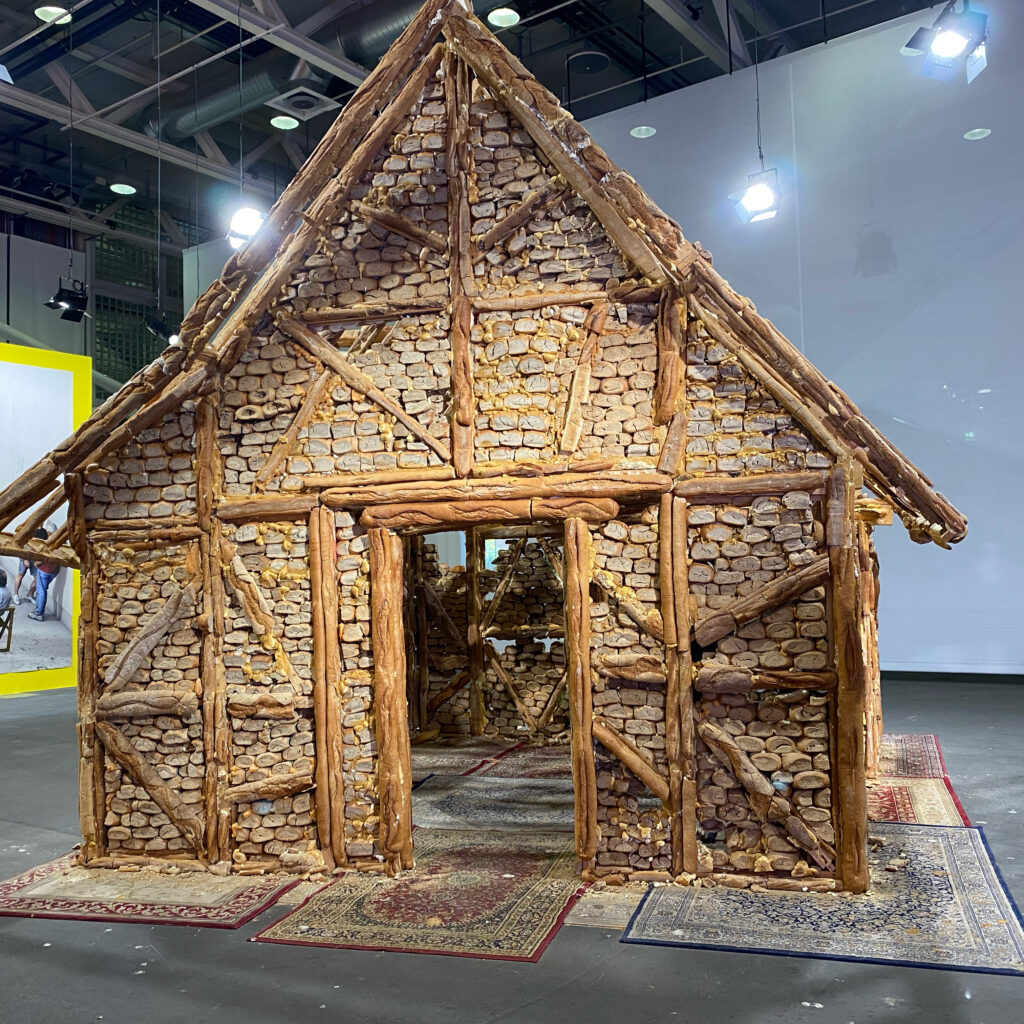 In Unlimited there was also a mesmerising piece by Julius von Bismarck titled "Die Mimik Der Tethys", 2018/2020. Inspired by Tethys, the Greek goddess of fresh water, von Bismarck hung a sea buoy in the hall, tethered by a system of pulleys and attached by satellite sensors to a real buoy in the sea. With its movements transmitted in real time by satellite, the buoy moves with the actual waves of the ocean. One feels a direct connection to the sea with this work, and all of its unpredictability, as well as the possibility that humans may impact how it moves in the future with climate change a growing threat. We are here now, experiencing the sea, but what will the future bring? This is a simple, yet powerful work, and my favourite piece at Art Basel.
While the second floor and Unlimited were presenting the productive results of the lockdowns, and contemplating the impact of humans on the world, the first floor galleries seemed to throw themselves back into mostly business as usual. Big-name artists and well-known pieces shimmered on the custom-painted walls, bathed in specialised lighting. Themes on this floor included a focus on presenting the work of diverse artists, as well as on classic modern pieces from the 50's through the 80's. Figurative work was also a theme, with more booths focusing on this, rather than the more conceptual work that had reigned for the last several years.
Van de Weghe Fine Art showed two Jean-Michel Basquiat paintings that garnered attention from passing admirers. "Hardware Store, 1983", a yellow and turquoise diptych on stretched canvas with visible wooden supports, was hung to attract interest, facing outward, while a black and white Basquiat canvas was more hidden, but was still found by many. For more information and background on Jean-Michel Basquiat, read Art Vista Magazine's review of Jean-Michel Basquiat's work at Fondation Louis Vuitton in 2018.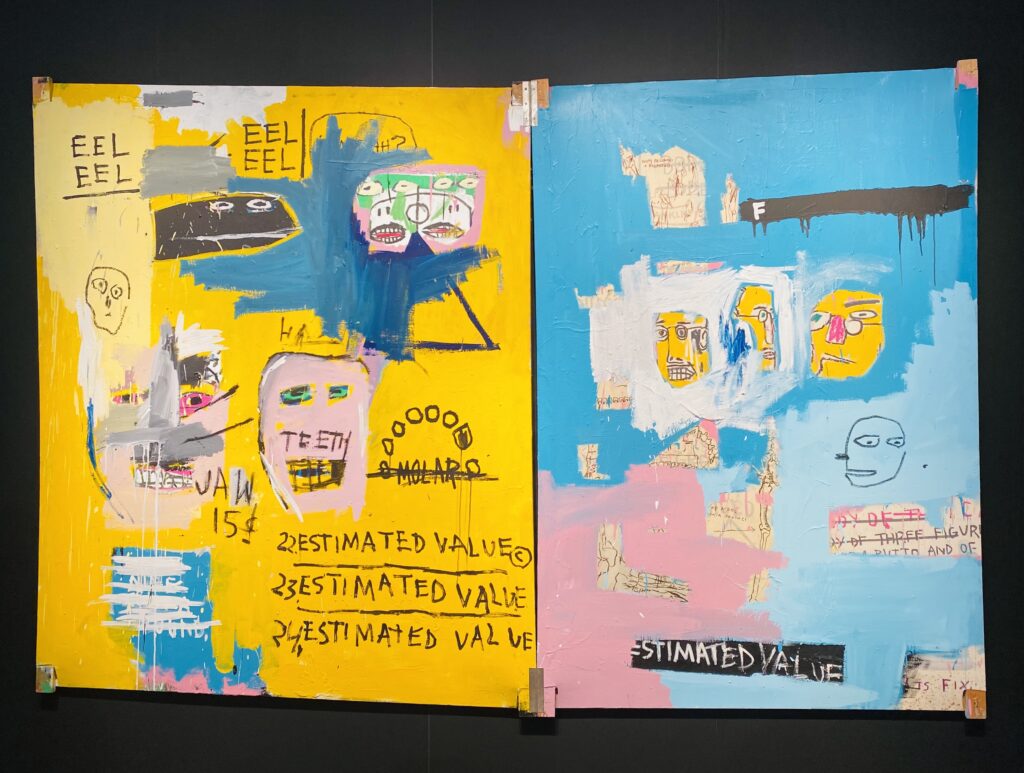 Mnuchin Gallery showed a delightful, small-scale Sam Gilliam watercolour, Untitled, 1970. Despite its diminutive size, it still captured the essence of Gilliam's draped, layered watercolours, and it had been sold. Pace Gallery had a show of Gilliam's watercolors in March, 2021, that was also reviewed in Art Vista Magazine.
The Gilliam piece was exhibited alongside a similarly coloured and draped El Anatsui work, "Plot a Plan IV" from 2007 that sparkled with its undulating waves of painted metal links. Made from bottle tops and copper wire, El Anatsui started this kind of work in 1999 when he found a bag of bottle tops on the beach. Now he has over 40 studio assistants creating his wall-hung, sculputural pieces. His work has the suppleness and drape of a textile, even though it is made of metal and explores the theme of the connection, often through trade, between Africa and the Western world.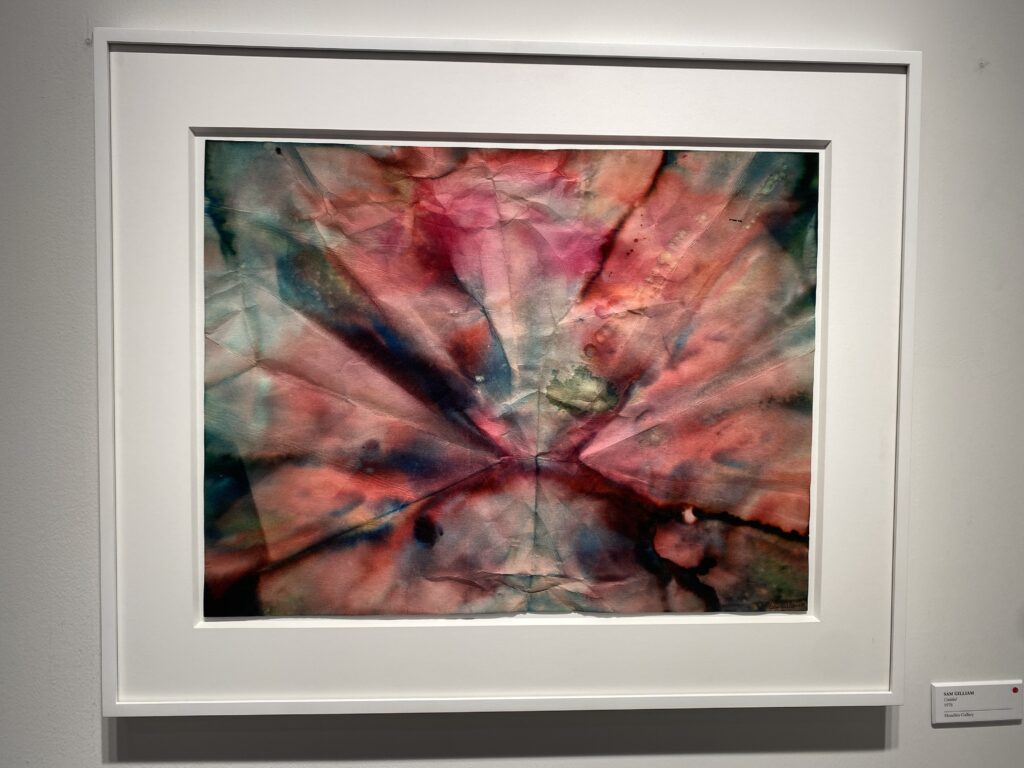 A favourite piece from this section was a trio of Bridget Riley pencil and gouache works on graph paper, "Egyptian Stripes" shown at Hazlitt, Holland-Hibbert. Beautifully lit, these pieces are miniatures of her striped paintings with the same color palette as some of her larger paintings. The colors were inspired by her travels to Egypt. Since they are on graph paper, however, there is an intriguing immediacy to them. The artist's hand is clearly felt in the wobbly lines, especially at the bottom of the paper, and perhaps even more powerfully than with her paintings.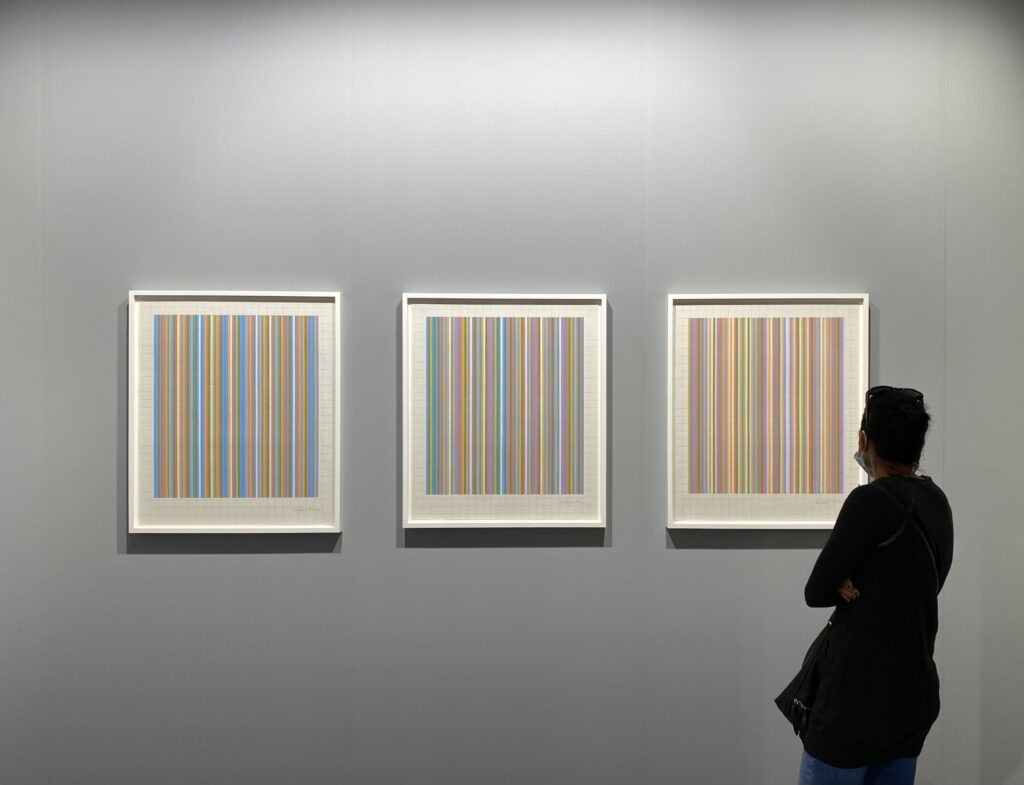 The Volta Fair took a new angle this year, with a focus on technology and NFT's (Non-Fungible Tokens) at many of the stands, often as an addition to the offer of a traditional painting. At Abigail Ogilvy Gallery, for example, Natalia Wrobel's abstract-expressionistic paintings are accompanied by the soundtrack that inspired her, as well as by poems and literature that she read while creating. The experience of owning a painting is enhanced by these additional offerings that provide insight into the inspiration behind the pieces.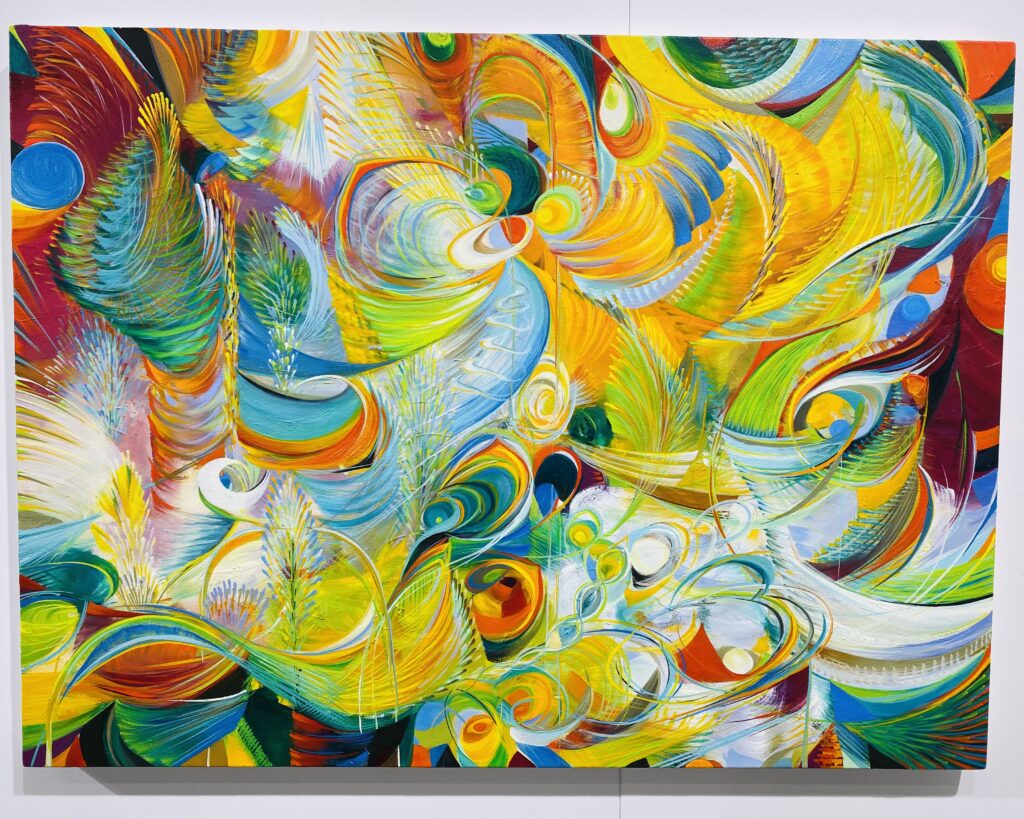 MeetFrida gallery took technology to a new level with their artist Ju Schnee, who creates paintings on canvas, as well as a digitally-animated copy of the piece that is available as an NFT. They have also developed technology for a virtual reality gallery that is available by scanning a QR code into your phone. The VR gallery pops up on your phone, and viewers can navigate their way through the artworks, just by moving their phone around. Although the technology was a little glitchy, the future of art shows will likely include more use of virtual reality, as an addition or, in times of lockdowns, an alternative to real life encounters.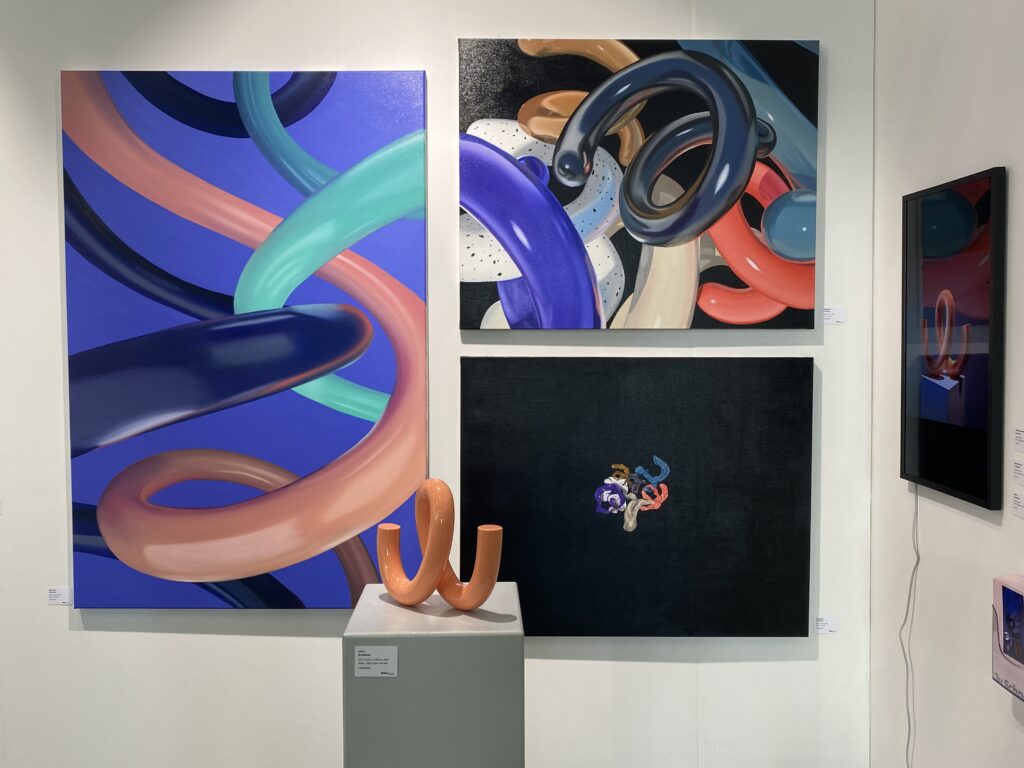 There are many possibilities for the future of the art world, and it is interesting to witness the different directions that galleries and artists are taking in this new, post-pandemic world. Even with all the possibilities of virtual reality and digital viewing rooms, the allure of visiting artwork in person has not gone away, and has perhaps even intensified after months without it. It is clear that we still cherish the face-to-face interactions with people and connection to artwork that one finds at places like Art Basel.